Mylissa Farmer shared her story of having to go to Illinois to get a life-saving abortion after she was denied in Missouri and now the state has launched an investigation.
07 November 2022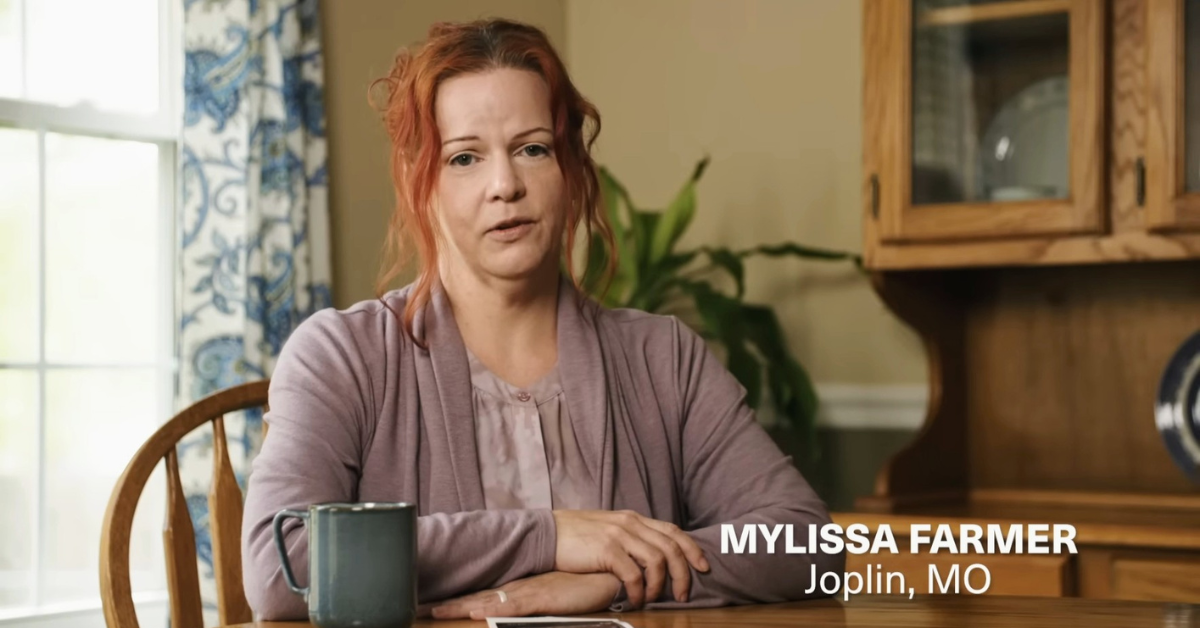 Trudy Busch Valentine/YouTube
A campaign ad for Democratic candidate for Missouri Attorney General Trudy Busch Valentine is being cited as the reason the Missouri Department of Health and Senior Services is now investigating a Missouri hospital.
Mylissa Farmer explained she couldn't get needed medical care at Freeman Health System in Joplin, Missouri in August because of Missouri's strict abortion ban. Farmer had to travel across state lines for the lifesaving medical care.
When she contacted Republican state Senator Bill White for help, he referred her to a Christian anti-abortion crisis pregnancy center for her medically unviable pregnancy. White also promised to talk to state Republican Attorney General Eric Schmitt on her behalf.
Farmer never heard from Schmitt's office.

You can see the ad here:
Ban youtu.be
Describing herself as "pretty pro-life," Farmer took Schmitt to task in the ad for his extreme anti-abortion position. Schmitt boasted about his part in making Missouri the first state to formally ban abortion with a proclamation he issued in June.

Farmer said:
"When my water broke at 17-and-a-half weeks, I found out I was going to lose my daughter, and my Missouri doctors weren't allowed to give me the care that I needed—all because of the mandate Eric Schmitt put into place."
She added:
"Eric Schmitt doesn't care about women like me."
"Imposing a mandate that doesn't have exceptions for rape, incest, or health of the mother, and it could even send women and doctors to jail."
"He's just too extreme."
In response to Farmer's ordeal, Busch Valentine told Jezebel:
"[Pregnant people] are less safe today because of [Schmitt]."
The Democrat called Missouri's abortion ban with no exceptions for incest, rape or the mother's life "cruel, un-American, and dangerous."
She added:
"When seconds count, we cannot tie the hands of doctors and hospitals, forcing them to get on the phone with lawyers while lives hang in the balance."
Missouri's abortion ban includes an exception for "medical emergencies" threatening the pregnant person's life, but when prison is a possibility for doctors, pregnant patients are denied care completely or care can be critically or fatally delayed while doctors and hospitals seek legal opinions.
In response to the ad detailing Farmer's ordeal, Schmitt's campaign lawyers sent letters to TV stations demanding the ad be taken off the air.

Schmitt's lawyer wrote:
"You should immediately cease and desist from airing the ad unless and until it is changed to correct these false and misleading statements."
"Ms. Busch Valentine's campaign likely did not and could not provide substantiation for its false statements."
Then, instead of addressing issues with the state's abortion ban, Freeman Health System was visited by investigators from the Department of Health and Senior Services and Farmer was questioned by the same state agency.

On Friday, Missouri House Democratic leader Crystal Quade demanded transparency from the state agency about their newly launched investigation. Farmer was treated in August and contacted the state—including Schmitt—at that time through her state Republican senator.
"The timing of this investigation is suspicious and concerning to say the least, and suggests that the substantial taxpayer-funded investigative power of state government is being weaponized against citizens for political retaliation."
Quade wrote in letters to AG Schmitt, Republican Governor Mike Parson and the health department she was told the inquiry focused on the treatment of Mylissa Farmer—admitted August 2—by Freeman Health System. As of Friday afternoon Quade had not received any response to her letters.
Farmer detailed her experience in an October 19 article in the Springfield News-Leader.
Farmer's water broke on August 2 but her doctor at Freeman Health System in Joplin told her nothing could be done because of Missouri's strict abortion law. Once the water is broken, the pregnant person and fetus become susceptible to infections that will eventually kill the fetus and could kill the pregnant person or cause infertility.
There is no medical treatment to reversed the effects of the water breaking and no fetus has been viable at 17 1/2 weeks.
.Farmer spent two days calling other states for assistance, Farmer received the medical care she needed on August 6 in Granite City, Illinois.