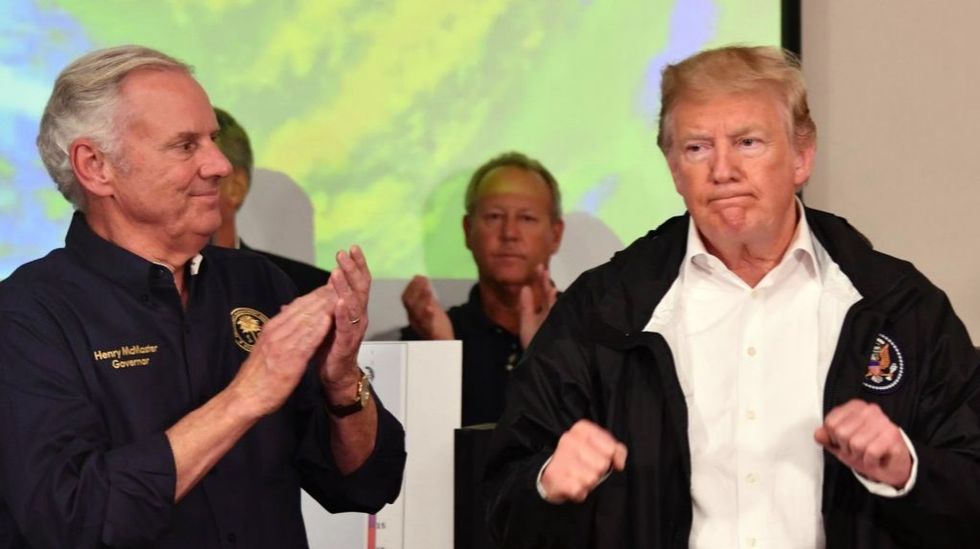 US President Donald Trump speaks to officials at the Horry County Emergency Operations Center in Conway, South Carolina, September 19, 2018, during a tour of areas devastated by Hurricane Florence. (Photo by NICHOLAS KAMM/AFP/Getty Images)
President Donald Trump once again braved flood waters to perform a few heroic rescues in the wake of Hurricane Florence. Or, he did in the imagination of the person who altered a photo of an actual rescue—from 2015—to add the President.
Kevin Roose, a reporter for The New York Times, posted the altered picture next to the 2015 original on Twitter. At the time of his posting, Roose stated that the image had been shared over 275,000 times on Facebook.
Let's get a closer look at that: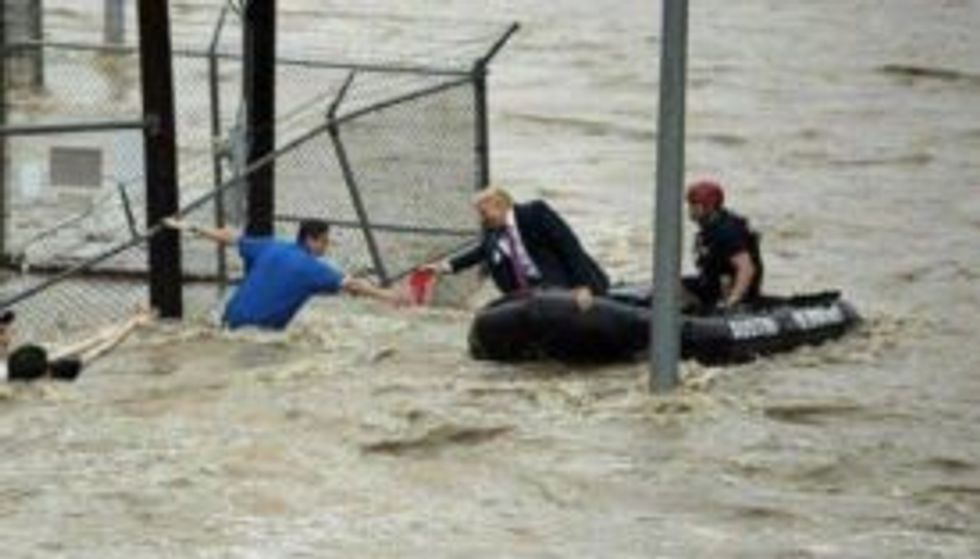 Roose also posited why Facebook did not block the sharing of an obviously altered photo designed to trick people.
But people questioned if anyone shared it thinking the President actually participated in rescues—in a suit no less—or if it was shared as a joke. After all, it appears Trump is using a red MAGA hat as a lifeline for the man he's about to "rescue."
@kevinroose @DavidKlion He's not even saving them. He's handing him a MAGA hat.

— Comrade Misty is Putin's Buddy (@Comrade Misty is Putin's Buddy) 1537815107.0
@kevinroose Are you sure this is being used in a positive light, I'm sure the original was a derogatory post as it… https://t.co/adNb9gytt6

— Muzzo (@Muzzo) 1537814341.0
@kevinroose Woah. I thought this was only be shared as a joke, not to be interpreted as legit news! 😂😂😂 Man, 2018.… https://t.co/EzAUCqu84F

— Dan Kan (@Dan Kan) 1537814507.0
@deborahlindseyl @kevinroose People really thought it was real... Come on

— DiP 🇮🇹 (@DiP 🇮🇹) 1537819485.0
Although one person claimed to mistake the red item in Trump's hand for something else entirely.
@donmoyn @kevinroose @chrislhayes Clearly he's distributing MAGA hats.

— si tacuissem … (@si tacuissem …) 1537818612.0
One Twitter user stated they had a "Trump supporting Aunt" who did believe the photo was real.
@kevinroose My Trump supporting Aunt actually posted the photoshopped one on FB & wrote "see the media never gives… https://t.co/KziXDlZB6x

— Dawn Peters (@Dawn Peters) 1537817261.0
@kevinroose Right. Donald Trump rescued people from Hurricane Florence the way he cleared wreckage from the World T… https://t.co/mbBVMaLDKL

— Russell Drew (@Russell Drew) 1537815499.0
But many were just happy to share the many other versions of the photo of the President's heroics. In some, another viral meme gets added when former New Jersey Governor Chris Christie is added in.
@kevinroose This is the real photo. https://t.co/BAjh6bUe8k

— Kimberly Costello (@Kimberly Costello) 1537816024.0
And it is not always a MAGA hat that Trump hands the flood victim.
And the President is not always in a raft.
While the devastation and death toll from Florence are no laughing matter, people did enjoy a laugh over the altered image of Trump handing out MAGA hats—with or without Christie—during a flood.
@Datsko @kevinroose @JamieOGrady Christy forgot to pack them onto the raft...

— Dat Yankee (@Dat Yankee) 1537816666.0
@ericgeller @kevinroose @timothypmurphy Handing the guy the maga hat is the best.

— Jim (@Jim) 1537815481.0
@KimCostello @kevinroose Bahaha...I love the addition of Christie 😂

— Kristina (@Kristina) 1537816919.0
@flo09432 @KimCostello @kevinroose https://t.co/06s6kqWLA2

— 🇮🇹Rayne🇪🇸 (@🇮🇹Rayne🇪🇸) 1537817437.0
This is not the first time Trump made a seemingly heroic venture into the flood waters however.
A few similar photos made the rounds after Hurricanes Harvey and Irma. The most popular was one depicting Trump in almost waist high water rescuing cats while wearing a MAGA hat.
It was also shared on Facebook, but the page that shared it later claimed it was a joke. People did believe it though.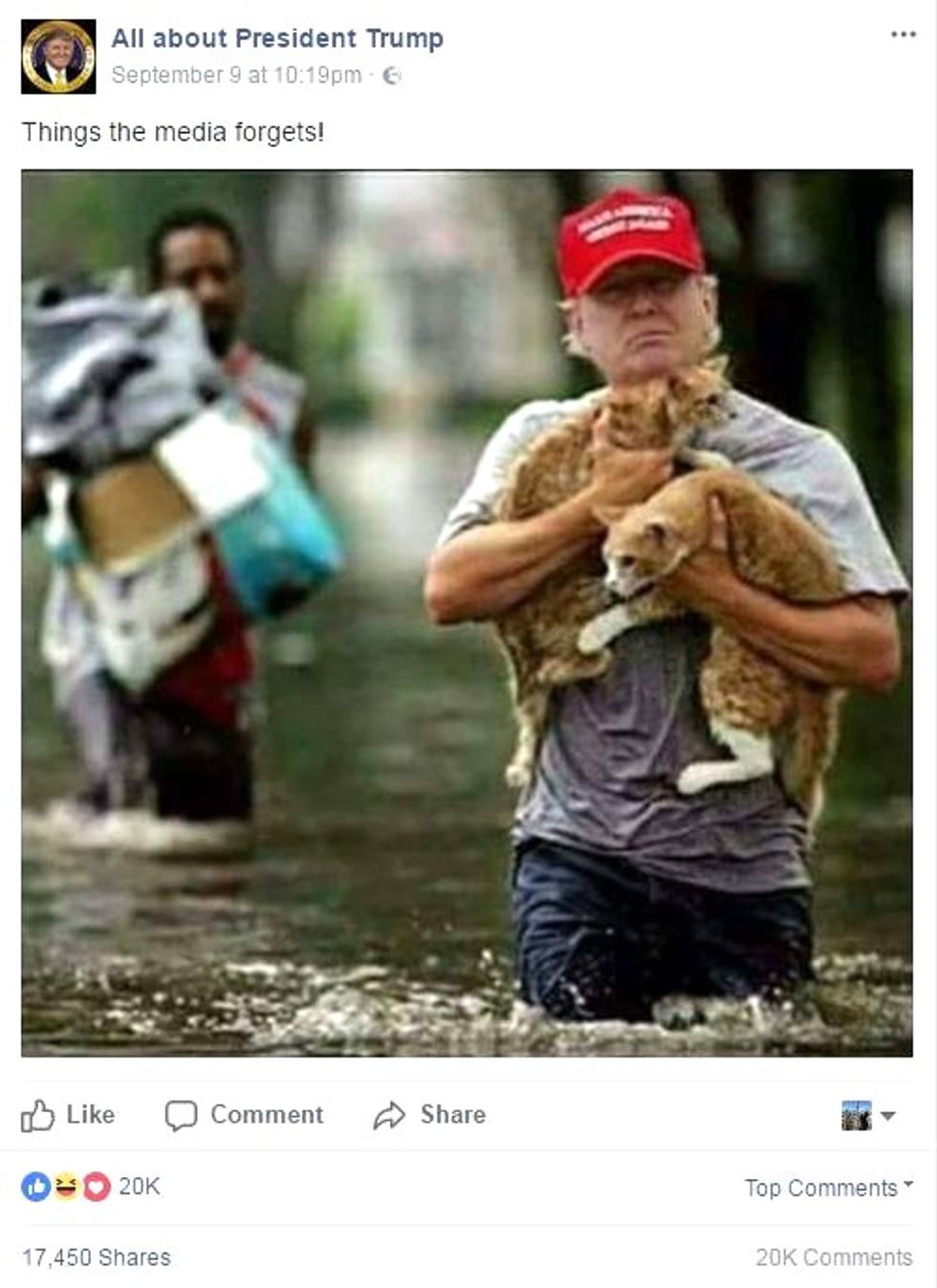 Facebook post with altered image of President Trump after Hurricane Harvey. (Facebook)
Snopes and several other websites and news organizations debunked the photo though.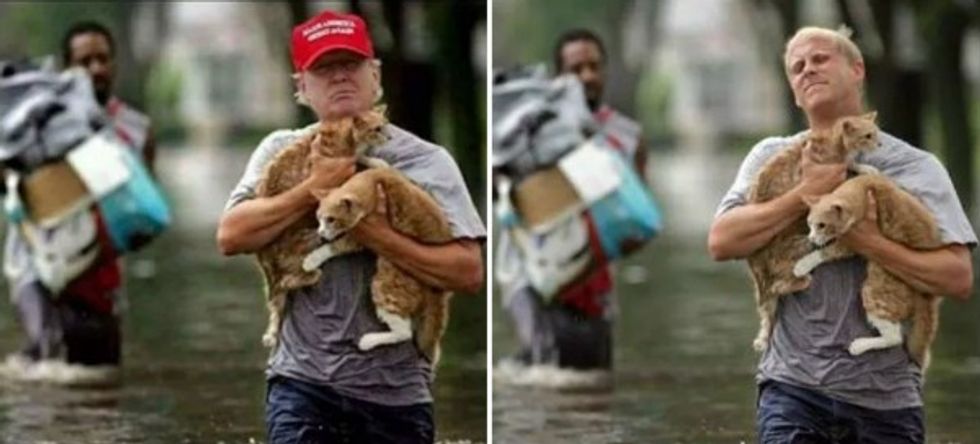 Image of man saving cats altered to look like President Donald Trump in 2017. (Snopes)
No one Photoshopped Trump with anything but paper towels after Hurricane Maria.
But one Twitter user offered a possible solution via Mad Magazine.
@kevinroose Fixed it. https://t.co/hrxfn43SSt

— Theodore Grunewald (@Theodore Grunewald) 1537823853.0
Keep reading...Show less