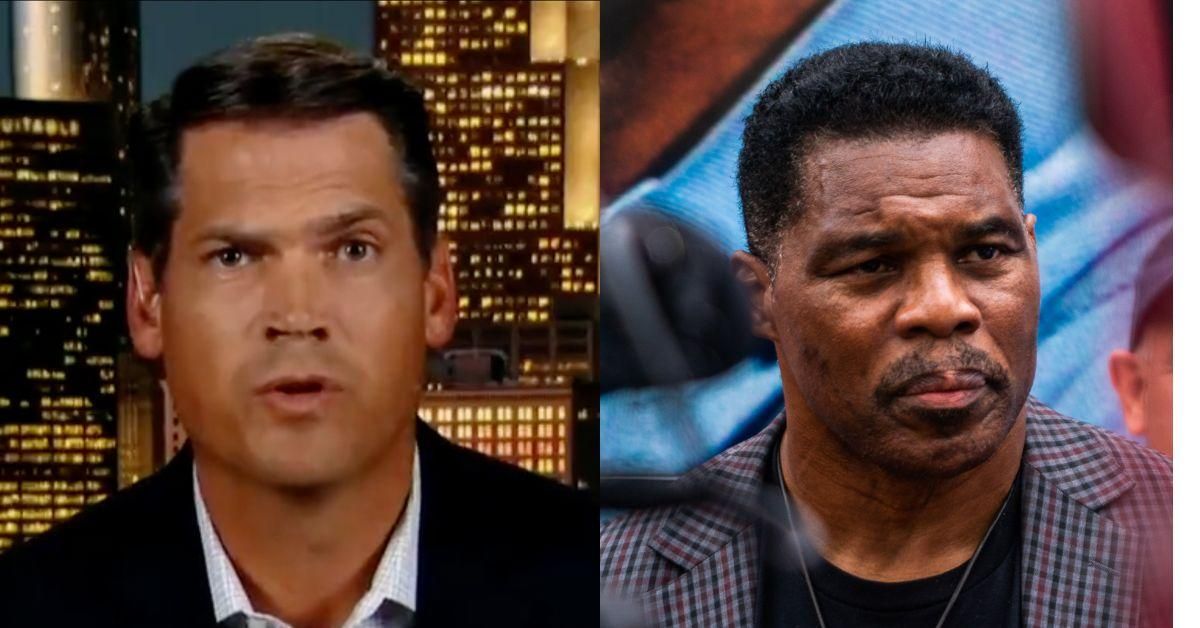 CNN; Demetrius Freeman/The Washington Post via Getty Images
Given the salacious abortion scandal and his feeble attempts to answer for it—not to mention the shockingly unhinged comments he's made—it seems increasingly hard to believe Georgia Republican Senate candidate Herschel Walker ever won a primary in the first place.
The Lieutenant Governor of Georgia, Geoff Duncan, has an answer and he is not mincing words.
During an appearance on CNN Wednesday, Duncan—himself a Republican—told anchor Don Lemon the secret to Walker's success is simple.
Trump cult-like devotion with a heaping helping of the GOP's cynical hubris on the side.
See his comments below.
Duncan told Lemon:
"If we're being intellectually honest, Herschel Walker won the primary because he scored a bunch of touchdowns back in the 80's and he's Donald Trump's friend.
"And now we've moved forward several months on the calendar and that's no longer a recipe to win."
And there you have it.
Duncan went on to say the Walker debacle constitutes a reckoning for Republicans.
"We've got problems running around this country, and around the world that are feeling real and heavy... Those are the issues that Americans want to be talking about..."

"This should be easier for Republicans than it is."
Duncan added Republicans need to "take our medicine" and reckon with the "quality of the candidate" in future elections.
Duncan's comments echoed those he made earlier in the night to CNN's Anderson Cooper.
eHe was even more direct about Walker's unfitness for office and the GOP's utter failure in choosing him as a candidate—especially when it comes to listening to former Republican President Donald Trump.
He told Cooper:
"We didn't ask who was the best leader. We didn't ask who had the best resume."
"Unfortunately, Republicans looked around to see who Donald Trump supported."
"And [Walker] was a famous football player, and so he became our nominee, and now we're paying the price for that."
Duncan also said he plans to abstain from voting in the Georgia Senate election, telling Cooper:
"Herschel Walker hasn't earned my respect or my vote."
Yikes.
By all accounts Walker has been something of a disaster for the GOP, with gaffe after gaffe proving he is wholly unqualified for political office.
And that was before the scandal erupted over an abortion he allegedly paid for in 2009.
But Walker is just one of a whole slate of Republican candidates, most of them carrying Trump's imprimatur, that have not held up in polling as the midterms loom, especially since the Supreme Court's overturn of Roe v. Wade.
Trump-backed GOP candidates in Arizona and Pennsylvania are looking set to lose by fairly wide margins. Candidates in Ohio and North Carolina once thought to be safe GOP wins are struggling as well.

On Twitter, Duncan's tough words for Walker had many people applauding him for being willing to say what few Republicans will.
As much of a mess as Walker has been for the GOP, it hadn't really translated in the polls—until this week, that is.

After Walker's scandal exploded Monday, Democratic incumbent Raphael Warnock has begun widening the razor-thin lead he opened up following the Supreme Court's overturn of Roe v. Wade.
He's now leading Walker by 3.9%.