Kellyanne Conway calls out '49 Senators' for not going to Georgia to help Herschel Walker win the Georgia Senate runoff.
08 December 2022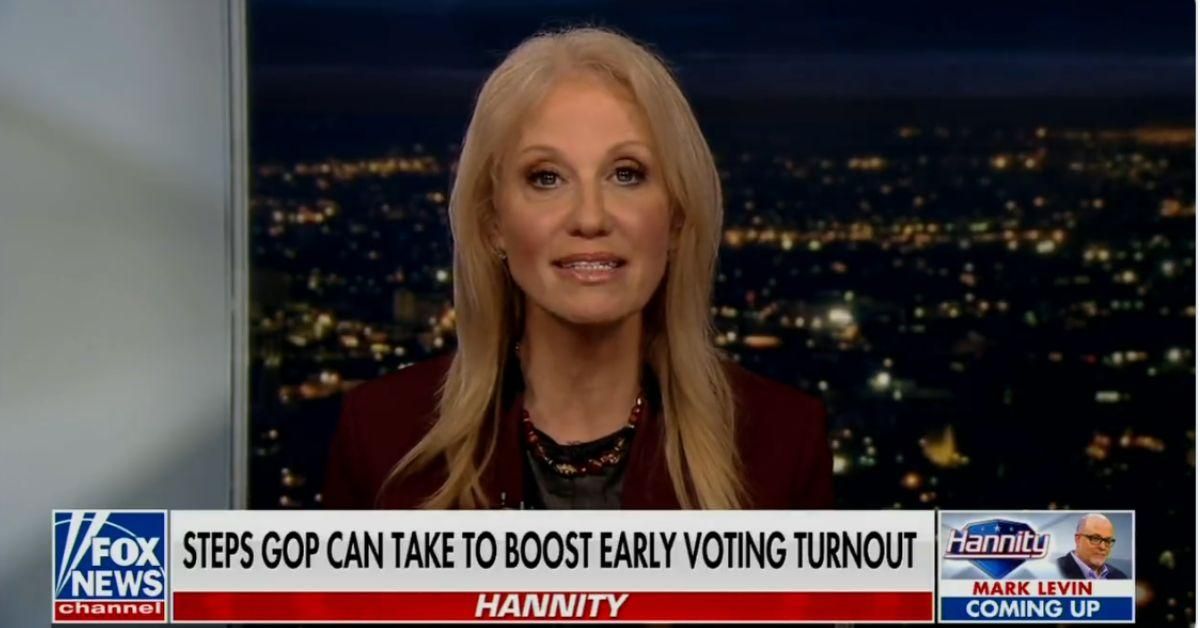 @Acyn/Twitter
Republican political consultant and former Senior Counselor to the Trump administration Kellyanne Conway griped over her party's lack of support for failed Georgia Senate runoff candidate Herschel Walker.
Walker–who was hand-picked by former Republican President Donald Trump–lost to Democratic incumbent Senator Raphael Warnock by nearly 3 percentage points in the Senate runoff.

The two candidates faced off after they both failed to garner 50% of the vote in the November general election.
Now that the balance of power in the Senate went to the Democrats with a 51-49 seat majority, Conway lambasted the 49 Republican Senators for failing to stand behind Walker.
Conway, who was once embroiled in controversy after mentioning "alternative facts" to refer to imagined attendance numbers at Trump's inauguration and for talking about a "Bowling Green massacre" that never happened, appeared on Fox News' Hannity and bemoaned:

"To the 49 Republican Senators, where were most of you?"
"Why weren't you in Georgia?"
You can watch the flustered political strategist going on a rant in the clip, below.
Conway continued:
"They all should have been because they should've been there in some form, town hall, in person, saying the following."
"'I served in the United States Senate with Raphael Warnock. He's a terrible Senator. He doesn't represent Georgia'."
"'He's not fit to serve. He voted for the Inflation Reduction Act that doesn't do that'."
"'He said nothing when they pulled out of Afghanistan. He said nothing that Joe Biden has been to Delaware 174 days down to the border zero days'."
Walker's campaign for the midterms was marred by scandals revolving around his violent behavior, his hypocritical stance on reproductive rights and nonsensical statements during campaign events.

Some of the former NFL running back's controversies included an allegation he urged a woman whom he impregnated to pay for an abortion even though he spoke out against reproductive rights and supported a proposal for a nationwide ban on all abortions–including for cases of incest or rape.

Twitter responded to Conway's frustrations over Republicans leaving Walker to fend for himself in the election.
Conway concluded her tirade by asking once again:

"Where were the other Senators to say, 'I want Herschel Walker, not Raphael Warnock, in the Senate with me'?"