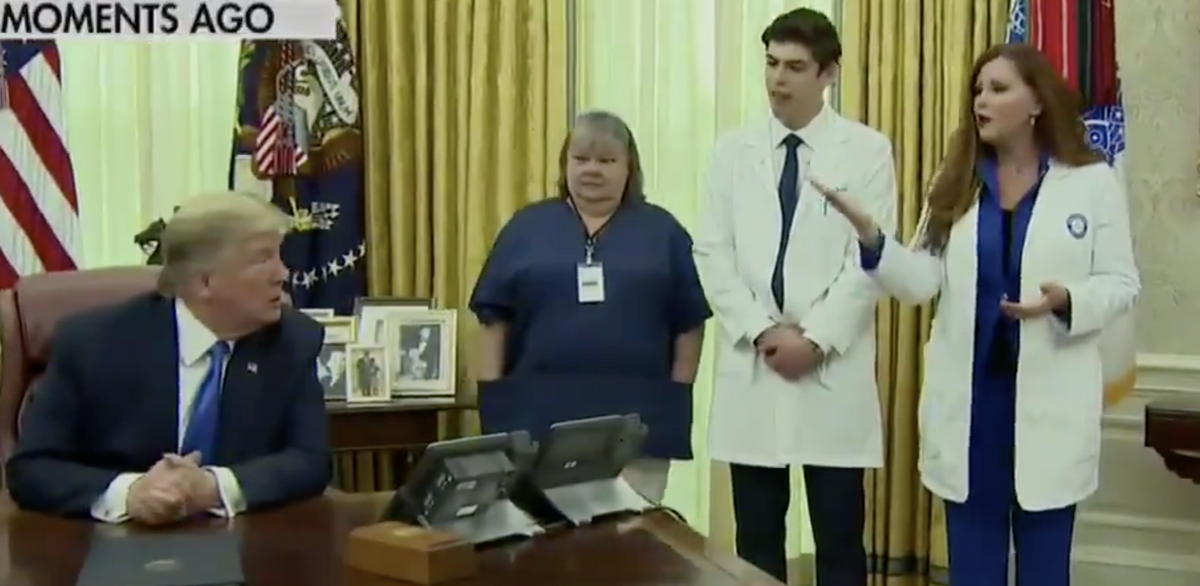 Fox News
Wednesday was National Nurses Day, and with the immense risks and stresses undertaken by nurses in the face of this pandemic, they've never been more worthy of a celebration.
President Donald Trump hosted some nurses in the Oval Office to honor them, but it didn't take long for things to get awkward.
One of the most consequential factors in the virus's rapid spread is a shortage of Personal Protective Equipment, or PPE, that's crucial for protecting nurses and other frontline healthcare workers.
Despite his administration's bungled federal response to the PPE shortage, the President has frequently said that there's no problemat all—or at least not one for which he's responsible.
So when a nurse at the ceremony mentioned how "sporadic" PPE availability had been, Trump leapt to contradict her.
Watch below.
Trump rebukes a nurse who says "PPE has been sporadic, but it's been manageable."

"Sporadic for you, but not sporadic for a lot of other people," Trump replies. "That was fine, but I have heard we have a tremendous supply to almost all places." pic.twitter.com/zOf2rWxvHx
— Aaron Rupar (@atrupar) May 6, 2020
"PPE has been sporadic, but it's been manageable," she said, "And we do what we have to do. We're nurses and we learn to adapt and do whatever the best thing we can do for our patients to get the job done and get the care provided, and that's what we're going to continue to do as [the virus] continues."
But Trump only heard one thing, and was quick to address it:

"Sporadic for you, but not sporadic for a lot of other people, because I've heard the opposite. I've heard that they are loaded up with gowns now and, y'know, initially we had nothing. We had empty cupboards, we had empty shelves we had nothing, because it wasn't put there by the last administration."
Trump falsely blamed the Obama administration for the shortage of PPE, instead of his tariffs on China that made PPE imports more expensive and obstacle-laden, not to mention his failure to replenish the national stockpiles of already-available medical equipment.
People cringed at Trump's rebuke of a nurse who told the truth.
Why didn't he just call the truth telling nurse, "nasty"... 🙄 https://t.co/aIYJ0pOAVS

— Jo (@Jo) 1588790375.0
We should be thankful that POTUS didn't reach across the Resolute Desk and strangle this nurse who dared to mention… https://t.co/cSUiQKiRZ1

— Steve Silberman (@Steve Silberman) 1588797049.0
Watch @POTUS lie and patronize a nurse to protect his own fragile ego. Happy #NationalNursesDay! https://t.co/xPqrNscE0N

— Sanho Tree (@Sanho Tree) 1588808956.0
Looks like Trump does not really want to hear from nurses, he discovers at event for nurses https://t.co/nzy2iCodx7

— Laura Rozen (@Laura Rozen) 1588789738.0
People began fact-checking the President themselves.
Would @realDonaldTrump like to come by my hospital, where we're still processing and then re-using N95 masks? https://t.co/bkbXZlUhOQ

— Mark Dexter (@Mark Dexter) 1588852376.0
I'm a physician who works in a hospital....we are still using 1 mask for 7 days. And....where are these factories… https://t.co/Bfiy7jPuSB

— Follow Your Path (@Follow Your Path) 1588796621.0
On #NationalNursesDay this nurse courageously says in the Oval Office that doctors and nurses are having a hard tim… https://t.co/rePWBqzMvh

— Bill Pascrell, Jr. (@Bill Pascrell, Jr.) 1588790714.0
For a deeper look into Trump's ineptitude, check out A Very Stable Genius, available here.
Keep reading... Show less