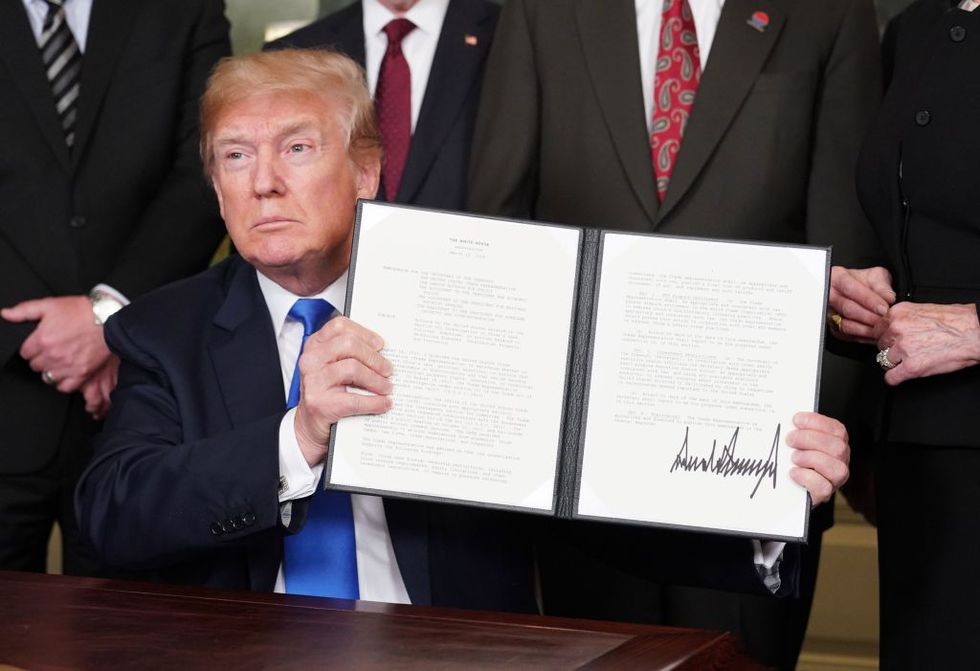 US President Donald Trump signs trade sanctions against China on March 22, 2018, in the Diplomatic Reception Room of the White House in Washington, DC, on March 22, 2018. Trump will impose tariffs on about $50 billion in Chinese goods imports to retaliate against the alleged theft of American intellectual property, White House officials said Thursday. / AFP PHOTO / Mandel NGAN (Photo credit should read MANDEL NGAN/AFP/Getty Images)
In an interview with The Wall Street Journal, President Donald Trump made the erroneous claim that "we don't have any tariffs."
Now, even Fox is calling him out for it.
The network's research team tweeted a list of complaints from American companies regarding the expenses imposed by the numerous tariffs his administration has enacted and it's clear they haven't done the companies any financial favors.
Recent Tariff Concerns Ford "US steel most expensive" Caterpillar Material costs up → steel prices/tariffs Harle… https://t.co/i0ABD4GzQA

— Fox News Research (@Fox News Research) 1540412220.0
The president drew widespread criticism after the claim, especially given that he'd touted his tariffs numerous times.
Despite numerous economists saying they would reap no economic benefits for the average American, the president seemed convinced.
But to some, it was obvious the tariffs were no good.
@realDonaldTrump This is why Trump's tarriffs are so shortsighted. US manufacturers are laying people off because t… https://t.co/5tX1XLTeo5

— Ninja Corgi (@Ninja Corgi) 1540313833.0
@FoxNews @EricTrump @foxandfriends His tariffs made prototyping more expensive for my small business. Donald Trump… https://t.co/V7qgiwuVjc

— Adam Mik 🖨️ (@Adam Mik 🖨️) 1539873613.0
At least one person was surprised that Fox News had been so up-front with the correction.
Another person blamed the network for its eagerness to stroke the president's ego.
@FoxNewsResearch So stop promoting Trump and his agenda. This is all on him.

— Lee in Iowa 🆘 #TeamPelosi #Booker2020 (@Lee in Iowa 🆘 #TeamPelosi #Booker2020) 1540422771.0
Naturally, Fox News followers still defended the president in their own special way.
@FoxNewsResearch My business is at a stand still because of the cheap foreign product coming to the US. Tariff ever… https://t.co/sD16zg9gaY

— Frank Raimondi (@Frank Raimondi) 1540430420.0
But the financial complaints of the manufacturers listed are more than valid.One of the companies, Harley-Davidson motorcycles, was forced to move much of its production outside of the United States for the first time after the price of product imports skyrocketed beyond financial feasibility.
And though the president ran on a platform of keeping businesses in the United States, he still seemed to brag about the Harley-Davidson's decision.
Many @harleydavidson owners plan to boycott the company if manufacturing moves overseas. Great! Most other companie… https://t.co/zd8aJznyQW

— Donald J. Trump (@Donald J. Trump) 1534078659.0
Though Harley-Davidson's sales in the United States saw a drop, the company's overall profit margin increased after the move.
The iconic American manufacturer Ford Motor Company is having to restructure as well, with Trump's tariffs reportedly costing them over a billion dollars. Widespread layoffs are expected to occur beginning early next year.
Though the president bragged about the tariffs as recently as the day before the interview, it's not exactly a surprise that he'd distance himself from them now that their effects are being felt and their popularity with Americans plummeting.
The hell? He's been bragging about his tariffs! Farmers everywhere are getting screwed! https://t.co/chZsJEAI5C

— Markos Moulitsas (@Markos Moulitsas) 1540495633.0
@realDonaldTrump You understand that Americans bear the cost of your tarrifs, and not the countries you are impleme… https://t.co/ngogRKbF5o

— Mr. Elegant. (@Mr. Elegant.) 1540398418.0
@realDonaldTrump And yet I had to order the flooring for my home today early. Why? Because the costs of these tari… https://t.co/lnBHA2HQx0

— Tiffany (@Tiffany) 1540402321.0
@realDonaldTrump Oh yeah, your tariffs r helping greatly, just ask the soy farmers that were bailed out! Yes r cou… https://t.co/98q0jDAxjo

— OriginalHippie ☘️ (@OriginalHippie ☘️) 1540406254.0
While it's clear that the tariffs aren't helping American farmers and manufacturers, Donald Trump will first have to acknowledge their existence (again) before anything can be done.
Keep reading...Show less