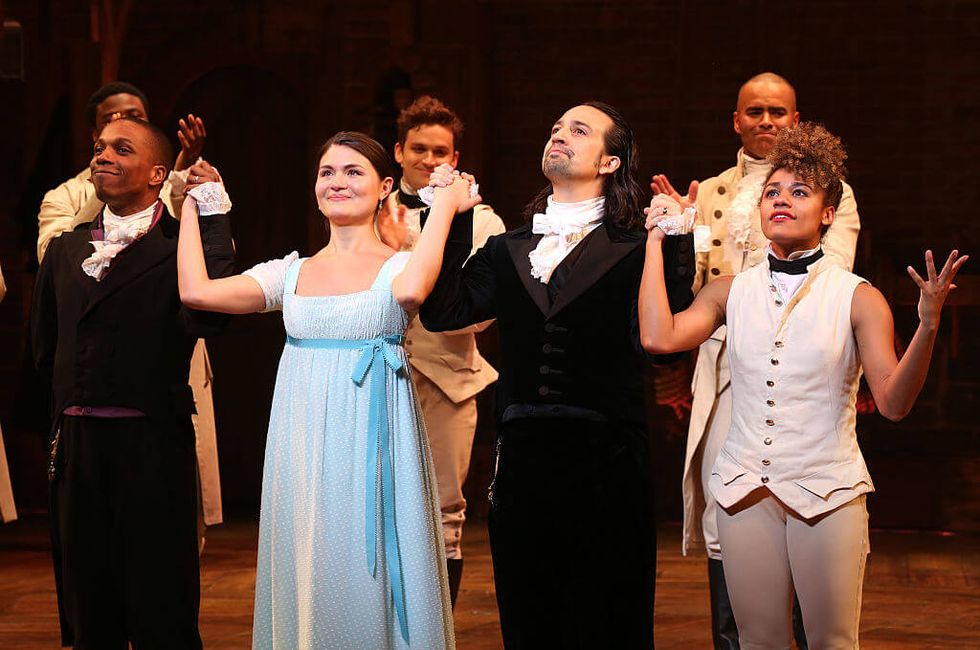 NEW YORK, NY - JULY 09: Leslie Odom Jr., Phillipa Soo and Ariana DeBose with Lin-Manuel Miranda during their final performance curtain call of 'Hamilton' on Broadway at Richard Rodgers Theatre on July 9, 2016 in New York City. (Photo by Walter McBride/WireImage)
Inspiration can spark from unexpected sources, especially when seen through the eyes of theatre artists.
While it's not uncommon to find Broadway musicals adapted from film and tv shows, some of its most legendary hits were inspired by material that emerged from some of the most unconventional inspirations.
Here are some that have us taking a second look.
1. Grey Gardens
The seminal 1975 documentary Grey Gardens remains a cult classic because its subjects—the aunt and cousin of Jackie O, who live in the squalor of their once-glorious mansion—have charmed viewers across generations. One character in particular—Edith Beale, known to most as "Little Edie"—went on to become a gay icon and a role model for creative outcasts everywhere. When the musical adaptation of Grey Gardens opened, it was the first Broadway musical ever based on a documentary.
2. Cats
Cats isn't just about dancing cats.
Okay, well maybe it is, but the poems that inspired it has a rich history. Before it was adapted into one of the longest-running musicals in Broadway history, Old Possum's Book of Practical Cats was a collection by the iconic poet T.S. Eliot. Practically all of Cats's most iconic songs are adapted poems from this collection about the cats who would become stage stars.
3. The Wild Party
The Wild Party—a book-length 1928 poem by Joseph Moncure March—inspired not one, but two musicals. The poem tells of a party thrown by Hollywood entertainer Queenie but quickly devolves over the course of a long, libation-fueled night. While the poem was banned in certain cities, it would enjoy immense success about 60 years later, when an adaptation of it by composer Michael John LaChiusa premiered on Broadway. Another musical of the same name by Andrew Lippa premiered Off-Broadway as well.
4. Fun Home
At first glance, Alison Bechdel's graphic memoir Fun Home seems the opposite of a Broadway musical is often thought to be. Its artwork is straightforward with little spectacle. There isn't flowery language and the characters aren't glamorous. However, as 2015's Tony Winner for Best Musical showed, the Broadway musical Fun Home retained all the wonder and urgency of the graphic memoir that inspired it.
5. Hamilton
The hip hop musical that would go take Broadway by storm may not have come to fruition had it not been for an 818-page biography about its protagonist. That's right: while embarking on vacation during the Broadway run of In the Heights, Lin-Manuel Miranda browsed for some new reading material in an airport bookstore. That's when he came across Ron Chernow's 2004 biography Alexander Hamilton. As he read of Hamilton's life, he visualized it more and more as a musical. Chernow would go on to be the historical consultant for the production and the Broadway smash would boost his book sales by millions of copies.
What are some other musicals that have unlikely beginnings? Let us know in the comments!
Keep reading...Show less