Incumbent Democratic Governor Gretchen Whitmer squared off against MAGA Republican challenger Tudor Dixon.
14 October 2022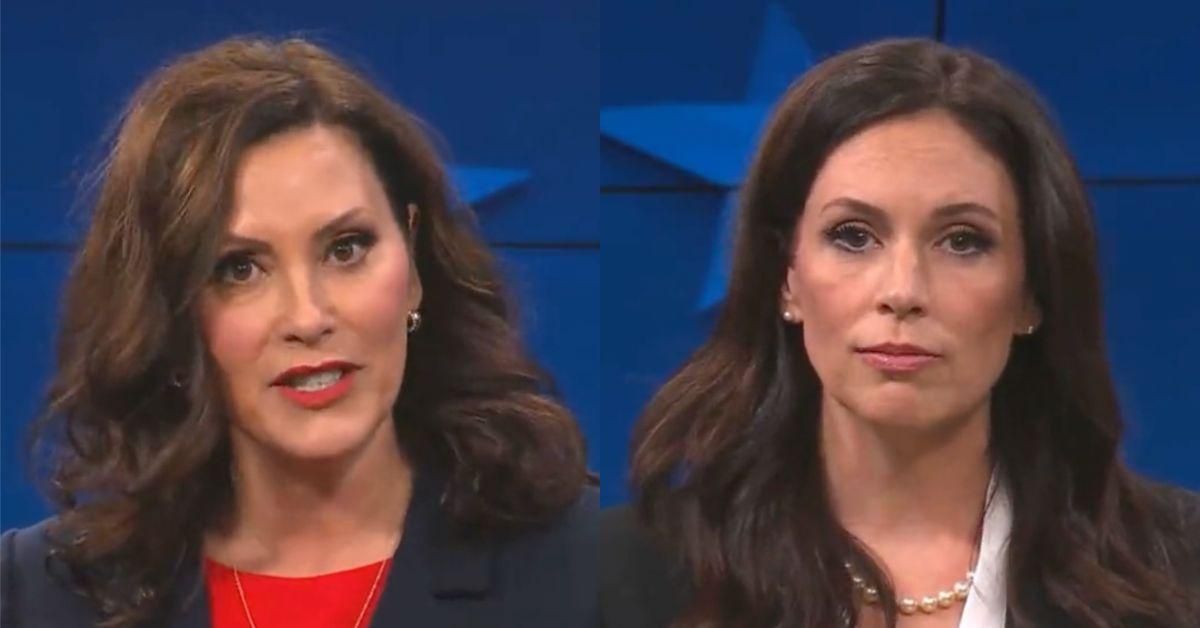 WOOD TV8
The first debate in the Michigan governor's race—one of the most hotly contested elections in the country of the 2022 midterms—took place Thursday night between incumbent Democratic Governor Gretchen Whitmer and MAGA Republican Tudor Dixon.
Whitmer had a succinct, pointed response to Dixon's views on gun rights.

Using Dixon's response to the horrific school shooting in Oxford, Michigan last November, Whitmer expertly laid out why Dixon is the wrong choice for the state of Michigan.
See her comments below.

In her allotted time, Dixon adhered to the GOP's standard NRA-mandated rhetoric on guns, calling for Michigan to get more "tough on crime" rather than implement gun control measures, and accusing Whitmer of planning to "take guns away from law-abiding citizens."
In her comments, Whitmer painted a contrast between her and Dixon's approach to gun violence that could not have been more stark.
Beginning with a social media post of Dixon's, she said:
"The same month as the Oxford school shooting where four children were murdered, eight were injured, and the whole community was terrorized, Tudor Dixon posted on her social media a picture of her shooting a gun with a caption that said, 'Gun control means using both hands'."
"She is too dangerous and too out of touch to be trusted with protecting our kids."
Whitmer then summed up Dixon's position.

"She'll put the Second Amendment before second graders every time."
"We cannot let that happen."

At another point in the debate, Whitmer pointed out Dixon's lack of any actual plans to address gun violence.
She quipped:
"I'd be happy to give my 30 seconds to Mrs. Dixon if she wants to actually tell us what policies she might support to get guns off the street."
These moment were just a couple among many in a wide-ranging debate in which Whitmer seemed far more prepared than Dixon as the two debated some of the most hot-button issues of this midterm season, including abortion and election integrity.
The two issues came together after Dixon stated her anti-reproductive freedom stance:

"I am pro-life with exceptions for life of the mother, but I understand this is going to be decided by the state of Michigan or a judge."
Not only is this a wholesale reversal on her previous public stance, in which she said she opposes abortion without exception, but to claim it will be left up to the people or the judiciary is of course a cop-out, as we've observed over and over across the country.
But Dixon is also an election denier.
This moment of hypocrisy didn't slip past Whitmer, who nailed Dixon on her disingenuous dodging of the question.

Whitmer said:
"I think it's really ironic when Mrs. Dixon stands here and says that she will accept the will of the people."
"This is a candidate who still denies the outcome of the 2020 election. This is a candidate who will not pledge to accept the outcome of the Nov. 8 election."
On Twitter, Whitmer's dispatching of Dixon's position on gun safety left many people cheering.
And her treatment of Dixon's statements on abortion drew widespread applause.
Whitmer holds a commanding lead over Dixon, whose radically far-right anti-abortion, anti-LGBTQ, transphobic and pro-gun rhetoric seems not to resonate with the majority of Michigan voters.
But Whitmer's lead has been shrinking in recent weeks, to under 10 points for the first time since the race began.