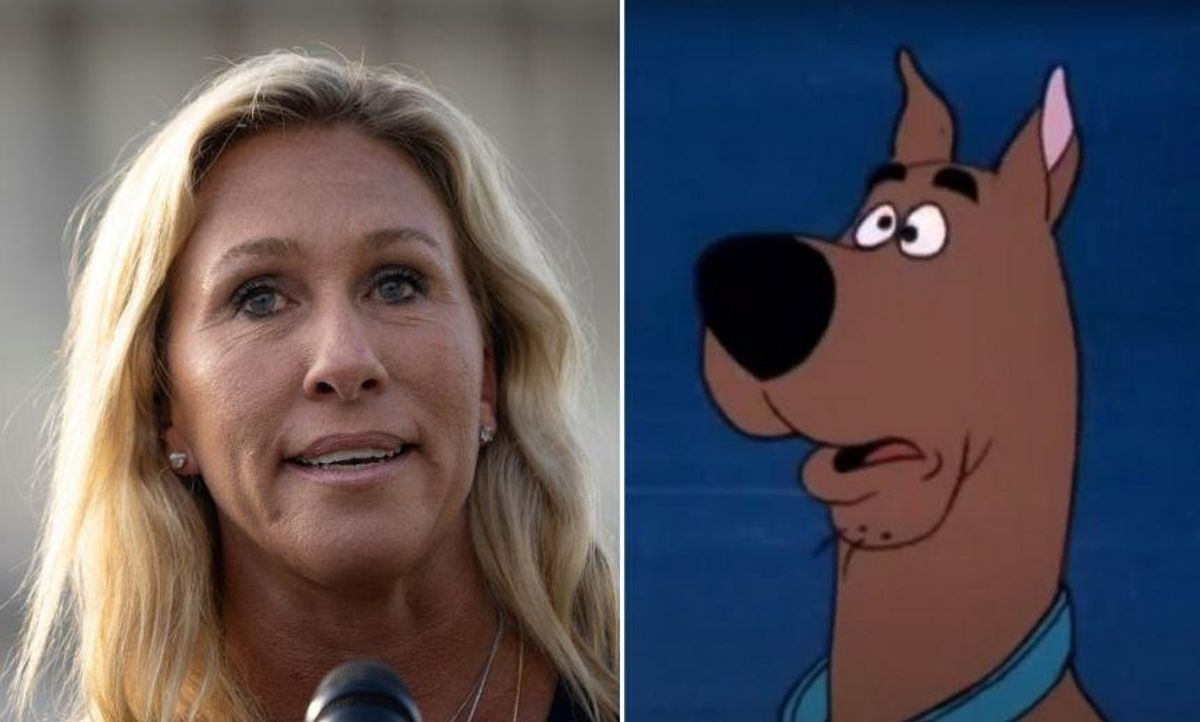 Drew Angerer/Getty Images // Hanna-Barbera
Far-right Congresswoman and prominent conspiracy theorist Marjorie Taylor Greene of Georgia was stripped of her committee assignment after her prior support for deranged conspiracy theories and even the execution of her eventual colleagues came to light.
That hasn't stopped Greene from delivering bizarre diatribes on the House floor, as was the case earlier this week.
In comments this Wednesday, Greene railed against the Green New Deal—a set of non-binding policies to combat the climate crisis supported by most progressives in Congress.
In one moment, Greene used a Scooby Doo meme template to make the questionable claim that the Green New Deal only represented the interests of China, the nation responsible for the highest CO2 emissions in the world.
Watch below.
The meme shows Fred from Scooby Doo removing a Green New Deal mask from a captive to reveal the flag of the Soviet Union.

Greene said:

"This is a simple meme that you would find on the internet but this meme is very real. The Green New Deal, surprise, serves China and China only."
Unfortunately for Greene, photo and video editing software is widely available, which allowed social media users to edit the footage to target the Congresswoman's conspiracy theories and belligerent rhetoric.
People, including some of Greene's own Republican colleagues, found her latest diatribe dangerously idiotic.
Ruh-roh.