Didn't he learn to march at that military academy?
13 July 2018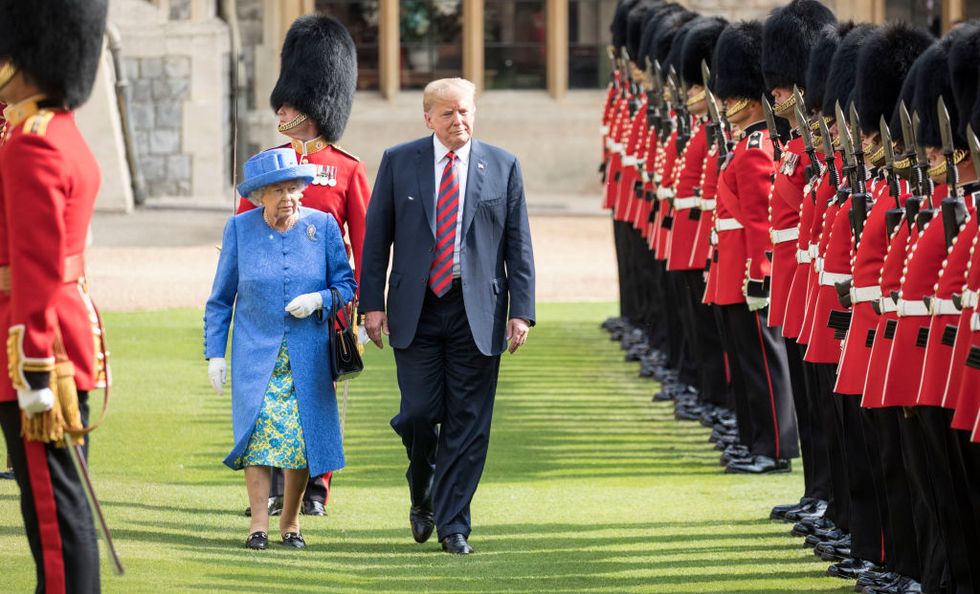 Britain's Queen Elizabeth II and U.S. President Donald Trump inspect a Guard of Honour, formed of the Coldstream Guards at Windsor Castle on July 13, 2018 in Windsor, England. (Photo by Richard Pohle - WPA Pool/Getty Images)
Queen Elizabeth II previously met 12 United States Presidents and today she met her 13th, President Donald Trump. Her Majesty met 10 of the 11 Presidents that took office after her 1953 coronation as well as Herbert Hoover after he was President and Harry Truman before she was Queen.
Before the meeting, the President had glowing praise for the British Monarch.
In an interview with The Sun, Trump stated,
If you think of it, for so many years she has represented her country, she has really never made a mistake. You don't see, like, anything embarrassing. She is just an incredible woman."
Unfortunately the official state visit with the Ruler of the British Empire did not go smoothly. The Queen scheduled tea with the President and First Lady, Melania Trump.
But the Trumps, who did not arrive until just after 5 P.M. local time, kept Her Majesty waiting.
And then, after arriving nearly 12 minutes late, the Queen took the President to inspect the Queen's Guard before tea.
But it didn't take long for people to notice Trump was having issues:
However, not everyone is amused.
The video angered people on both sides of the Atlantic.
However there were many who assured the Queen knows how to handle the situation. One person pointed out that the Trump tea was rather perfunctory.
Another recounted a story of when the Queen hosted the Crown Prince of Saudi Arabia.
But one reminded us all that unlike her Majesty's guest, Queen Elizabeth II is a veteran.
Keep reading...Show less