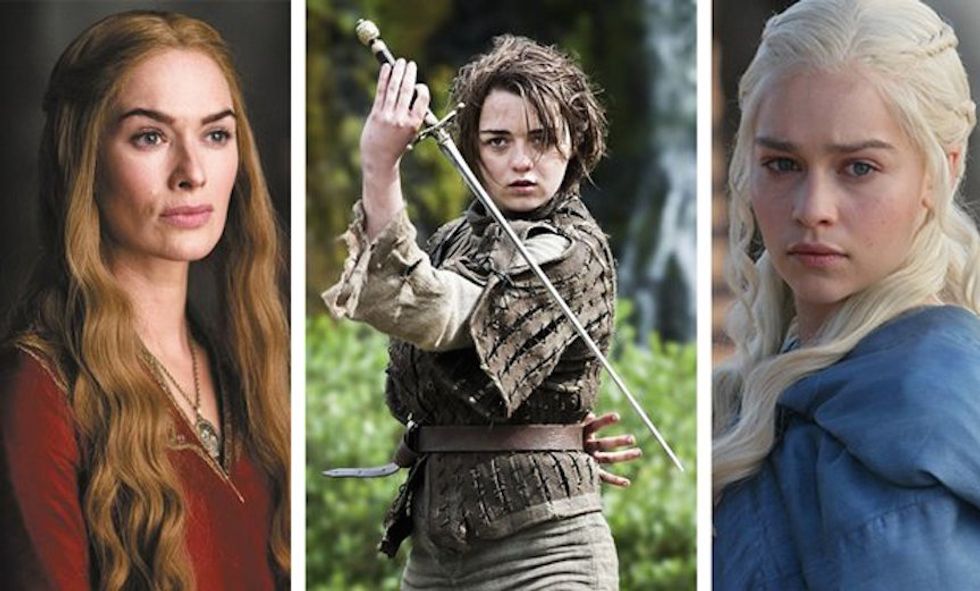 HBO's Game of Thrones returns for Season 6 on April 24. Gritty, violent, at times gory and always uncompromising in its choice of subject matter––in short, very much adult––the show is one of the network's top-rated programs. But the show has received criticism from even its most die-hard fans for its worsening portrayals of violence against women; some believe the show has already crossed the boundary between acceptable storytelling and outright misogyny.
THE "RAPE OF THRONES"
Two years ago, Game of Thrones was plunged in the midst of its very first substantial controversy. Fans found themselves divided over whether an incestuous encounter between Cersei and Jaime Lannister on the tomb of the late Joffrey Baratheon was, in fact, rape. Critic Andrew Romano believes viewers should pretend the scene never actually happened. "Pretty much 100 percent of the people who tuned in for [the episode] 'Breaker of Chains' thought that what Jaime did to Cersei on screen was rape—and they were unequivocally, unavoidably, undeniably correct," writes Romano. "There was no verbal consent—just refusal. 'Stop…it's not right!' Cersei snapped. 'I don't care,' Jaime hissed back. The last word Cersei said before the cameras cut away? 'Stop.' Again. For the fifth time. And Jaime kept going. That's rape, plain and simple."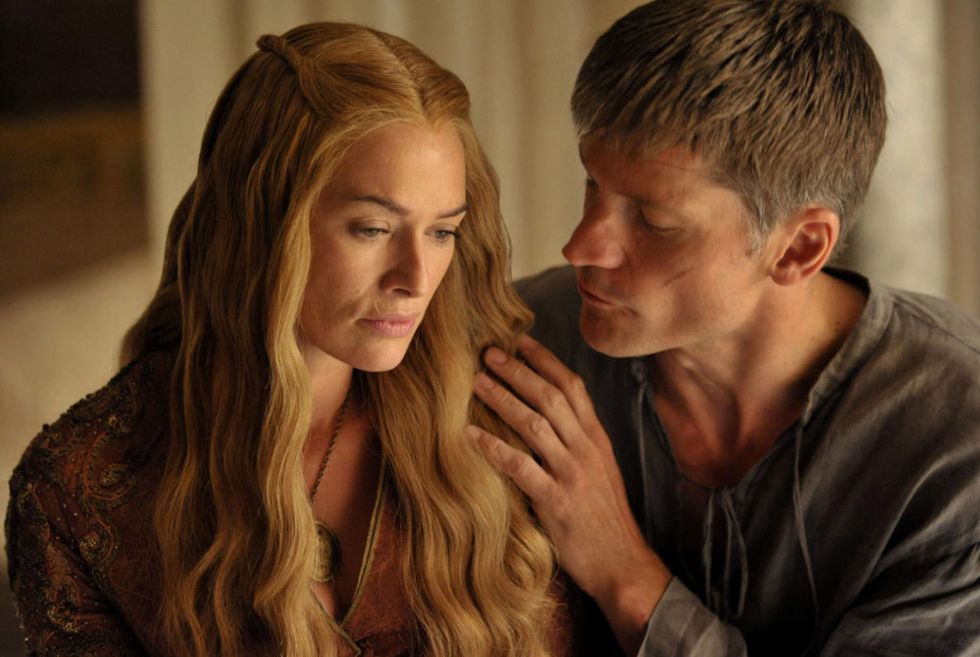 Credit: Source.
The scene, says Romano, "set out to violate as many taboos in a single scene as they [the showrunners] possibly could—and then violated a couple more, just for kicks."
In a widely circulated piece titled "Rape of Thrones," Sonia Saraiya lambasted HBO for a "violation of Cersei's agency" because, according to the books, Cersei actually wants to have sex. On paper, the scene does provide room for concern (Cersei "raises objections, in the midst of love making") but it is not one motivated or dictated by anger; onscreen Jaimie repeatedly violates Cersei despite her objections and frequent sobs and pleas for him to stop.
[post_ads]
"It's not impossible," wrote Saraiya, "that the rape is a conscious choice that will take these characters in a new direction," because going from page to screen often requires changes to  ensure a successful transition to the visual medium. This is inevitable. "The question is, 
instead: 'Why change this?' Why make a scene from the book that depicts consensual sex into one in the show that depicts rape?"
Game of Thrones author George R.R. Martin weighed in on the controversy, saying "though the time and place is wildly inappropriate and Cersei is fearful of discovery, she is as hungry for him as he is for her."
FEMALE CAST MEMBERS SPEAK OUT, BUT SO DO FEMALE CRITICS
Emilia Clarke is not one to criticize Game of Thrones for a lack of strong female characters or female-driven storylines. The recipient of an Emmy nomination for playing the not-so-easily-intimidatedDaenerys Targaryen (who chose to take a husband last season to keep the peace between warring factions), Clarke disparaged critics for their "anti-feminist" spin of the series. In fact, she says, these "out-of-context" diatribes limit viewers from comprehending a show that is a demonstration of women who are not only equal to their male cohort, but also similarly powerful.
"There's so much controversy," she said. "Yet that's what's beautiful about Game ofThrones – its depiction of women in so many different stages of development. There are women depicted as sexual tools, women who have zero rights, women who are queens but only to a man, and then there are women who are literally unstoppable and as powerful as you can possibly imagine."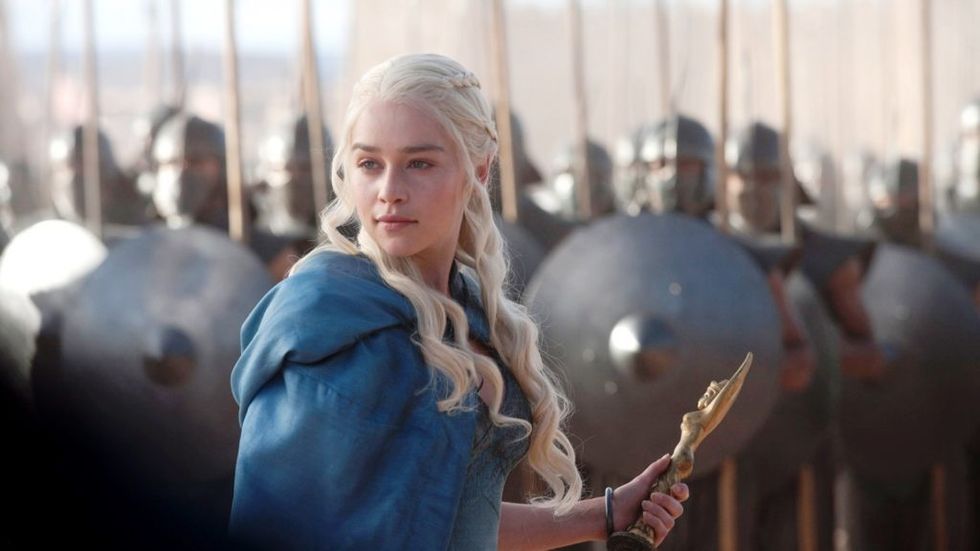 Credit: Source.
Clarke's co-star, Sophie Turner, who plays Sansa Stark, also came to the series' defense, saying that the show's depiction of women is actually "really nice." Back then, says Turner, women did not have the power to rule entire kingdoms, "and they weren't... the strongest characters in life." She went on: "And in this show, some of the strongest characters are the 
female characters. Obviously, we have to cater to the times that they were in, and so there are those social boundaries put upon them, but they break out of them in the show, and that's why I think it's quite feminist."
The two actresses found support from HBO programming president Michael Lombardo, who is certain Season 6 will upend any preconceived notions and misgivings by fans. "The women are rocking this season… Daenerys (Emilia Clarke) always does, but also Brienne (Gwendoline Christie), Arya (Maisie Williams), Sansa, Cersei (Lena Headey), Margaery (Natalie Dormer), and other characters too, like Yara (Gemma Whelan). They power this season. It's organic to the storytelling, yet a radical shift. It's the women that are the hope that we're watching as the chess pieces move this season, and it's very exciting."
Female television critics are divided on this issue.
"When handled correctly, depicting violence against women is actually a very effective way of demonstrating sexism and what it is like to navigate a world that isn't necessarily safe for you," saysThe Ringer's Alison Herman, who previously worked as a TV Editor for Flavorwire. "That's obviously true in the real world. It's true in the fantasy world. The fact is that you see these characters who are not really defined by their victimhood."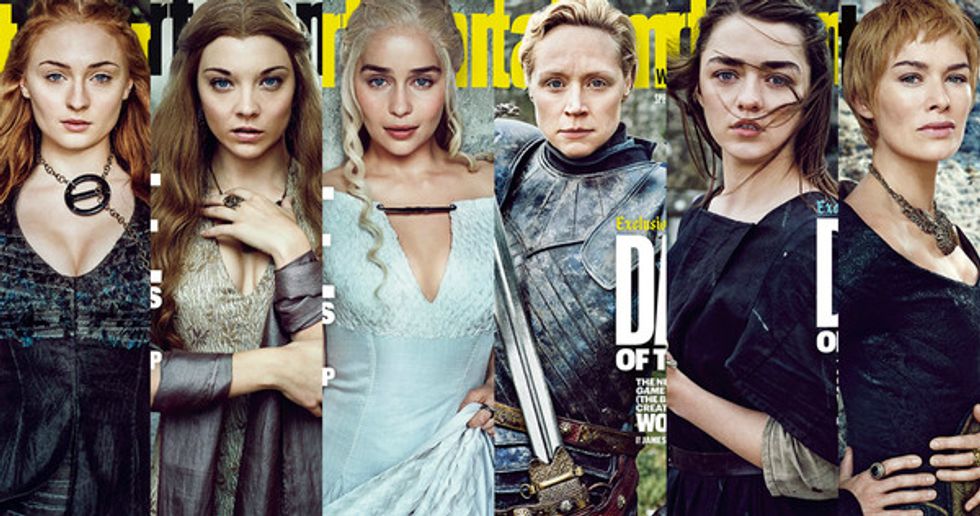 Credit: Source.
Kayla Kumari Upadhyaya, a freelance critic who is currently a staff writer with Autostraddle, is less forgiving. "Game of Thrones isn't telling a particularly compelling or well-developed story through its violence. The show uses violence for world-building but on a very surface level. The violence is part of its world, but the show often fails to justify why."
Herman does admit the violence against women struck a very dissonant chord for her last season. "There's a scene last season when you are in the North and they walk into a room and the bad guys are in control. You literally see women being raped in the background," she says. "You don't know their names. You've never been introduced to their 
struggle before. You don't see them afterwards."
WHAT THIS MEANS FOR HBO
Critic Maria Teresa Hart believes that Game of Thrones "reflects a broader problem with HBO's line-up: its male-centric programming treats women as plot devices to serve a male protagonist." She points out that on the first season of True Detective, Michelle Monaghan's character was always secondary to the two male leads. Similarly, there was only one female lead (Rachel McAdams) in the show's second season, but three male ones. While HBO is not "devoid of female-led programming," shows like Girls and Veep are "the exception, not the rule."
Nor would Hart agree with Sophie Turner's assessment that the women depicted on Game of Thrones are antithetical to their era. A show that represents the inequities of gender and sexual violence during the Middle Ages, she writes, should not be entirely "divorced from a female perspective." She draws comparisons to Outlander, whose main character's sexual desire compels the narrative forward, despite the fact that in 1743, "women have little agency and must seek marriage in order to be legally protected." Outlander's female lead is so strong, says Hart, that the viewer cannot help but relate to her numerous trials and tribulations. "When her character is almost raped by deserting members of the British Army, we see the attack through her eyes. After it happens, we see her hands tremble. Unlike Game of Thrones, the audience sees the attack as if it were happening to them."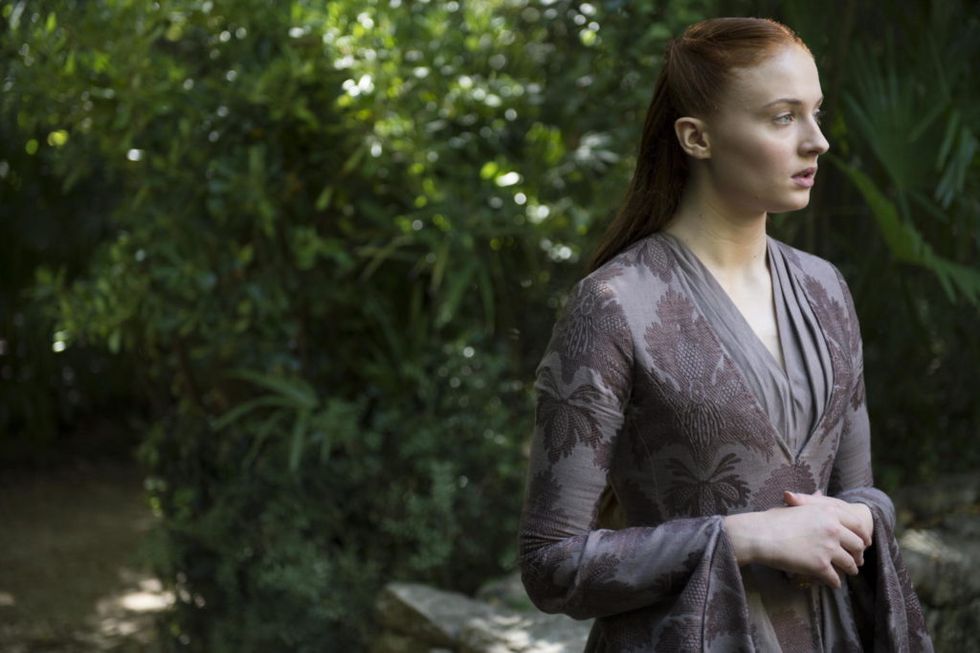 Credit: Source.
Game of Thrones may be a hit on cable, but HBO is struggling. Despite mostly enthusiastic reviews, the premiere of the male-driven show Vinyl drew a mere 764,000 viewers, an all-time low for HBO's line-up. True Detective, despite a raved first season, was a critical flop for the network in its second outing. Hart's conclusion is direct and resolved: "Here's the message HBO should be getting: Tune out half your audience, and they tune you out in return."
The popularity of Game of Thrones on both television and within the pop culture lexicon is undeniable. Only time will tell if HBO programming president Michael Lombardo's predictions for Season 6 are correct. Perhaps sensing the discontent in the air, Emilia Clarke chose to inject a dose of humor into the shadow hanging over the season premiere. After addressing misogyny concerns for much of the last few weeks, she chose to bring attention to an entirely different plight shared by the show's female cast members.
"I feel like there's a little bit of inequality between the amount of nudity that happens with women––this woman in particular––and that happens with the other guys," she said to host James Corden in an appearance on The Late Late Show. "I just think that should be even."
Many fans took to Twitter immediately, urging the show's male actors to "free the penis."
Keep reading...Show less