More of this please.
07 August 2019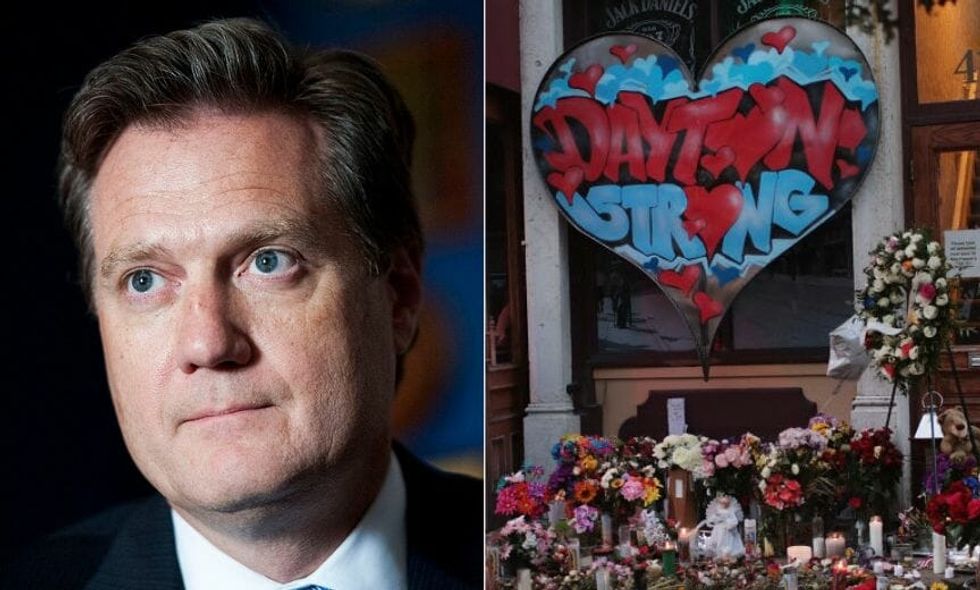 Tom Williams/CQ Roll Call via Getty Images // Scott Olson/Getty Images
After a shooting at a bar in Dayton, Ohio left nine people dead in the early hours of Sunday morning, Republican Ohio Congressman Mike Turner announced his support for common sense gun laws including a ban on "military style" weapons in order to stem the American epidemic of mass shootings.
The congressman, who has an A rating from the National Rifle Association, announced his position on Twitter. His daughter was across the street from the bar at the time of the shooting.
Today, I announced my support for restricting military style weapon sales, magazine limits, and red flag legislatio… https://t.co/mMwp3VpTtB

— US Rep. Mike Turner (@US Rep. Mike Turner) 1565116398.0
"I strongly support the Second Amendment," Turner assured in a statement, "But we must prevent mentally unstable people from terrorizing our communities with military style weapons."
He continued:
"I believe these are necessary steps forward in protecting our country and a testament to American values, which include protecting human life."
Turner also endorsed magazine limits after pointing out that the shooter had modified his weapon to hold more than 100 rounds of ammunition.
People commended Turner for breaking with the mainstream Republican party on such an urgent issue.
@RepMikeTurner Thank you. We need people to be safe.

— Patricia Arquette (@Patricia Arquette) 1565152082.0
@RepMikeTurner Mr. Turner, This is a great start. Sincere thanks for prioritizing the safety of America's citizens… https://t.co/Chm80tyzlx

— Timothy Kenison 🌊 #FearInoculum (@Timothy Kenison 🌊 #FearInoculum) 1565119995.0
@RepMikeTurner God Bless every @GOP who actually moves to do something to protect innocent Americans trying to live… https://t.co/WGJ4rhSLPK

— DicktatorDotardStillObstructing (@DicktatorDotardStillObstructing) 1565178131.0
@RepMikeTurner It's scary and heartbreaking when gun violence touches your own family. Believe me, I know. I appla… https://t.co/TFybhJMSPG

— Abbie Guttenberg Youkilis (@Abbie Guttenberg Youkilis) 1565120339.0
@RepMikeTurner It may be a genuine to react negatively to this statement. I get it. His past votes and stances are… https://t.co/0zT67FdRSf

— AMY O' (@AMY O') 1565120448.0
But the post wasn't without its Republican detractors.
@RepMikeTurner ok liberal

— pettanko (@pettanko) 1565146667.0
@RepMikeTurner Yanno, a populace should become VERY concerned when the government responds to a tragedy by trying… https://t.co/V5RqhPXkYN

— awesauce (@awesauce) 1565117777.0
@RepMikeTurner You can kiss your seat goodbye

— Luke Moravec (@Luke Moravec) 1565130220.0
Another Ohio Republican, Senator Rob Portman, threw his support behind common sense gun reform as well, primarily for red flag laws, or court orders allowing police to confiscate weapons of those deemed by a judge to be a danger to themselves or others.
Much like some red flag laws, a new Mental Health Protection Order could be a positive step forward, protecting due… https://t.co/saiytDOWZv

— Rob Portman (@Rob Portman) 1565112312.0
The House of Representatives passed a gun reform package this past February. Senate Majority Leader Mitch McConnell (R-KY) refuses to bring it to the Senate floor for a vote.
Keep reading...Show less