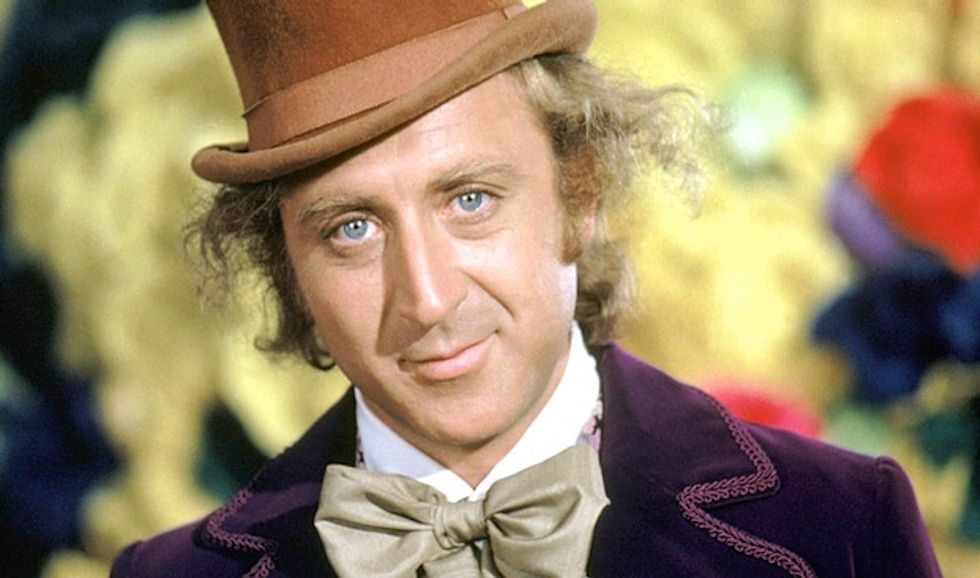 [DIGEST: Variety, Associated Press]
Gene Wilder, who earned legions of fans for his work in such highly regarded comedies as The Producers, Willy Wonka and the Chocolate Factory and Young Frankenstein has died. He was 83.
Wilder's nephew confirmed the news to the Associated Press. The actor died late Sunday at his home in Stamford, Connecticut, from complications related to Alzheimer's Disease.
Wilder made his name playing high-strung neurotics in the films of Mel Brooks. "My quiet exterior used to be a mask for hysteria," he told Time in 1970. "After seven years of analysis, it just became a habit."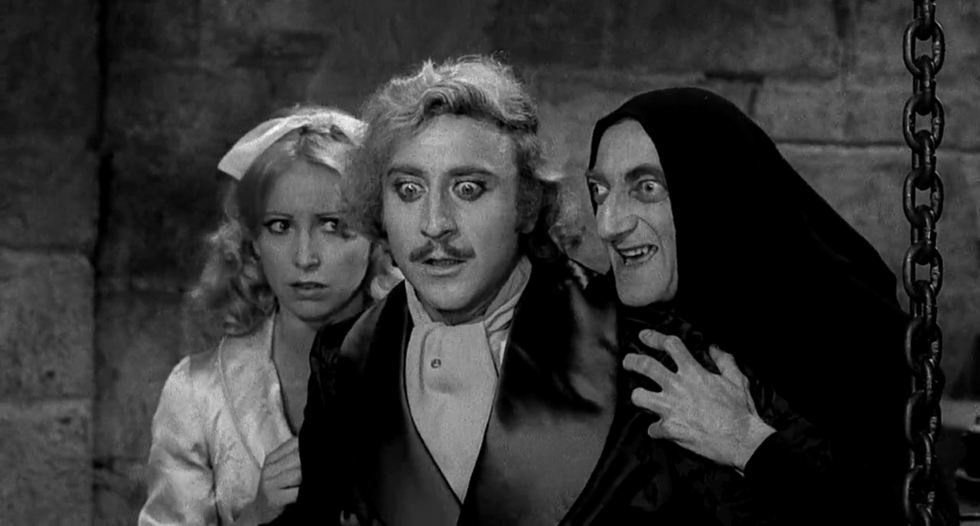 Teri Garr, Wilder and Marty Feldman in Young Frankenstein (1974). Credit: Source.
Wilder made his professional debut off-Broadway in Roots in 1961, later earning accolades for the Grahame Greene comedy The Complaisant Lover on the Broadway stage. Mel Brooks discovered Wilder in 1963 after seeing him in a performance of Bertolt Brecht's Mother Courage and Her Children which starred Brooks's wife, the late Anne Bancroft. Their partnership led to some of Wilder's most successful film work; he would receive a 1968 Best Supporting Actor Academy Award nomination for his role as neurotic accountant Leo Bloom in Brooks's cult classic The Producers. He received another nomination in 1974 for co-writing Young Frankenstein's script with Brooks.
[post_ads]
But the frizzy-haired Wilder found screen immortality as oddball chocolate maker Willy Wonka in 1971's Willy Wonka and the Chocolate Factory. Director Mel Stuart offered Wilder the part immediately after hearing him recite only a few lines. He accepted the role with one condition: "When I make my first entrance, I'd like to come out of the door carrying a cane and then walk toward the crowd with a limp," he said at the time. "After the crowd sees Willy Wonka is a cripple, they all whisper to themselves and then become deathly quiet. As I walk toward them, my cane sinks into one of the cobblestones I'm walking on and stands straight up, by itself... but I keep on walking, until I realize that I no longer have my cane. I start to fall forward, and just before I hit the ground, I do a beautiful forward somersault and bounce back up, to great applause." When asked why, Wilder responded, "Because from that time on, no one will know if I'm lying or telling the truth."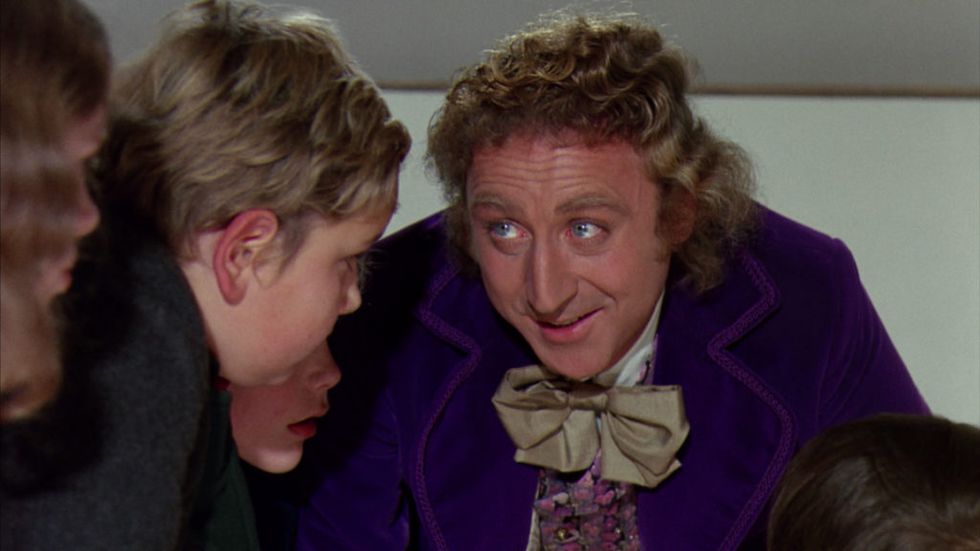 Wilder in his iconic role in Willy Wonka & the Chocolate Factory (1971). Credit: Source.
Away from Brooks, Wilder found his greatest success collaborating with comedian Richard Pryor. The two made for one of the more comedic duos of the 1970s and 1980s, starring in Silver Streak––finding a worthy comedic foil in actress Jill Clayburgh––and Stir Crazy. Two other pairings, See No Evil, Hear No Evil and Another You, were considerably less successful.
Wilder found love with Saturday Night Live star Gilda Radner while working with her on the set of 1982's Hanky Panky. She would later star in 1984's The Woman in Red, his most successful directorial effort. The star was devastated by Radner's death from ovarian cancer in 1989 and later devoted himself to raising awareness for cancer treatment.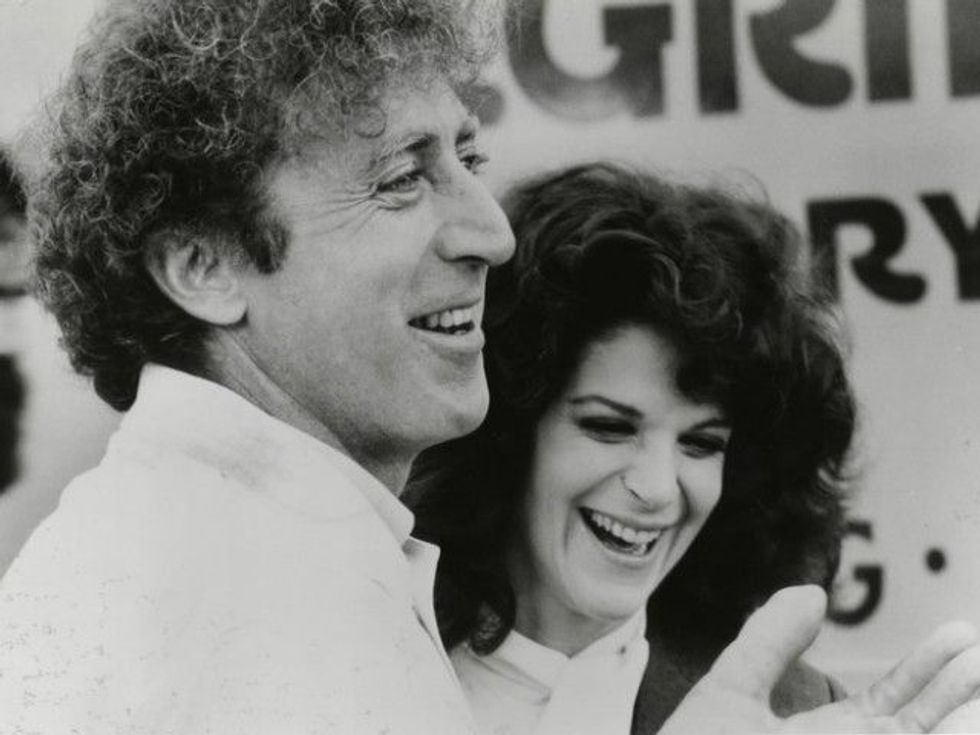 Wilder and Radner. Credit: Source.
He helped found the Gilda Radner Ovarian Cancer Detection Center in Los Angeles and co-founded Gilda's Club, a cancer awareness support group. Wilder remarried a few years later and lived with his wife, Karen Webb, in the Stamford, Connecticut home that he once shared with Radner.
In later years, Wilder would pop out of semi-retirement for an Emmy-winning turn as the nervous, bumbling Mr. Stein on Will and Grace. He published his bestselling biography, Kiss Me Like a Stranger: My Search for Love and Art, in 2005. He dedicated his time to painting and to his charity work. He is survived by his wife and his nephew.
Keep reading...Show less