Democratic Governor Gavin Newsom of California went on Fox News and ended up owning Sean Hannity over his question about Joe Biden's strength.
13 June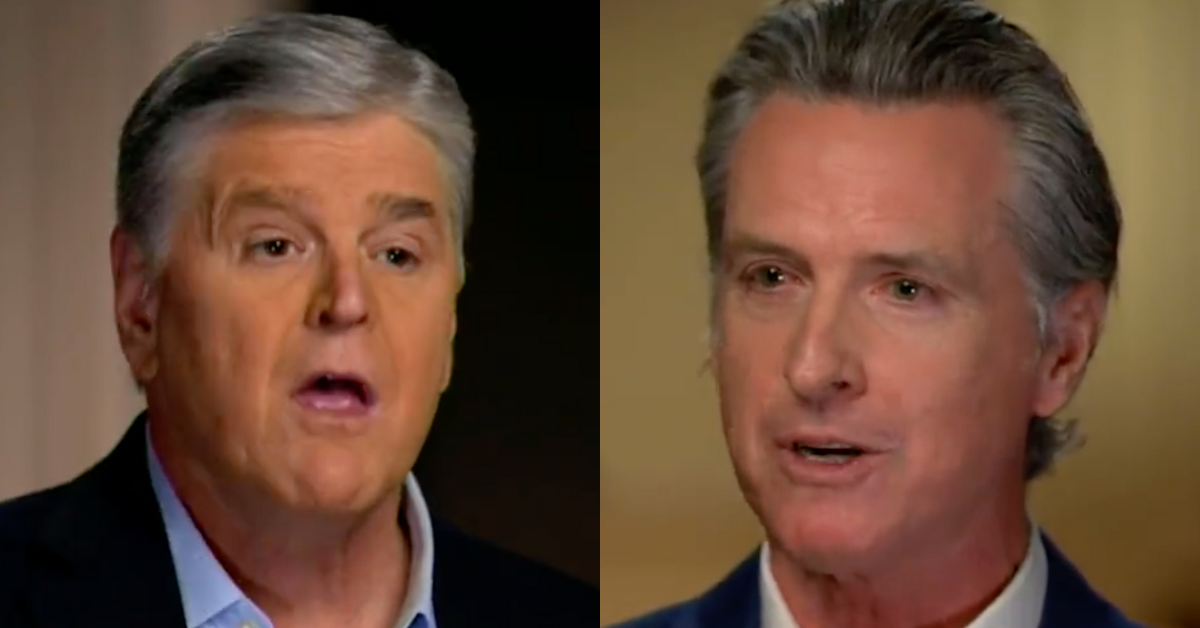 Fox News
California Democratic Governor Gavin Newsom appeared in a wide-ranging interview with Fox News host Sean Hannity, addressing various topics including immigration, tax policy, and President Joe Biden's job performance.
Hannity, known for his direct questioning, pressed Newsom on Biden's fitness for office, sparking a discussion on the President's capabilities.
Despite the persistent queries, Newsom remained steadfast in his support for Biden—and shut Hannity down completely.
You can watch what happened in the video below.

During the interview, Hannity probed Newsom about Biden's ability to effectively carry out his duties as president. Hannity played videos of Biden's ocassional speaking gaffes—long attributed and proven related to his stutter—and tripping incidents, highlighting his concerns.
Hannity said:

"Here's the problem that Joe Biden has. You're arguing, you're fighting, you're battling, you're articulate. We could sit here for three hours, probably have a beer or two in the middle of this, and you can keep going."
"Here's the problem. Your president can't have this conversation. He's not capable of it. Now, my question is a serious one: Is Joe Biden up to the job of being president?"

Newsom replied:
"I don't think he's capable. I know he's capable."

"I see results. I see a master class in results the last few years."

And when Hannity persisted in questioning whether Biden is "cognitively strong enough to be President, Newsom quickly shut him down:
"I have conversations all the time with him. Yes. And I'll tell you why I do. I'm dead serious about that."
"I've talked to him when he's been overseas. I've been in Air Force One, Marine One. I've been in the limo with him."
Newsom called Biden "a man of decency and character and said he is "proud of what he has accomplished." He also said Biden "ran circles around" House Speaker Kevin McCarthy, referring to recent debt ceiling negotiations.
He added:

"Kevin got played. I'm for results."
Many praised Newsom's response.

The suggestion that Biden is "mentally frail" has become a favorite talking point in conservative circles even though claims about an alleged cognitive impairment are entirely unfounded.

In September 2020, ABC News reported the Department of Homeland Security (DHS) withheld intelligence warning of Russian disinformation attacking Biden to promote "allegations about poor mental health."
The intelligence bulletin, titled "Russia Likely to Denigrate Health of US Candidates to Influence 2020 Election," said American intelligence determined Russian operatives are sowing disinformation to convince the American electorate Biden has dementia and would be unfit to serve in office.
But the fact that the bulletin has discredited allegations about Biden's mental health has not stopped Fox News anchors from claiming that Biden is very much at the mercy of his handlers.