Vince Langman asked 'What happened' in the last '3 years' to lower employment, increase gas prices and inflation, and got a brutal reminder from Twitter.
27 January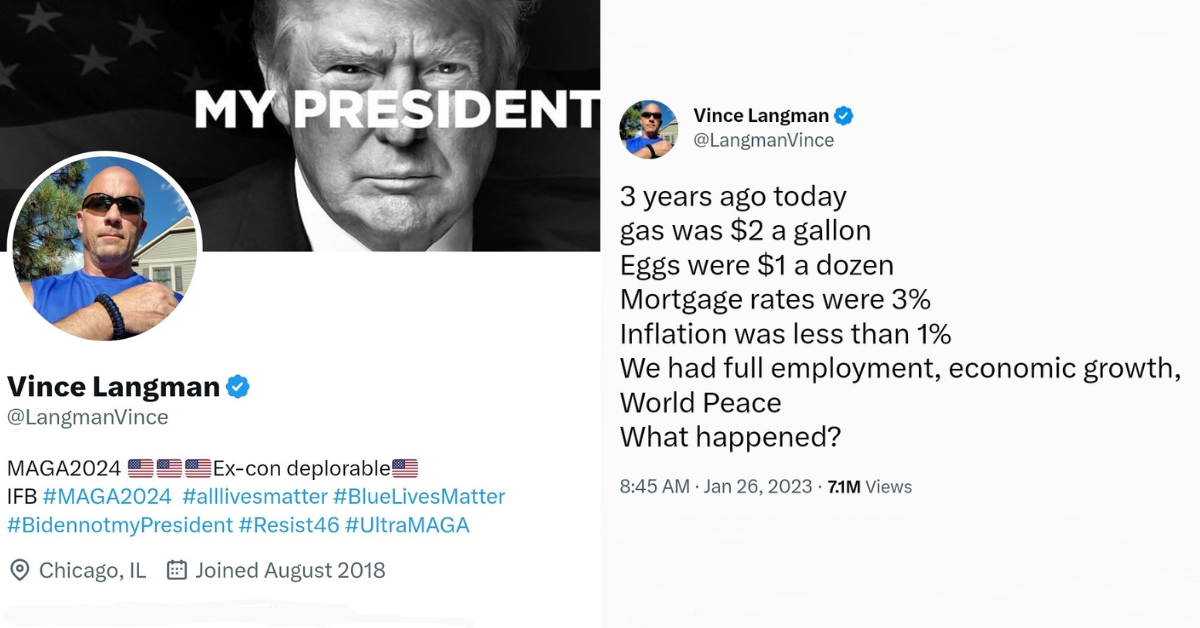 @LangmanVince/Twitter
Twitter user Vince Langman—a self-described MAGA "deplorable"—was swiftly shut down by Twitter users after he asked "What happened" in the last "3 years" to lower employment and increase gas prices and inflation.
Langman openly wondered how "3 years ago today," gas could have been "$2 a gallon," eggs "$1 a dozen," mortgage rates as low as "3%," and inflation as low as "1%."
He added:

"We had full employment, economic growth, and World Peace. What happened?"
You can see his tweet below.
Oddly, Langman did not seem to realize all of his gripes have very simple explanations.
Americans are still experiencing the financial fallout of the ongoing COVID-19 pandemic, which has killed millions and caused disruptions on all levels of the supply chain. As recently as this morning, Walmart and CVS announced they would be cutting pharmacy hours due to staff shortages and supply chain issues that have resulted in shortages of certain drugs.
The reasons why so many people left the labor force during the pandemic—which include illness, childcare, and other responsibilities—are quite varied. An estimated 47 million workers quit their jobs in 2021 alone; a desire for better work-life balance and flexibility, increased compensation, and a strong company culture motivated many of these workers.
Despite record-breaking profits, many companies—particularly those in the tech sector—have laid off thousands of their employees and blamed these decisions on pandemic over-hiring and a potential recession, although experts believe changes in the way investors evaluate companies have played a role.
The impacts of inflation also continue to be felt at the grocery store and at the gas pump.
The price of eggs, for instance, has gone up not necessarily because of inflation—which is cooling—but because of avian flu that has triggered the deaths of at least 58 million chickens.
The Centers for Disease Control and Prevention (CDC) has confirmed the spread of avian flu has affected more birds than the 2015 oubreak and that it has a mortality rate of 90 percent to 100 percent in chickens.
Langman's apparent bewilderment over why it's become more difficult to buy a home also has an easy answer.
Mortgages are high because rapid interest rate increases by the Federal Reserve meant to temper inflation and cool the housing market have caused mortgage rates to spike.
Changes in consumer behavior and decisions made by Wall Street investors are other factors that contribute to why the average rate on a 30-year fixed mortgage has jumped as high as seven percent recently.
It's worth noting none of the issues Langman pinpointed are unique to the United States: these problems are global and have been complicated further by the ongoing war in Ukraine.
Ukraine and the bordering parts of Russia are known as the world's "bread basket" because a mineral-rich black soil provides perfect growing conditions for grains like barley and wheat, which are then shipped to different countries.
However, the war has adversely impacted this crucial element of the region's economy, and has contributed to global food shortages, fueling significant civil unrest that's only been aggravated by climate change, which has played a major role in conflicts such as the one in Somalia, where an estimated 5.6 million people are malnourished and at risk of famine.
Additionally, the war has threatened global stability because Russian President Vladimir Putin has repeatedly played a game of nuclear chicken in an effort to deter the North Atlantic Treaty Organization (NATO) member nations from intervening in the worst humanitarian crisis Europe has seen in decades.
Many were quick to remind Langman of these facts and criticized his tone-deaf tweet.
Langman hasn't responded to anyone since being called out for failing to understand verifiable facts.
Since publishing his original tweet, he has shifted to spreading long-debunked conspiracy theories about the attack on former House Speaker Nancy Pelosi's husband Paul, who was seriously injured and underwent surgery in October after being attacked with a hammer by a home invader.
Paul Pelosi's attacker David DePape embraced far-right political conspiracy theories including QAnon, Pizzagate, ideas related to COVID-19 vaccine misinformation, and Holocaust denial.
Authorities earlier released bodycam footage of the attack, which has not stopped MAGA extremists and their apologists from insisting it satisfies a false narrative that Paul Pelosi was attacked by a lover he met at a bar in the middle of the night.