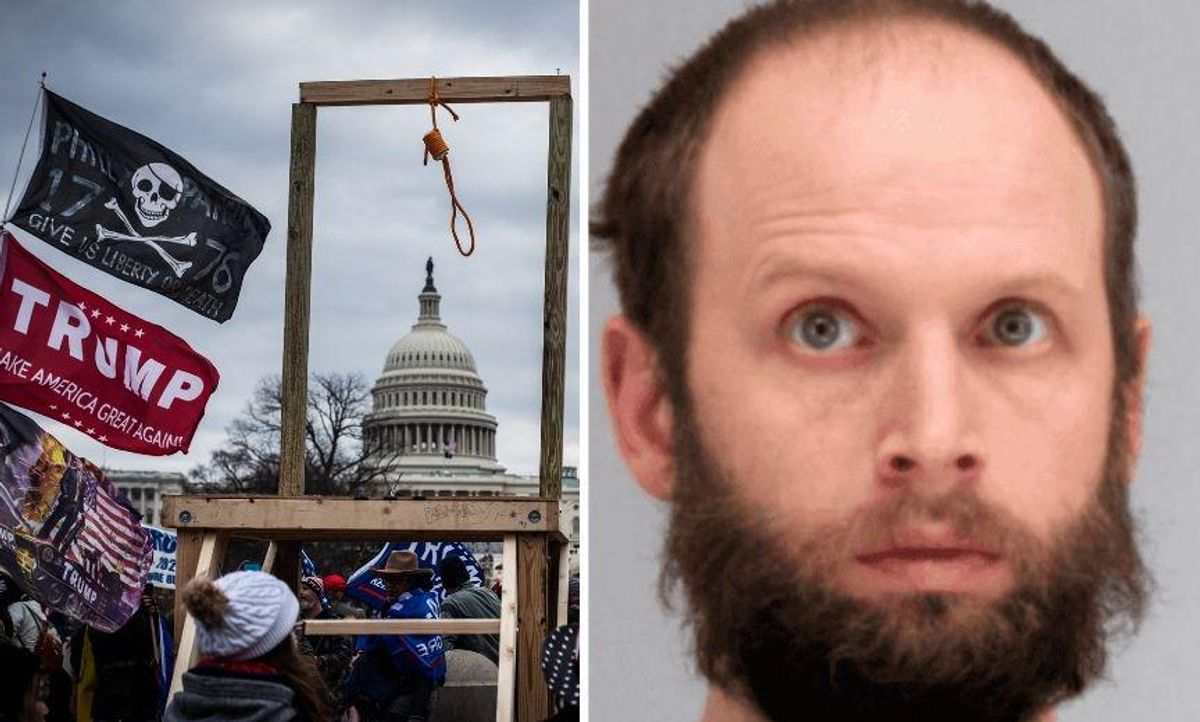 Shay Horse/NurPhoto via Getty Images // Dallas County Sheriff's Office
Following a months-long smear campaign by former President Donald Trump against the validity of the 2020 election, a mob of pro-Trump extremists stormed the United States Capitol on January 6 of this year in hopes of upending the congressional certification of now-President Joe Biden's victory.
The insurrectionists shattered windows, ransacked offices, smeared excrement across the walls, and called for the hanging of then-Vice President Mike Pence, considering his refusal to unilaterally dismiss the electoral votes of states Trump lost as a betrayal. They even erected a gallows outside of the Capitol.
Their actions resulted in the deaths of at least five people, including a Capitol police officer, and Trump was impeached by the House of Representatives for inciting an insurrection. He was later acquitted by the United States Senate, but with seven Republicans voting to convict him.
Though Trump's Senate trial is concluded, the Federal Bureau of Investigation (FBI) continues to arrest and try the participants in the riots.
One of the most startling aspects of the January 6 events is how proudly the insurrectionists participated. Social media posts and livestreams from Trump supporters who stormed the Capitol featured them bragging about their actions, detailing how they stormed the office of House Speaker Nancy Pelosi (D-CA) and gleefully posing for pictures with stolen property.
In at least one case—according to a recent court filing—the pride in the coup attempt extended to the moment of arrest.
Garret Miller was arrested this past Inauguration Day by the FBI for his part in the Capitol Riots. In addition to detailing his posts on social media, he also tweeted to "assassinate AOC," referring to firebrand progressive Congresswoman Alexandria Ocasio-Cortez of New York.
Though he exercised his right to remain silent during the arrest, his tee-shirt said enough. According to court filings, it read:
"I Was There, Washington D.C., January 6, 2021."
Prosecutors already had a mountain of evidence against Miller when filing their criminal complaint, but he maintains that he feels he did nothing wrong.
He was mocked across social media for his choice of shirt during the arrest.

More than two months after the siege, Americans are still demanding justice be served for those who hoped to undo the results of a presidential election using brutal force.
Nearly 300 people are facing federal charges for their roles in the Capitol riots.