Getty Images/Twitter: Fox and Friends First
In the days leading up to the 4th of July holiday, Gallup released its annual poll asking Americans how proud they are of their country, and found our national pride has hit an all-time low.
The poll found that only 45% feel "Extremely Proud" of the United States, the lowest level polled since Gallup first started asking the question in 2001.
Keep reading...
U.S. President Donald Trump speaks next to First Lady Melania Trump at the Congressional Ball at White House in Washington on December 15, 2018. (Photo by Yuri Gripas-Pool/Getty Images)
Since 1946, Gallup conducts an annual poll to find out which man and woman is the most admired by people in the United States. In an open-ended question, respondents are asked to name "the man and woman living anywhere in the world today whom they admire most."
The exact question according to Gallup is:
Keep reading...
President Donald Trump's polls have been on a downward spiral since his disastrous summit with Russian President Vladimir Putin, where he sided with the Russian leader over his own intelligence agencies on whether or not Russia meddled with United States elections during the 2016 campaign.
First, we saw last week's Quinnipiac poll showing Trump falling to 38%.
Keep reading...
NEW YORK, NY - JUNE 16: Business mogul Donald Trump holds documents certifying his net worth is 8.7 billion dollars as he announces his candidacy for the U.S. presidency at Trump Tower on June 16, 2015 in New York City. Trump is the 12th Republican who has announced running for the White House. (Photo by Christopher Gregory/Getty Images)
Americans may just be coming off their Independence Day celebrations, but a newly-released Gallup poll indicates that Americans' pride in their country has never been more scarce. In fact, it's at the lowest level since Gallup started polling the question in 2001. While American pride has been in gradual decline for the last few years, these numbers were the first time that those "extremely proud" to be an American fell below the majority at forty-seven percent.
The poll, conducted over the first two weeks of June, does show that most Americans take at least some level of pride in their country, with only three percent saying they were not proud at all. However the combined total of those who identify as "extremely proud" or "very proud" was at seventy-two percent: another all-time low.
Keep reading...
U.S. President Donald Trump in the Oval Office (Photo by Ron Sachs-Pool/Getty Images)
According to a new poll by Gallup and Sharecare, a health services company, American well-being under President Trump dropped in 21 out of 50 states and failed to improve in a single one. This is the first time in almost a decade a presidential administration performed so badly.
According to their report, the Gallup-Sharecare Well-Being Index "includes more than 2.5 million surveys" and "captures how people feel about and experience their daily lives." The report examines well-being across the United States in five elements of well-being:
Keep reading...
WASHINGTON, DC - JANUARY 09: U.S. President Donald Trump (R) presides over a meeting about immigration with Republican and Democrat members of Congress in the Cabinet Room at the White House January 9, 2018 in Washington, DC. In addition to seeking bipartisan solutions to immigration reform, Trump advocated for the reintroduction of earmarks as a way to break the legislative stalemate in Congress. (Photo by Chip Somodevilla/Getty Images)
International approval of the United States dropped significantly during the first year of Donald Trump's presidency, according to a recently released Gallup Poll. Worldwide approval dropped from 48 percent to just 30 percent between March and November of 2017. This is four points less than the previous low of 34 percent under President Bush.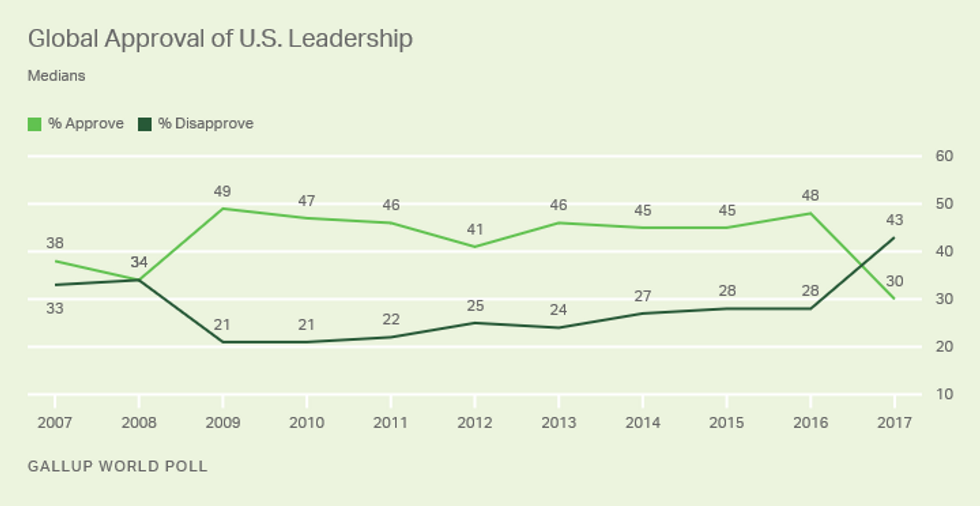 Gallup World Poll. Source: Gallup.
Keep reading...