Republicans seek to override local gun safety laws.
07 December 2017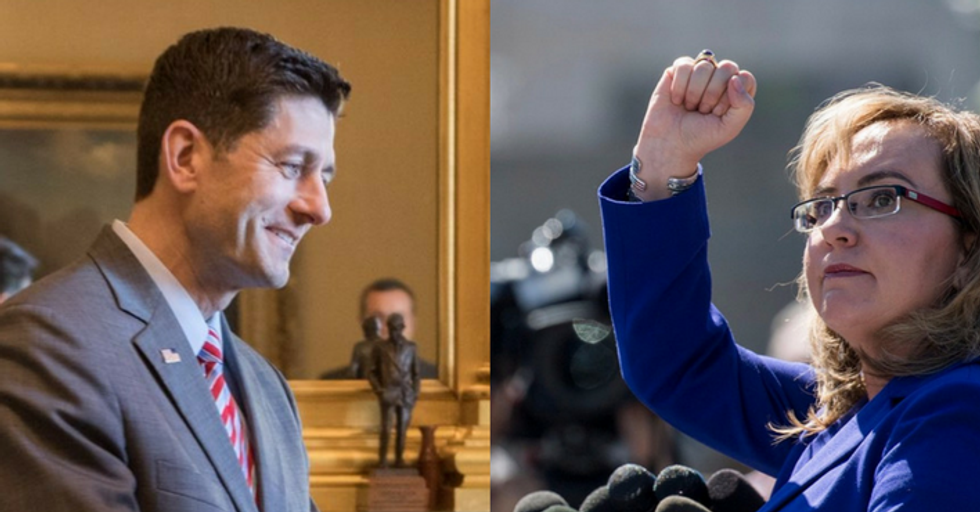 The House of Representatives passed legislation to permit concealed carry license holders to conceal a handgun in other states without additional permits or permission from that state required. This marks the first time Congress has taken action on a gun bill since President Donald Trump was sworn into office.
The "Concealed Carry Reciprocity Act," a top priority for the National Rifle Association (NRA) and other gun-rights groups, passed 231-198. Six Democrats voted for the measure while 14 Republicans voted "no".
Senate Democrats strongly oppose the bill, arguing it overrides individual states' efforts to control who carries concealed weapons inside their borders and creates a national gun license.
Former Arizona Democratic Representative Gabrielle "Gabby" Giffords on Wednesday resurfaced old tweets from lawmakers who earlier in the day voted in favor of the bill. Giffords and her husband founded Giffords: Courage to End Gun Violence after she was shot at a meet and greet by a gunman who also killed 6 people.
Giffords specifically targeted tweets in which lawmakers called for "thoughts and prayers" in the aftermath of recent mass shootings.
My prayers are with the victims & families of the #LasVegas tragedy.

— Tom Garrett (@Tom Garrett) 1506947091.0
"Thoughts & prayers alone won't prevent the next tragedy," Giffords responded to each tweet.
Thoughts & prayers alone won't prevent the next tragedy. I'm disappointed that @RepTomGarrett just voted to weaken… https://t.co/4ZYHXPdu9y

— Gabrielle Giffords (@Gabrielle Giffords) 1512604826.0
"Congress has failed the American people," Giffords said in a statement. "After two of our nation's worst mass shootings, Congress took direct instruction from the gun lobby and passed a bill that will override existing state laws and allow dangerous, untrained people to carry guns in every state and every city."
Let's be clear: These politicians are trading our safety for political contributions from the gun lobby."
"Studies show states with weaker concealed carry laws let people with violent criminal histories carry guns in public, and as a result those states have more violent crime and murder. If you live in a safe community now, this legislation undermines law enforcement and shreds the laws that protect you."
There's only one remedy for a Congress that can't keep us safe: a Congress that can. Elections are less than a year… https://t.co/DWSL9U2xLN

— Gabrielle Giffords (@Gabrielle Giffords) 1512596697.0
Meanwhile the NRA said in their own statement they "applauded the United States House of Representatives... for passing the most far-reaching expansion of self-defense rights in modern American history."
"This vote marks a watershed moment for Second Amendment rights," said Chris W. Cox, executive director, National Rifle Association Institute for Legislative Action.
The Concealed Carry Reciprocity Act is the culmination of a 30-year movement recognizing the right of all law-abiding Americans to defend themselves, and their loved ones, including when they cross state lines."
The GOP backed NRA gun package also includes a proposal to improve the National Instant Criminal Background Check System (NICS) as a means to garner support. Calls for an NICS upgrade stem from the recent mass shooting in Sutherland Springs, Texas, which left 26 churchgoers dead. After the shooting, the Air Force revealed it failed to report the gunman's 2012 conviction on domestic violence to NICS allowing the gunman to legally purchase guns.
A third provision requests Attorney General Jeff Sessions give an official Justice Department position on the use of "bump stocks". The Bureau of Alcohol, Tobacco, Firearms and Explosives is still evaluating whether it can regulate sales of the product. The legally available device allows rapid fire of semi-automatic weapons. Calls for stricter regulation or banning of bump stocks result from the mass shooting in Las Vegas that killed 58 people and injured hundreds.
Keep reading...Show less