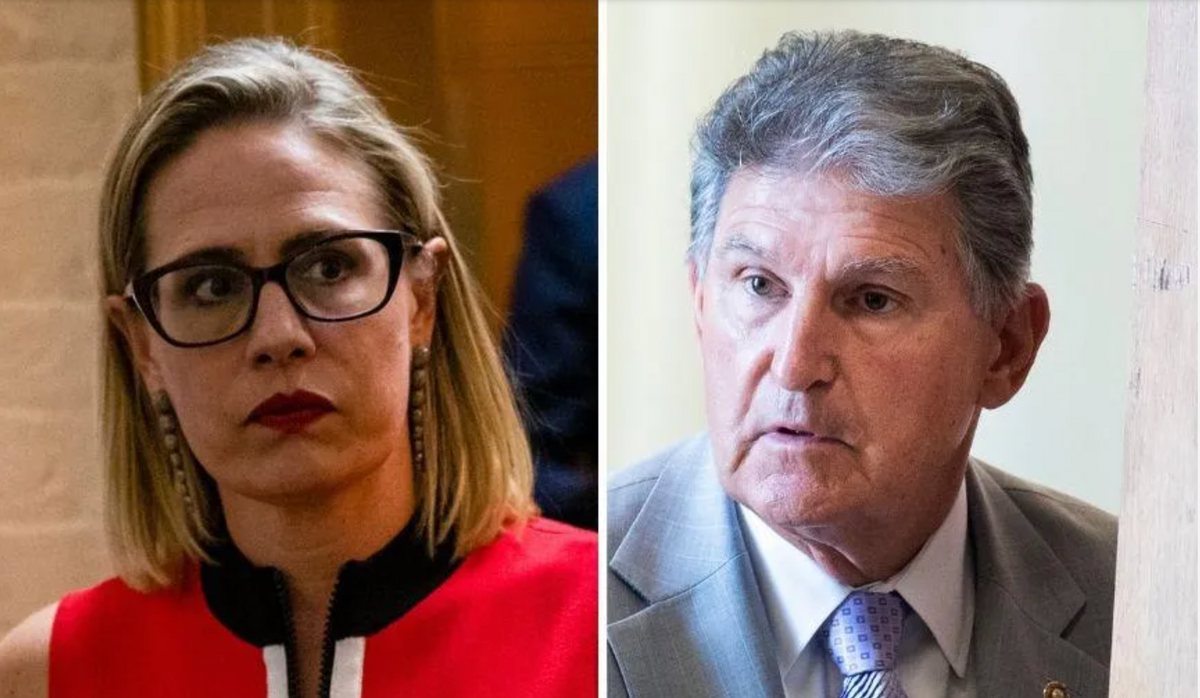 Samuel Corum/Getty Images // Tom Williams/CQ-Roll Call, Inc via Getty Images
Democrats rejoiced earlier this year when two Senate victories in Georgia regained the party's control of the Senate, completing a trifecta of Democratic dominance unseen since after the 2010 midterms.
But with razor-thin majorities in both congressional chambers, optimism that Democrats would pass long-promised legislation on voting rights, LGBTQ equality, police reform, healthcare expansion, and more have been largely dashed.
The two Senators taking the most heat for this are conservative Democrats Joe Manchin of West Virginia and Kyrsten Sinema of Arizona.
Both Senators have refused to abolish or modify the Senate filibuster, which requires 60 votes for most bills to advance to debate and has effectively nullified the Democratic majority. Back in March, the Senators joined five other Democrats to vote against legislation that would've raised the minimum wage to $15 an hour. They've also been resistant to the most ambitious parts of the second part of Biden's ambitious infrastructure package, Build Back Better, even after their reservations resulted in the cost of the bill being cut in half.
Now, a new report from David Smith of the Guardian sheds some insight as to why the pair seems so content to be personae non gratae: They're making money.
The report reads in part:
"In September, Sinema received a [check] from Stanley Hubbard, a billionaire Republican donor who is considering a similar contribution to Manchin because of their work to reduce [Build Back Better]'s price tag, the New York Times reported this week. 'Those are two good people – Manchin and Sinema – and I think we need more of those in the Democratic party,' Hubbard was quoted as saying.

The newspaper also revealed Manchin, of West Virginia, and Sinema, of Arizona, travelled to an $18m mansion in Dallas for a summer fundraiser attended by Republican and big business donors who have praised their efforts to pare down the Build Back Better bill."
It continues:
"The $3.3m raised by Manchin's campaign in the first nine months of this year was more than 14 times his haul at the equivalent stage last year, the New York Times added, while the $2.6m taken in by Sinema's campaign was two and a half times what she netted over the same period in 2020."
The development drew rage from Democrats eager to see a productive Congress.
If you ever want to know what money in politics looks like, it's this: Senators Sinema and Manchin financially benefiting from donors on both sides of the aisle as they stonewall critical legislation (like the Protecting our Democracy Act) https://t.co/ZeB8LTgwaJ
— Citizens for Ethics (@CREWcrew) November 30, 2021
Manchin & Sinema's as Senate holdouts is proving lucrative and watchdog organizations are concerned about corruption

Really?

This article alone has a enough information to warrant an investigation into all their finances! #VetsResist🤬#ResistanceUnited https://t.co/PSPKn3lRZJ
— Mary (@MommaMaryBeeGr8) November 28, 2021
call it what it is: corruption https://t.co/LppiA4Nqk3
— Kevin Singer (@ksings0201) December 4, 2021
The "centrist" obstructionism of the vile, corrupt shills @Sen_JoeManchin and @SenatorSinema is no mystery. They're becoming filthy, filthy rich from their Republican donors. https://t.co/KAExVxyPQa
— Steve Silberman (@stevesilberman) December 2, 2021
Billionaire Republican, Stanley Hubbard, gave Sen. Sinema a check, and said he is considering giving a check to Sen. Manchin as well, for their work in REDUCING the cost of Biden's Bill. That's bribery, out in the open. #wtpBlue #DemVoice1 #ONEV1
👇🏼 https://t.co/gjjbefS9k6
— Samia Ali Salama ✍️ (@SamiaAliSalama) November 28, 2021
Kyrsten Sinema and Joe Manchin traveled to a fundraiser "attended by Republican and big business donors who have praised their efforts to pare down the Build Back Better bill." Their corruption is an affront to the Democratic Party. https://t.co/bRhtEYinWq
— Edge 🌊🌊🌊 (@TheLesson55) December 3, 2021
Frustrations with Manchin and Sinema are through the roof.
Maybe they're paid too much to care?