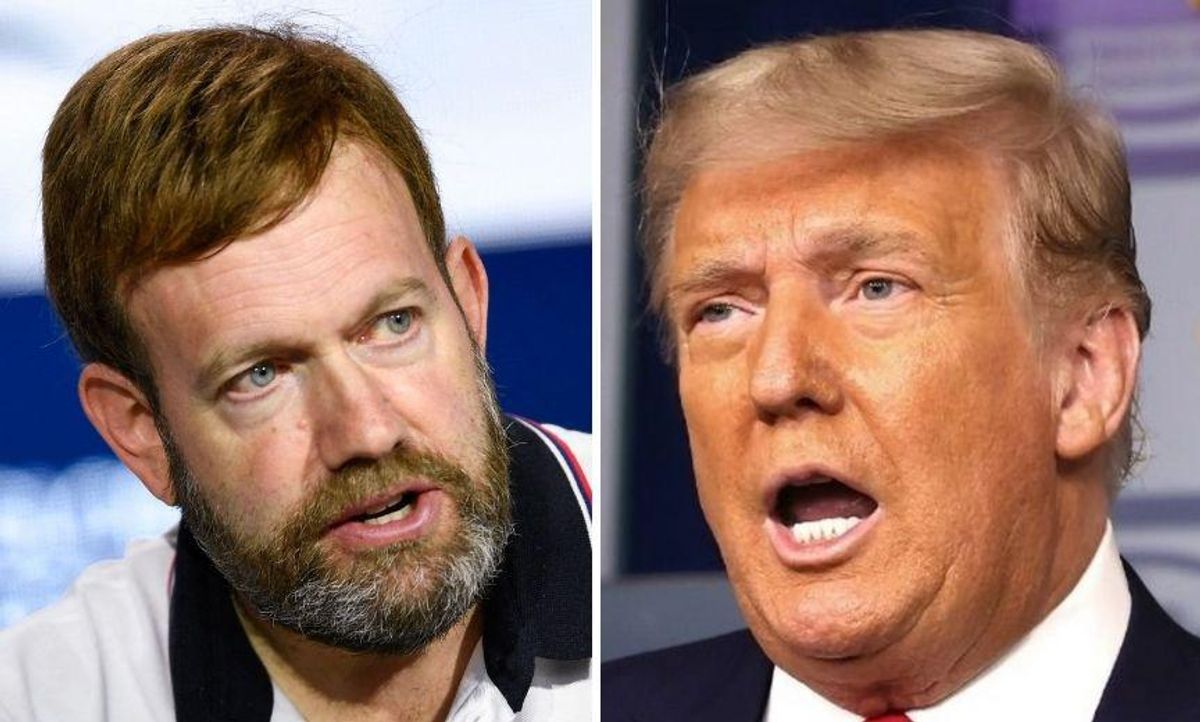 PATRICK T. FALLON/AFP via Getty Images // Chip Somodevilla/Getty Images
Former President Donald Trump may still be considered the king maker of the Republican party but there's a small number of conservatives still willing to criticize him, and warning against Trump's future as a potential candidate.
Frank Luntz has worked for decades as a political consultant for Republican campaigns, but hasn't been shy about his disdain for former President Donald Trump.
In case there was any doubt, Luntz asserted in a recent interview that this disdain is hardly unique to him, but pervasive behind the scenes in Republican circles.
Luntz was responding to comments made by New Hampshire Governor Chris Sununu at the Gridiron Club during its annual roast-style dinner. Sununu said Trump was "f***ing crazy," and wouldn't be let out of a mental institution if admitted.
Though Sununu later said it was "all a joke," Luntz says there's a degree of truth to the sentiment.
He recently told the Daily Beast:

"I don't know a single Republican who was surprised by what Sununu said. He said what they were thinking. They won't say it [in public], but behind his back, they think he's a child. They're laughing at him."
He then criticized Trump's fantasy that the 2020 election was "stolen," saying:
"Even many Republicans are tired of going back and rehashing the 2020 election. Everybody else has moved on and in Washington everyone believes he lost the election."

Some Republicans have paid a steep price for urging Republican voters to move on from 2020 and focus on winning in 2022. The former President revoked his endorsement of Alabama Congressman Mo Brooks' Senate campaign, citing Brooks' urging of voters to focus on midterms rather than the 2020 election.
Social media users found common ground with Luntz, but remain skeptical that heavy hitters of the Republican party will ever publicly break with Trump.
But some conservatives were annoyed to hear Luntz's latest evaluation, insisting he's a "RINO," or "Republican in Name Only."
it remains to be seen whether the behind-the-scenes jeers Luntz describes will be public before Trump makes an announcement about his candidacy in 2024.