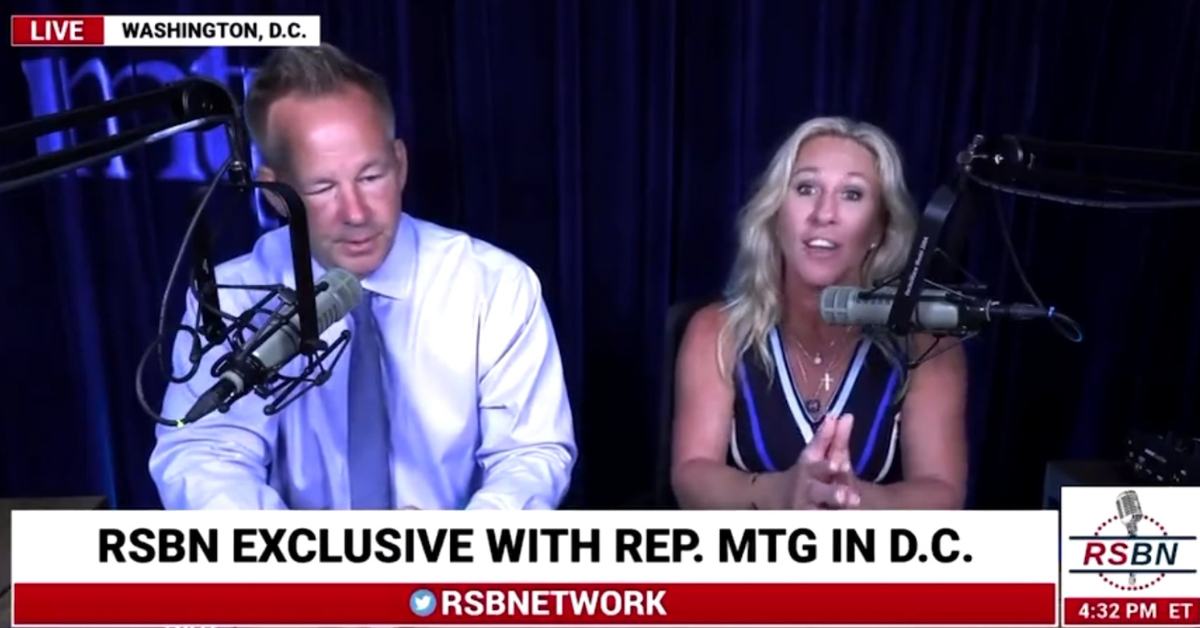 RSBN
Georgia Republican Representative Marjorie Taylor Greene decided to share her expertise in environmental science and climatology in an interview with Right Side Broadcasting Network (RSBN) on Monday.
Despite overwhelming scientific data showing climate change harms the Earth and will lead to an eventual mass extinction if left unchecked, the QAnon adherent claimed global warming is "actually healthy for us."
You can see a clip from the interview here:
Greene began:
"The temperature tracking is from the 1800s."
"We've already warmed one degree celsius and do you know what happened since then?"
The controversial GOP Congresswoman who holds a Bachelor of Business Administration from University of Georgia added:
"Here, let me tell you."
"We have had more food grown since then, which feeds people."
"We are able to producing [sic] fossil fuels, keeps people's houses warm in the winter."
"That saves people's lives. People die in the cold."
Greene didn't elaborate on how global warming increases fossil fuel production.
However having previously spread conspiracy theories about climate change and wildfires being the result of Jewish space lasers, the Georgia Republican is not perceived as the best source for credible information.
Greene continued:

"This earth warming and carbon is actually healthy for us."
"It helps us to feed people, it helps keep people alive, it helps—the earth is more green than it was years and years ago, that's because of the earth warming, because of carbon."
But environmental and climate scientists agree the rise in temperatures is creating a global increase in extreme weather events negatively impacting crop production and threatening everyone's future food security.
Extreme weather events like this:
People could point out the many errors in Greene's statements, but noted facts didn't matter to Greene or her supporters.
Others sympathized with the people who monitor Greene's interviews and actions.
Voters in Georgia petitioned the court to remove Greene from running for reelection in 2022 over her involvement in the January 6 insurrection.
The court eventually ruled in Greene's favor.
In the same RSBN interview, Greene tried to blame trans men for tampon shortages.
The public response was similar to the reception Greene received for her climate change claims.