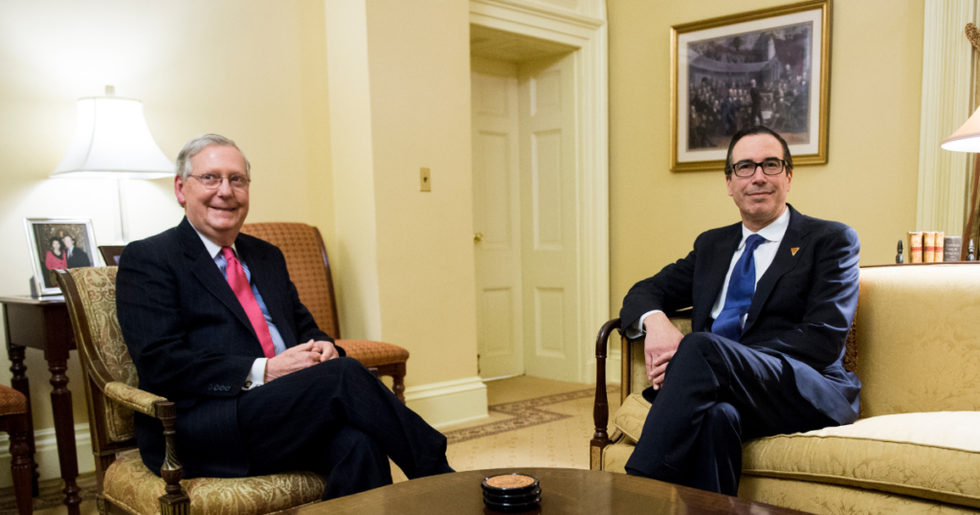 UNITED STATES - DECEMBER 6: Treasury Secretary nominee Steven Mnuchin, right, meets with Senate Majority Leader Mitch McConnell, R-Ky., in the Capitol on Tuesday, Dec. 6, 2016. (Photo By Bill Clark/CQ Roll Call/Getty Images)
Thanks to a Freedom of Information Act request, Buzzfeed News has acquired pictures of Senate Majority Leader Mitch McConnell (R-KY) and Treasury Secretary Steven Mnuchin gleefully posing next to stacks of gold bars stored at Fort Knox.
McConnell and Mnuchin, along with Kentucky Governor Matt Bevin (R) and United States Treasurer Jovita Carranza visited the Fort Knox Bullion Depository on August 21, 2017.
According to documents shared by Buzzfeed reporter Jason Leopold, this was "only the second visit of this type in the 80-year history of the facility."
Now, no one is suggesting there is anything nefarious going on here. But the optics of these Republican officials smiling amongst a trove of solid gold bullion is cringeworthy.
Talk about being on brand.
As if coddling the interests of the wealthiest Americans was not enough.
Is anyone surprised by this?
They look like Austin Powers villains.
The truly remarkable aspect to these photos is that Fort Knox is supposed to be an impenetrable vault for our country's gold reserves.
Mnuchin and his wife, actress Louise Linton, were also snapped watching last year's total solar eclipse at the facility.
Good job.
Keep reading...Show less