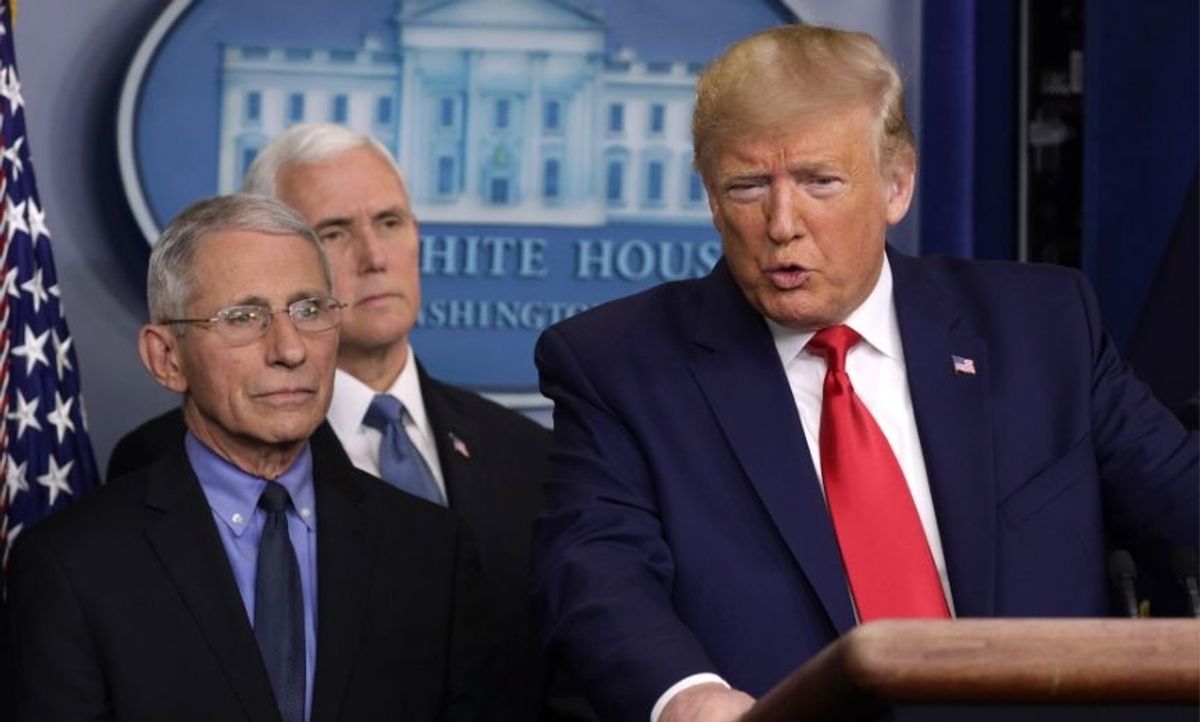 Alex Wong/Getty Images
President Donald Trump's Department of Agriculture intends to tighten restrictions on food benefits for unemployed adults without children or disabilities—a move that will leave 700,000 people without assistance for food.
Democrats in Congress have urged the administration to delay the action—which goes into effect next month—in the face of the rapidly spreading novel coronavirus.
In a hearing on Tuesday, Congressman Sanford Bishop (D-GA) urged Agriculture Secretary Sonny Perdue to hold off on enforcing work requirements during the epidemic, calling the measure "particularly cruel."
Perdue responded:

"Obviously if your job says you can't come to work or you're sick in that way, that good cause would eliminate need for work requirements under this rule. That will be under the discretion of the states to determine that good cause."
The Trump administration made the planned cut through regulation, instead of with congressional input, but the House is expected to pass a stimulus bill calling for a suspension of work requirements for unemployed adults who benefit from Supplemental Nutrition Assistance Program (SNAP).
Its fate in the Senate is unclear.
The refusal to deviate from the planned action—despite the hundreds of thousands of people it affects—was yet another instance of what many deem as cruelty from the Trump administration.
This is the president you want, MAGA crowd??? Trump Administration Refuses To Postpone Food Benefit Cut https://t.co/cXJ993JAro

— AquariusinAZ (@AquariusinAZ) 1584038895.0
This is not only immoral, IT'S CRIMINAL‼️ https://t.co/FHzLtIobQg

— GRITS1951 (@GRITS1951) 1584046259.0
Inhumane during this troubling time when it's needed more than ever #shameful https://t.co/hoAnSlVuCE

— SHM (@SHM) 1584046231.0
You know what makes it hard to work? BEING HUNGRY https://t.co/F4rJkApTpw

— ComputerSaysNo (@ComputerSaysNo) 1584037317.0
45 shows he is evil and cruel once again. Narcissistic as*! #VoteTrumpOut https://t.co/TFSfVbCOC4

— Black Dog (@Black Dog) 1584039285.0
Concerns are growing in regards to how the pandemic will affect every day Americans, many of whom are hourly workers with no access to paid sick leave.
If you don't support free disease testing, you are helping to spread COVID-19. If you don't support paid sick leav… https://t.co/wdMaYsGywe

— Jason Henriquez (@Jason Henriquez) 1584043654.0
The sickness in this country is far greater than COVID-19. Our govt acts to only to protect markets, never the mass… https://t.co/12ECJE42Oi

— Anne-Marie Slaughter (@Anne-Marie Slaughter) 1584036651.0
What we need and what we're fighting for right now: – Free and accessible COVID-19 testing – National paid sick le… https://t.co/UXtJtL66B2

— Joe Kennedy III (@Joe Kennedy III) 1584034038.0
Trump's administration still refuses to bend.
Keep reading...Show less