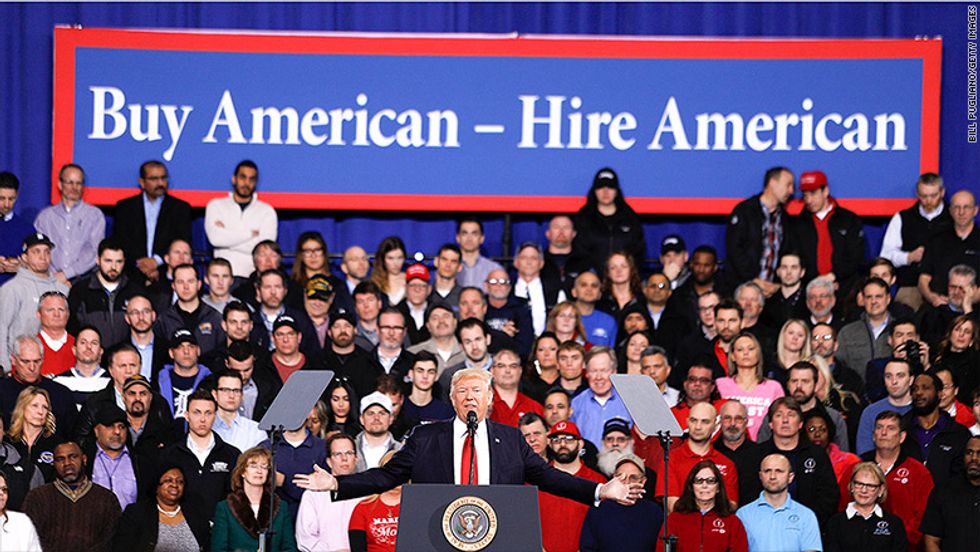 The gross domestic product (GDP) figures for January through March of 2017 show a slowing economy. Economists and market watchers who predicted a poor showing in the Commerce Department report were correct: The US economy only grew by 0.7% in the first quarter of the year. The previous quarter showed a growth rate of 2.1%. It is the slowest growth figure in 3 years.
Economic growth is driven by consumer spending, which was down more than expected during the first months of President Donald Trump's administration. While surveys showed that Americans generally were optimistic about the economy, those sentiments were not reflected in their actions.
Carl R. Tannenbaum, the chief economist at Northern Trust, was interviewed by The New York Times prior to the release of the latest data. He said:
"Reconciling improved consumer confidence with modest levels of consumption is an exercise that will occupy us for the rest of the year. I know there will be a school of thought that blames it on residual seasonality. But I have to be honest: The hard data just wasn't very good last quarter. The retail retreat, especially in autos, was greater than many people anticipated."
During the campaign and in initial White House documents, the president pledged to increase the GDP by 4%. "To get the economy back on track, President Trump has outlined a bold plan to create 25 million new American jobs in the next decade and return to 4 percent annual economic growth," according to one release on the White House site.
In the subsequent months, that promise was downgraded to 3% by Treasury Secretary Steven Mnuchin. In a CNBC interview, Mnuchin also said that Americans should not expect to see this growth until the end of 2018.
The first quarter's results may not be what the president and voters hoped for, but economists say that lower numbers are to be expected in the beginning of the year.  Ryan Sweet of Moody's Analytics said, "The weakness is not a reflection of the underlying health of the economy, part of it is residual seasonality. It has become more understood over the past few years, that's why people often discount the first-quarter GDP."
One possible reason for lower spending is the unusually warm February that meant lower utility spending. Americans may also be spending less than usual because income tax returns are being released later than usual due to new provisions to avoid fraud. However, much of the decrease in spending may be driven by increased inflation. The hiring freeze put in place by Trump may also have played a role.
Keep reading...Show less