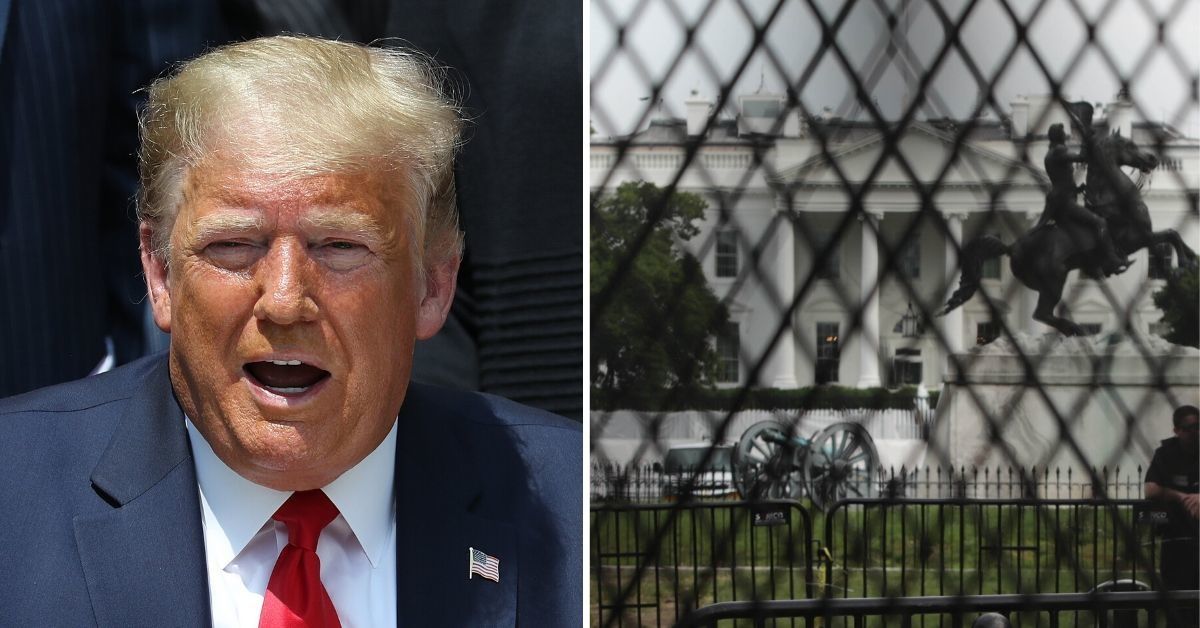 Chip Somodevilla/Getty Images // Yasin Ozturk/Anadolu Agency via Getty Images
Protests continue outside of the White House with demonstrators voicing their opposition to the murder of George Floyd by police and the overall climate of police brutality against Black people in the United States.
Trump's actions have indicated that he's not at all comfortable with protests at his front door.
The President was reportedly rushed to the White House's underground bunker on the first night of unrest. Since then, the White House has seen increasing numbers of militarized law enforcement officers from an array of units deployed to protect the White House.
The so-called People's House has also seen the construction of additional fencing around its gates.
New fencing has been erected at the north edge of Lafayette Square, adding to the sense of a fortress White House. https://t.co/NP3xXRqTOE

— Peter Baker (@Peter Baker) 1591106015.0
Extra fencing going up around the White House perimeter today https://t.co/8D97HeX6bt

— Jordyn Phelps (@Jordyn Phelps) 1591277998.0
The new fencing around the White House totals up to 1.8 miles of fencing.

Here's an interesting comparison.

A pillar of Trump's 2016 campaign was his promise to build a giant wall at the southern border that he believed would keep out undocumented immigrants.
The vast majority of financial allotments for this wall have been to repair already existing fencing. The President's and his allies have only managed to build three miles of new fencing in a little over three years.
That's just a bit more than the amount of fencing they've built around the White House in less than a week.
shot, chaser https://t.co/yCWqJLHYWN

— Aaron Rupar (@Aaron Rupar) 1591311382.0
The mockery was swift.
@atrupar Did Mexico pay for this fence?

— GatorGum (@GatorGum) 1591311439.0
@atrupar Still needs a moat

— King Koopa (@King Koopa) 1591311425.0
@atrupar Is Mexico paying?

— UppityHillbilly (@UppityHillbilly) 1591313259.0
@atrupar Lock him up! Lock him up! Lo - oh! he's doing it himself!

— factgasm2 #FBPE (@factgasm2 #FBPE) 1591322288.0
@atrupar Just wait until he starts on the moat filled with snakes

— im so goddamn tired (@im so goddamn tired) 1591311726.0
Some say the fencing presents numerous foreboding possibilities.
@atrupar Do you really think he's going to leave the White House voluntarily come November?

— factgasm2 #FBPE (@factgasm2 #FBPE) 1591322341.0
@atrupar He's walling himself in. Seriously paranoid

— jmbler (@jmbler) 1591327707.0
@atrupar It would be very funny if it weren't part of a much larger, serious, pressing problem.

— terra_citizen (@terra_citizen) 1591312373.0
Maybe the walls are closing in.