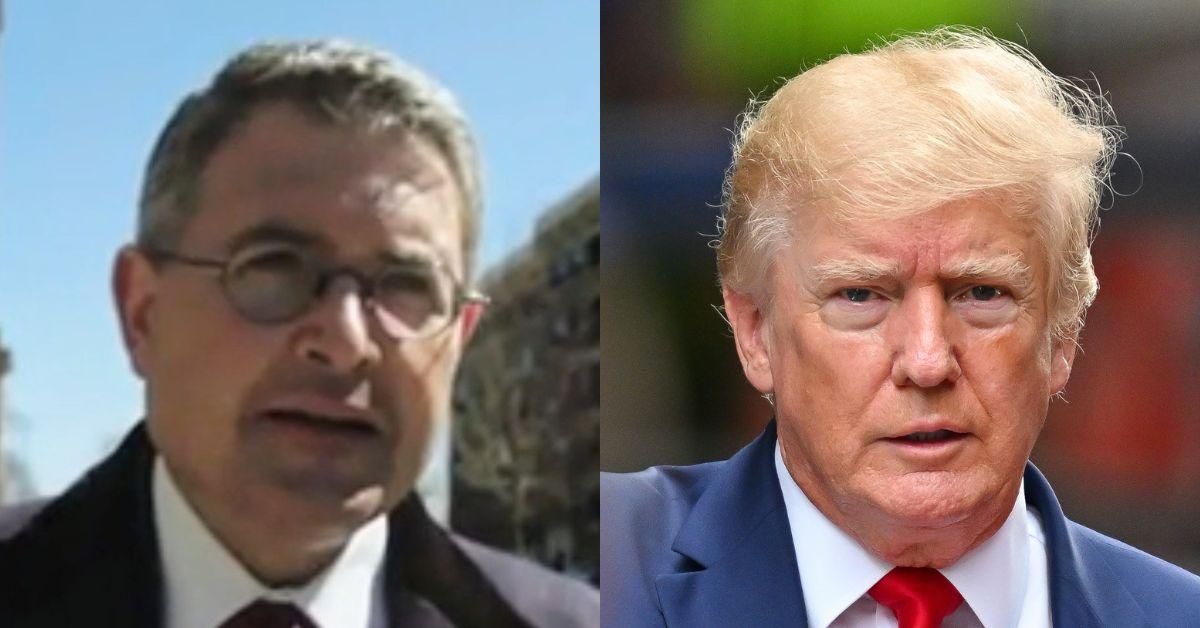 Washington Post; James Devaney/GC Images/Getty Images
In one of the most shocking stories of so-called "dark money" in politics history, a New York Times report reveals a conservative non-profit called Marble Freedom Trust received a $1.6 billion windfall last year--the largest political donation in history.

The donation is an enormous shot in the arm to the Republican Party that is sure to reverberate through politics not only in this fall's midterms but for years to come. It was all done tax-free and with initial total anonymity.
Its origins stem from a little-known Republican insider you've likely never heard of, though you're definitely familiar with his handiwork on everything from abortion rights to climate change policy.
Leonard Leo—a devout Catholic far-right conservative—is former Republican President Donald Trump's so-called "Supreme Court whisperer"—the man behind the former President's SCOTUS nominees, the most conservative in modern history. While few have heard of Leo, many are likely familiar with The Federalist Society—the conservative political organization he co-chairs.
The new donation suggests Leo's work for the Republican movement has only just begun.
The donation came from electronics mogul Barre Seid in a series of smaller transactions that appear to have evaded tax liabilities.
Seid is a long-time conservative donor who made a fortune working in the C-suite of electronics manufacturer Tripp Lite.
Rather than donate cash, Seid donated all his shares of Tripp Lite to Leo's Marble Freedom Trust right before the company was sold to an Irish conglomerate for $1.65 billion, the proceeds of which then went to Marble Freedom Trust.
The right has long lagged behind the left in terms of political donations, but Leo's deal levels that playing field considerably and amounts to more than the $1.5 billion the top 15 most active liberal nonprofit political groups spent on political campaigns in 2020.
Leo referenced this disparity in political funding in a statement about the $1.6 billion donation.
It read in part:
"It's high time for the conservative movement to be among the ranks of George Soros, Hansjörg Wyss, Arabella Advisors and other left-wing philanthropists, going toe-to-toe in the fight to defend our constitution and its ideals."
The donations from Seid to Leo's organization are difficult to trace.
The Times' report on the matter relied upon insiders revealing information about the transactions.
And according to Ray Madoff, a professor of tax law at Boston College, while the transactions are most likely within the bounds of the law, they are undoubtedly shady, having used tax law loopholes to both sell the electronics company in question and make the donation without paying any taxes of any kind.
Madoff characterized this type of financial activity as among the common ways the super wealthy skirt tax liability and in this case actually pass the buck to the American people.
As she put it:
"These actions by the super wealthy are actually costing the American taxpayers to support the political spending of the wealthiest Americans."
On Twitter, many were unnerved by the news of this extraordinary donation.
Leo has been a little-known but prolific fundraiser for far-right causes for decades.
His fingerprints are all over hundreds of millions of dollars of 2020 political funding for far-right judicial nominees and efforts toward restricting abortion access and limiting voting rights in the name of fighting supposed voter fraud.
He has deleted his Twitter account since news of the donation broke.