It's taking a toll.
08 January 2019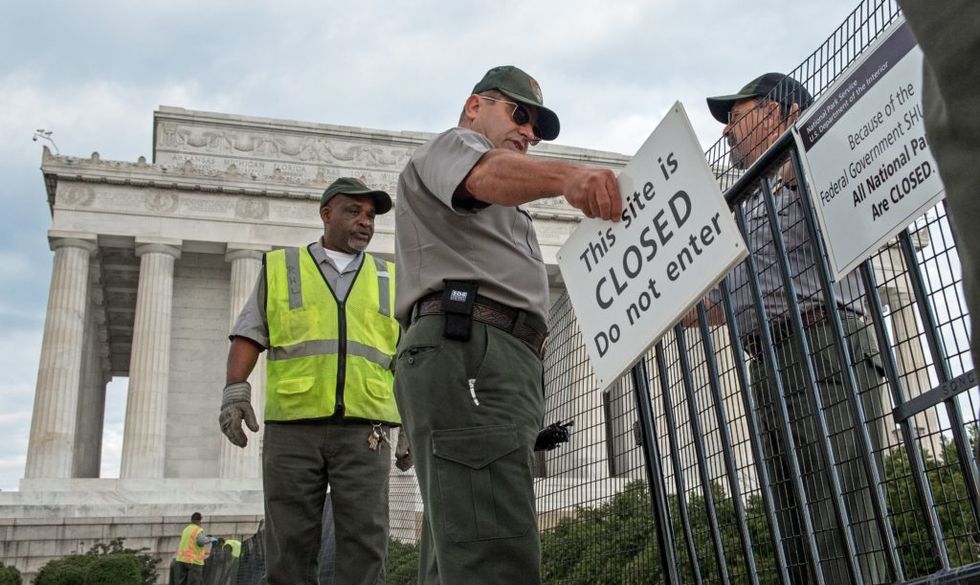 US Park Service workers fence off the closed Lincoln Monument in Washington, DC, October 1, 2013 , as the first US Federal government shutdown since 1995 begins. The Lincoln Memorial and many other non-essential government run institutions are on a shut-down list. The National Mall and all monuments and large sections of the government closed due to government shut down after Congress failed to agree on spending. AFP PHOTO / Paul J. RICHARDS (Photo credit should read PAUL J. RICHARDS/AFP/Getty Images)
As the shutdown over President Donald Trump's border wall edges closer to its fourth week with few signs of progress, federal workers are beginning to feel the toll.
It's becoming more and more likely that the 800,000 furloughed workers won't get a paycheck for this month. While past shutdowns have led workers to put aside funds in the instance of an extended furlough, those funds are depleting rapidly. Those living paycheck to paycheck with little savings are having to resort to other means of work all together.
According to the Wall Street Journal, one market analyst has resorted to driving Uber. Julie Burr, another federal worker, created a GoFundMe to pay necessary expenses.
Julie Burr, a contracted federal worker affected by the shutdown, says she set up a GoFundMe with a goal of two mon… https://t.co/m2rSKTNUsP

— CNN Newsroom (@CNN Newsroom) 1546886278.0
Though both houses of congress previously passed bipartisan resolutions to keep the government open, they were quickly snuffed by the President. Members of the House of Representatives continue to pass funding resolutions, but Senate Majority Leader Mitch McConnell (R-KY) has said the Senate will only consider solutions that the President will sign—solutions that allocate $5 billion for a border wall.
As Trump remains steadfast, federal workers are venting their frustration.
I want to go back to work. I DON'T WANT A WALL!!! I'm the sole income supporter for my family. Mortgage Co. won't w… https://t.co/8xbEhJ3NAU

— terry owens (@terry owens) 1546792532.0
I am not on strike. I was furloughed against my will. I am against spending tax payer money on a wall. I am not on… https://t.co/G1tkn2VX9m

— James Ecker (@James Ecker) 1546662605.0
Hi Mr. President! Furloughed employee here. Just watched your press conference and contrary to what you may have he… https://t.co/d7tXTu3x0L

— Timothy N (@Timothy N) 1546633080.0
The economic hardships imposed by the shutdown are rampant.
The lack of pay has presented an insurmountable obstacle for federal workers.
From a friend: Just talked to a TSA Agent. Thanked him for being here during the shutdown. "I'm OK," he said. "I ha… https://t.co/0tGTJbqSAJ

— Amy R. Turci (@Amy R. Turci) 1546718584.0
#ShutdownStories Both my wife and I federal employees. Tired of being screwed, always the target of presidents. No… https://t.co/pEQSBwPXlW

— Lee f (@Lee f) 1546565554.0
Putting the boy to bed. He's out of three medications, his sleep aid, one of his muscle relaxers and his anti rejec… https://t.co/sbaU0wruex

— Rusty Long (@Rusty Long) 1546738856.0
Federal institutions have taken a hit as well.
Without staffing because of the government shutdown, some national parks have been overwhelmed by trash, vandalism,… https://t.co/X6xEQIkXw2

— Marina Fang (@Marina Fang) 1546433838.0
Sigh. It's so frustrating to see the parks being trashed because Chump is having a temper tantrum. It makes me both… https://t.co/nhIoCwhpBO

— Princess Jedi 🦆 (@Princess Jedi 🦆) 1546967928.0
People are getting injured and some have even died in national parks that went unsupervised in the shutdown's wake.
Just found out about a friend of mine #JoshConnor died on Christmas day at #yosemitenationalpark (which was partial… https://t.co/ik0LiNAlI5

— Isaac Marquez (@Isaac Marquez) 1546969519.0
Man Breaks Leg at Texas National Park, Has to Be Carried to Safety by Strangers Because of Govt. Shutdown… https://t.co/TUy6f0Xe4U

— BuzzzBry (@BuzzzBry) 1546538006.0
It's unclear if the stories of struggle and heartbreak will factor in to whatever Trump decides to do.
Keep reading...Show less