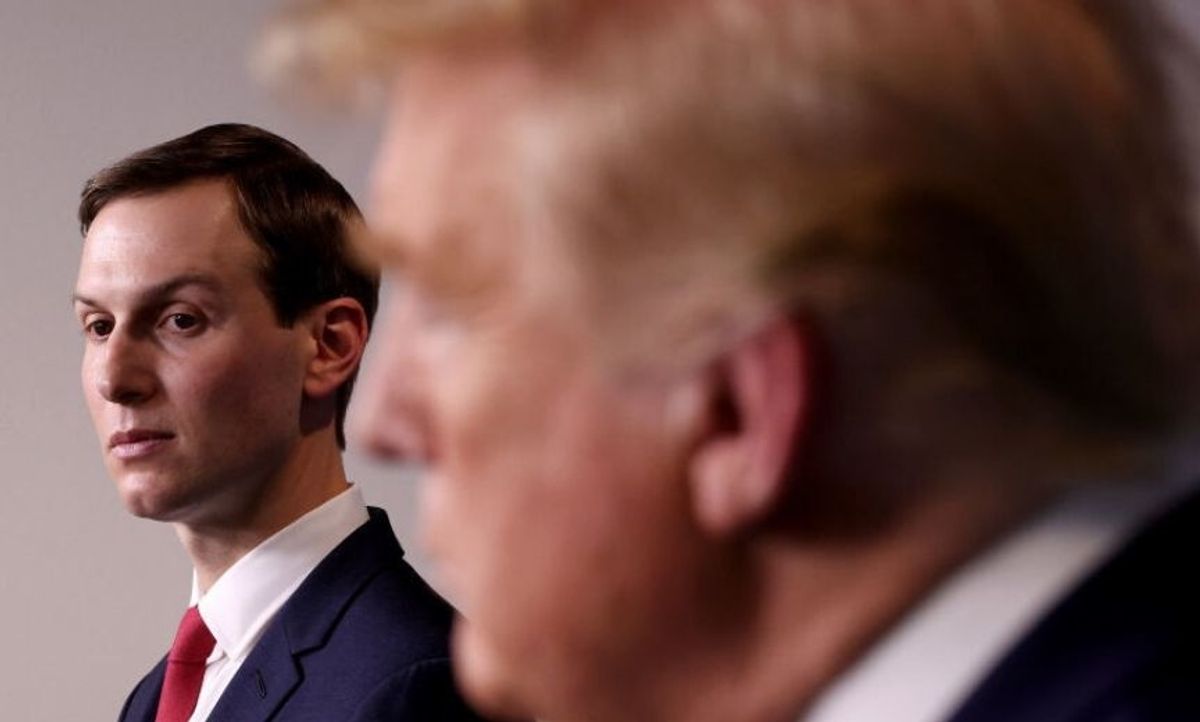 Win McNamee/Getty Images
In the face of the global pandemic that's killed over 5000 Americans, President Donald Trump is still expressing reluctance to employ federal powers to assist states hardest hit by the virus.
Among the most urgent of obstacles some governors are facing is a shortage of crucial medical equipment—including ventilators—often needed to treat the highly contagious respiratory virus.
Trump has expressed reluctance to allocate any of the equipment currently available from the Strategic National Stockpile, because he's skeptical that hard-hit states like New York actually need the amount of medical equipment they're requesting. He insists that the states should only rely on the federal government as a backup.
The President's son-in-law and senior advisor, Jared Kushner, inexplicably briefed reporters at the President's daily pandemic presser, where he echoed Trump's claims.

Watch below.
JARED KUSHNER: "The notion of the federal stockpile was it's supposed to be our stockpile. It's not supposed to be states stockpiles that they then use." pic.twitter.com/9Q7j8QBCMv
— Aaron Rupar (@atrupar) April 2, 2020
Kushner claimed that the federal stockpile was supposed to be "our stockpile," instead of the states' stockpile—apparently misunderstanding what the "United" in "United States" means and the reason for the federal government's existence.

Kushner was widely ridiculed for the bumbling justification, but soon officials quietly edited the Strategic National Stockpile's website to make Kushner's statement seem accurate, as CNN fact checker Daniel Dale pointed out.
After Jared Kushner's comment about how the Strategic National Stockpile is not supposed to be for states, lots of… https://t.co/Zc935UT1xz

— Daniel Dale (@Daniel Dale) 1585930573.0
The website's original text read, in part:

"When state, local, tribal, and territorial responders request federal assistance to support their response efforts, the stockpile ensures that the right medicines and supplies get to those who need them most during an emergency. Organized for scalable response to a variety of public health threats, this repository contains enough supplies to respond to multiple large-scale emergencies simultaneously."
After Kushner's claim that the stockpile wasn't intended for states to use, the text was hastily changed:
"The Strategic National Stockpile's role is to supplement state and local supplies during public health emergencies. Many states have products stockpiled, as well. The supplies, medicines, and devices for life-saving care contained in the stockpile can be used as a short-term stopgap buffer when the immediate supply of adequate amounts of these materials may not be immediately available."
Sloppily obscuring the truth to validate its own incompetence is as much of a trademark to the Trump family as the surname itself. This time, however, stuck out.
This is obviously horrifying and Kushner's stupidity and incompetence are mind-blowing, but I still haven't figured… https://t.co/RKwEnbUMH2

— Ken Tremendous (@Ken Tremendous) 1585941840.0
This is so f*cking infuriating. They're doing more to cover their asses than to help Americans. Look at how that la… https://t.co/N374IyBiTF

— Rex Huppke (@Rex Huppke) 1585932034.0
They trot out Kushner to lie to us about what the national stockpile of supplies is for. After being called out on… https://t.co/xvHSJGVtOG

— Andrew Wortman (@Andrew Wortman) 1585941202.0
This is one of the most chilling actions taken by this Administration in this pandemic. The purpose of the Strateg… https://t.co/JMMZCoeYVd

— Sherrilyn Ifill (@Sherrilyn Ifill) 1585937286.0
In an authoritarian system, only one hard rule applies: The leader is always right. Facts and laws can be altered s… https://t.co/Viq5vlyS8n

— Bill Pascrell, Jr. (@Bill Pascrell, Jr.) 1585938269.0
Keep in mind, this is the same administration that edited an official hurricane forecast with a sharpie to vindicate the President for a false tweet, along with 16,241+ other false statements.

The coverups aren't even good coverups, as people pointed out.
We call this kind of stuff Orwellian but Orwell's characters were more clever. This is like if Orwell was a bad wri… https://t.co/YkWyXiYCQo

— Binyamin Appelbaum (@Binyamin Appelbaum) 1585936415.0
This is what I mean about Trump being dumb on top of everything else. He's a self-serving narcissist who will lie t… https://t.co/njNGnzOLFf

— Sam Esmail (@Sam Esmail) 1585938387.0
Our government is run by people who desperately want to be evil geniuses but just cannot seem to crack the "geniuse… https://t.co/RXRKP0eFkY

— Mark Harris (@Mark Harris) 1585938190.0
If you'd prefer your intelligence not be insulted on a daily basis, you can check your voter registration status here.
For a deeper look into Trump's ineptitude from people who were actually there, check out A Very Stable Genius, available here.
Keep reading... Show less