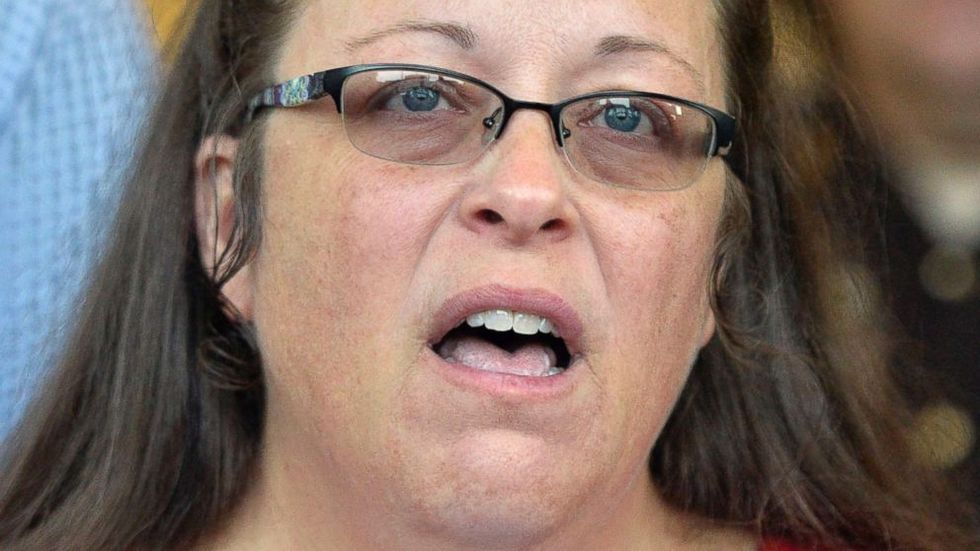 Yesterday, the 6th Circuit Court of Appeals ruled that lawsuits against Kim Davis could proceed. The decision overturned a lower court that had thrown out three lawsuits filed by same-sex couples who were denied marriage licenses by the county clerk.
Kim Davis became a right-wing figurehead when she refused to issue marriage licenses in Rowan County, Kentucky in 2015 after the Supreme Court decision that made same-sex marriage legal. Davis opposes same-sex marriage for religious reasons. She was jailed for contempt of court after refusing to follow a judge's orders.
David Ermold and David Moore and two other couples sued Davis and the county for damages. Ermold said of Davis, "As a person, she is free to believe and worship as she chooses. As a county clerk ... you have a responsibility to the people of your county."
U.S. District Judge David Bunning had declared the lawsuits moot because of a law change. In 2016, the Kentucky legislature had marriage licenses amended to allow a deputy clerk to sign the forms. Following that switch, one of Davis's deputies issued marriage licenses in Rowan County, ending the standoff with Davis.
Bunning wrote, "In light of these proceedings, and in view of the fact that the marriage licenses continue to be issued without incident, there no longer remains a case or controversy before the court."
A three-judge panel ruled that Bunning needed to review the case,  saying, "The district court concluded that because Ermold and Moore were eventually issued a marriage license, the dispute in their case was resolved. We conclude that the district court's characterization of this case as simply contesting the 'no marriage licenses' policy is inaccurate because Ermold and Moore did not seek an injunction, they sought only damages. This action is not a general challenge to Davis's policy, but rather seeks damages for a particularized harm allegedly suffered by a specific set of plaintiffs."
This ruling means that the suits can move forward. Ermold and Moore's attorney has argued that the couple's rights were violated and suffered emotional distress as a result of Davis's actions. He said, "That doesn't go away because the office in Rowan County started issuing licenses to same-sex couples. That doesn't mean we weren't damaged by the constitutional violation that happened months earlier. That's what this case is about."
The decision comes as reports surfaced that President Donald Trump will issue an executive order on "religious liberty" on Thursday, the National Day of Prayer. The order is reportedly similar to laws signed by Vice President Mike Pence when he was governor of Indiana. According to the Nation, a leaked draft of the order "seeks to create wholesale exemptions for people and organizations who claim religious or moral objections to same-sex marriage, premarital sex, abortion, and trans identity, and it seeks to curtail women's access to contraception and abortion through the Affordable Care Act."
Keep reading...Show less