false federal election commission report
All the best people.
22 August 2018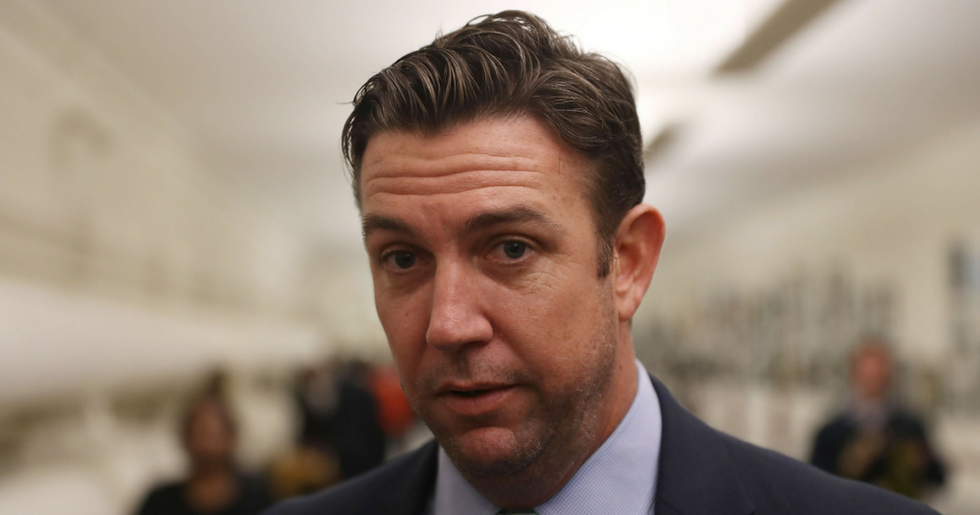 WASHINGTON, DC - JANUARY 10: Rep. Duncan Hunter (R-CA) speaks to the media before a painting he found offensive and removed is rehung on the U.S. Capitol walls on January 10, 2017 in Washington, DC. The painting is part of a larger art show hanging in the Capitol and is by a recent high school graduate, David Pulphus, and depicts his interpretation of civil unrest in and around the 2014 events in Ferguson, Missouri. (Photo by Joe Raedle/Getty Images)
U.S. Representative Duncan Hunter (R-CA) and his wife Margaret were indicted Tuesday on charges of misusing campaign funds and filing false reports with the Federal Election Commission.
Analysis: 10 of the ickiest allegations in the Duncan Hunter indictment https://t.co/EhmCzDYZYW

— The Washington Post (@The Washington Post) 1534939119.0
The conservative California congressman and his wife stand accused of using more than $250,000 worth of campaign funds for personal purposes between 2009 and 2016.
The 47-page indictment includes counts of conspiracy, wire fraud, falsification of records, prohibited use of campaign funds, and aiding and abetting.
The Hunters "had less than $1,000 in reportable assets for each of the years 2009-2016," the indictment says, offering a possible motivator for their illegal activity.
"The funds were allegedly used for family vacations to locations such as Hawaii and Italy, as well as more mundane expenses such as dental work and school tuition," CBS reported on Tuesday. "The Justice Department also alleges that the Hunters used tens of thousands of dollars for smaller expenses such as fast food and video games."
Hunter is the second House Republican in as many weeks to be charged with financial crimes. Representative Chris Collins (R-NY) was indicted on charges of insider trading on August 8.
The first two members of Congress to endorse Donald Trump, Chris Collins and Duncan Hunter Jr., have been indicted… https://t.co/ulL6vOQcw5

— Adam Schiff (@Adam Schiff) 1534900054.0
Collins and Hunter were the first House members to endorse Donald Trump's 2016 presidential campaign.
Guess what Donald Trump's first two congressional endorsers have in common. https://t.co/2ktF1qEZyM

— Maddow Blog (@Maddow Blog) 1534901329.0
Hunter will be removed from his position on U.S. House committees and is facing calls for resignation from House Minority Leader Nancy Pelosi (D-CA), who said Hunter represents a "rampant culture of corruption" inside Republican circles. Hunter should resign to "affirm that no one is above the law," Pelosi said.
House Speaker Paul Ryan removes Rep. Duncan Hunter from committee assignments after indictment. "The charges agains… https://t.co/O9ZJnidziC

— ABC News (@ABC News) 1534942805.0
The Justice Department began its investigation of Hunter in June 2016, alleging that the Hunters filed false reports with the FEC to hide their nefarious spending.
The Washington Post on Wednesday broke down the 10-most damning accusations against the Hunters, who prosecutors say "knew that many of their desired purchases could be paid by using campaign funds."
1.When Hunter and his wife chatted with each other about how they were able to get cash from the campaign to spend on daily life, they allegedly said "it was great."

2. Margaret Hunter allegedly spent $200 on tennis shoes at Dick's Sporting Goods, which she then claimed as being for an annual dove hunting event for wounded warriors.

3. When Hunter told his wife he needed to "buy my Hawaii shorts," but he was out of money, she allegedly told him to buy them from a golf pro shop so he could claim they were actually golf balls for wounded warriors.

4. When the water utility company threatened to turn off their water, Margaret Hunter allegedly spent $300 in campaign funds to pay the bill.

5. Margaret Hunter allegedly spent $152 on makeup at Nordstrom and told the campaign it was "gift basket items for the Boys and Girls Clubs of San Diego."

6. Another $394 from Macy's was listed as "gift baskets for local organizations."

7. In an attempt to justify spending campaign funds on a family trip to Italy, Hunter asked a naval base there for a tour. When officials said they couldn't do it then, Hunter said, "Tell the Navy to go f--- themselves."

8. They allegedly described the payment of their family dental bills as a charitable contribution to "Smiles for Life."

9. Margaret Hunter allegedly bought plane tickets for her mother and her mother's boyfriend to go to Warsaw. She told the campaign it was for events in New Orleans and Kentucky.

10. Hunter allegedly used campaign funds to go a personal ski trip to Lake Tahoe when his family bank account had a negative balance and his personal bank account had $35. (He withdrew $20 from his personal bank account while there, the indictment alleges.)
Among the sloppier revelations from the indictment are allegations that Hunter, a former Marine, claimed he was using campaign funds for charity.
The HUNTERS concealed and disguised the personal nature of many of

their campaign expenditures by either falsely stating the expenses were "campaign related"

or by falsely reporting the item or service purchased when providing information to the

Treasurer (by, for example, buying personal clothing items at a golf course so that the

purchase could be falsely reported to the Treasurer as "balls for the wounded warriors").
MARGARET HUNTER concealed and disguised her family's use of

Campaign funds for personal vacations by reserving hotels and paying other personal

vacation expenses through Expedia, with the expectation that Campaign records would not

reveal the names or locations of their destinations.
Also on Tuesday, Trumps' one-time campaign chair Paul Manafort was convicted on eight federal criminal counts. Trump's former lawyer and fixer, Michael Cohen, pleaded guilty to eight federal crimes.
Twitter blasted Republicans for the party's deepening corruption.
@washingtonpost Wow! Today's corruption is endless!

— Armando L (@Armando L) 1534939690.0
@washingtonpost Another indictment against the House GOP. Really the GOCP. Grand Old Corrupt Party. Hunter thinks h… https://t.co/Yl0ubwGgrK

— D Robinson (@D Robinson) 1534942611.0
@washingtonpost What disgusting people

— sandy ward (@sandy ward) 1534939408.0
This is sickening...On top of covering up misuse of funds for personal expenses by saying they were for "wounded wa… https://t.co/058N4keRCb

— Rep. Pramila Jayapal (@Rep. Pramila Jayapal) 1534924068.0
One does wonder how Duncan Hunter's Hawaiian shorts would look with Paul Manfort's ostrich jacket.

— (((Harry Enten))) (@(((Harry Enten)))) 1534939394.0
Duncan Hunter is an emblem of our entirely corrupt campaign finance system: https://t.co/V5lfHsgiay https://t.co/ipG4gVwxit

— Charles P. Pierce (@Charles P. Pierce) 1534942772.0
It isn't getting talked about nearly as much as the Cohen and Manafort news for obvious reasons, but this Duncan Hu… https://t.co/yqoAKURAhy

— The Nats Won The World Series (@The Nats Won The World Series) 1534942780.0
Keep reading...Show less