Some serious Sunday executive time.
20 May 2019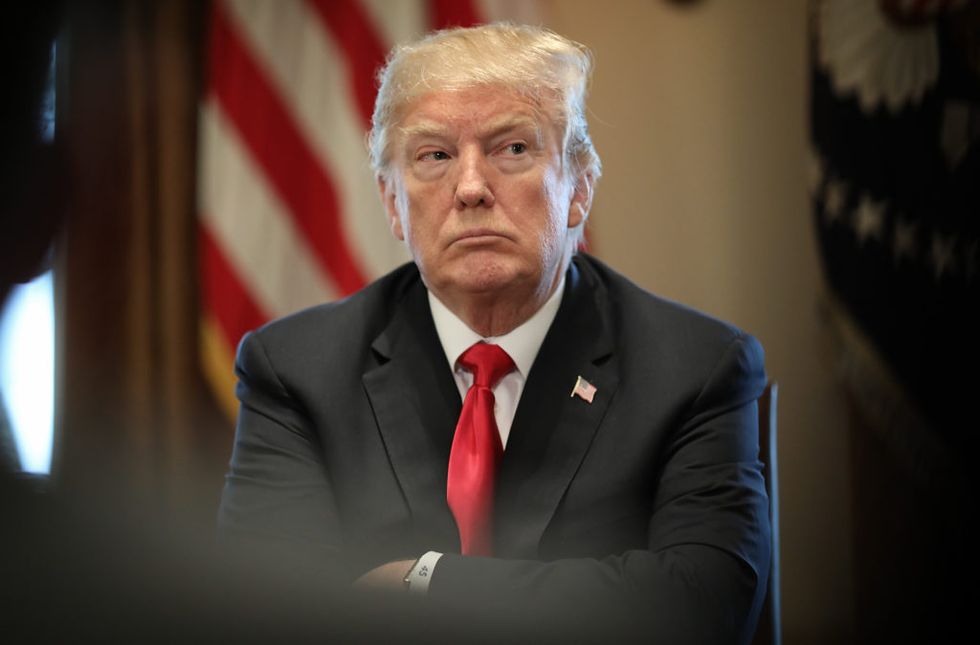 WASHINGTON, DC - MARCH 01: U.S. President Donald Trump participates in a meeting with leaders of the steel industry at the White House March 1, 2018 in Washington, DC. Trump announced planned tariffs on imported steel and aluminum during the meeting, with details to be released at a later date. (Photo by Win McNamee/Getty Images)
More evidence emerged over the weekend that President Donald Trump is governing based on what he watches on Fox News, and he may start another war because of it.
Late Sunday afternoon, Trump - seemingly out of the blue - issued an unambiguous warning to Iran on Twitter:
"If Iran wants to fight, that will be the official end of Iran. Never threaten the United States again!"
Why would the president threaten a sovereign foreign power with total annihilation?
Because Fox News told him to, according to Matthew Gertz of Media Matters.
Trump tweeted nine minutes after Fox aired a segment with the chyron "U.S.-IRAN TENSIONS ESCALATE."
Ten minutes prior, Trump wrote a combative tweet on immigration, once again claiming that the United States is at capacity.
"False reporting yesterday. "There are no plans to send migrants to Northern or Coastal Border facilities, including Florida." @FoxNews Not by airplanes or any other way. Our Country is FULL, will not, and can not, take you in!"
Gertz noticed a pattern.
"That tracks with the last tweet, which he explicitly tagged to a Fox segment. Left, Fox, 4:06 pm Right, Trump, 4:16 pm."
"Still going. Left, Fox, 4:28 pm Right, Trump, 5:15 pm."
It happened again less than an hour later in the leadup to a town hall with South Bend Mayor and 2020 presidential hopeful Pete Buttigieg (D).
Trump whined about Fox News hosting a Democratic candidate and Chris Wallace for saying a nice thing about Mayor Pete.
"Hard to believe that @FoxNews is wasting airtime on Mayor Pete, as Chris Wallace likes to call him. Fox is moving more and more to the losing (wrong) side in covering the Dems. They got dumped from the Democrats boring debates, and they just want in. They forgot the people who got them there. Chris Wallace said, 'I actually think, whether you like his opinions or not, that Mayor Pete has a lot of substance...fascinating biography.' Gee, he never speaks well of me - I like Mike Wallace better...and Alfred E. Newman will never be President!"
This tweet came after Wallace appeared on air to preview the town hall.
Yeah, disturbing. George Conway, husband to White House advisor Kellyanne Conway, summed it up perfectly.
"It cannot be stressed enough: Trump is an unwell man," he replied to Gertz.
This is scary stuff.
How did we get here again?
Does the president understand what he is up against in a war with Iran?
On Sunday, some wondered if or how Iran would respond.
We got our answer Monday morning. Iranian Foreign Minister Javad Zarif responded to Trump, almost as if with a dare.
"Goaded by #B_Team, @realdonaldTrump hopes to achieve what Alexander, Genghis & other aggressors failed to do. Iranians have stood tall for millennia while aggressors all gone. #EconomicTerrorism & genocidal taunts won't "end Iran". #NeverThreatenAnIranian. Try respect—it works!"
For now, it looks like we are in a war of wits.
Hopefully neither side blinks.
Keep reading...Show less