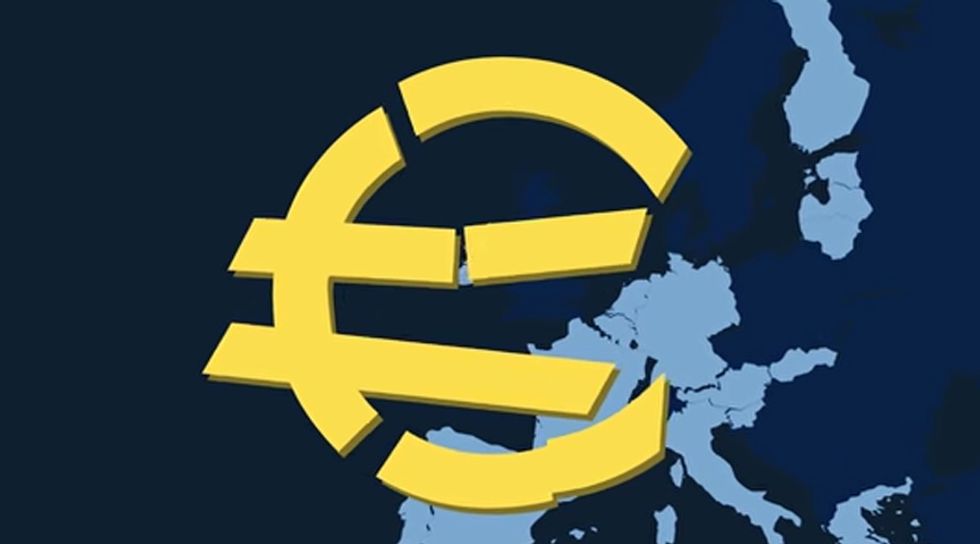 DIGEST (New York Times, Wall Street Journal, Washington Post)
As reported in the New York Times, long lines are forming at ATMs across Athens. Withdrawals per account are limited to 60 euros a day--about $66. The banks have been closed for a week now, and there's no indication of when they might reopen. In fact, Greek banks may be afraid to open their doors because skittish depositors might try to withdraw everything they can, or risk losing it all (as many in nearby Cyprus did during its last bank crisis).
Businesses are feeling the impact, too. Customers are cleaning out stores of large appliances, which many Greeks feel may hold their value better than money. Citizens are forbidden from transferring money in and out of the country, companies are issuing IOUs and letting employees go, and tourists are leaving in droves and canceling plans.
What exactly is going on?
The Grexit
On July 20, Greece faces economic armageddon. That is the date it must make its next payment on billions of euro owed to the European Monetary Fund, or face de facto expulsion from the eurozone. Greece's exit, dubbed the "Grexit," would by then simply be a product of necessity. With no euros to pay its civil servants and pensioners, Greece would have no choice but to print its own currency, probably some new form of the old drachma. If it did so, it would place itself outside of the eurozone, with its own currency trading against the euro.
For a simplified view of Greece's troubles within the eurozone, watch this video.
Having borrowed over 271 billion in "rescue" loans just to stay afloat, the Greek government now finds itself with only about 2 billion euros left, and according to a 10-page proposal released late last night, is asking for 50 billion more. As the Washington Post reported, the package includes billions of dollars in further austerity measures including taxes on cafes, bars and restaurants.
Without that additional aid, Greece most assuredly will miss its next payment. In fact, it already missed its most recent payment of 1.56 billion euros owed to the International
Monetary Fund on June 30, rendering it ineligible for any help from that D.C.-based organization. It has grown increasingly clear that the Greek government is out of money, for the third time since the economic crisis last decade. Furthermore, its creditors appear to have lost their patience and may refuse either to extend any credit or to relieve any debt burden. Greek officials warn that there is only enough liquidity to limp through the weekend as cash continues to flow out.
Greeks Celebrate After Rejecting Austerity, But Now Face the Music
Over the weekend, Greeks themselves voted, and by a 2-to-1 margin resoundingly rejected any further austerity measures, which they have faced for years without climbing out of their deep depression. There were celebrations throughout the country as Greek national pride asserted itself against its European creditors. But the government's current austerity offer is, ironically, significantly more than the amount rejected. Two weeks without banks and cash may have brought some sobriety to the government representatives, who are bringing their proposal before Greek Parliament for approval.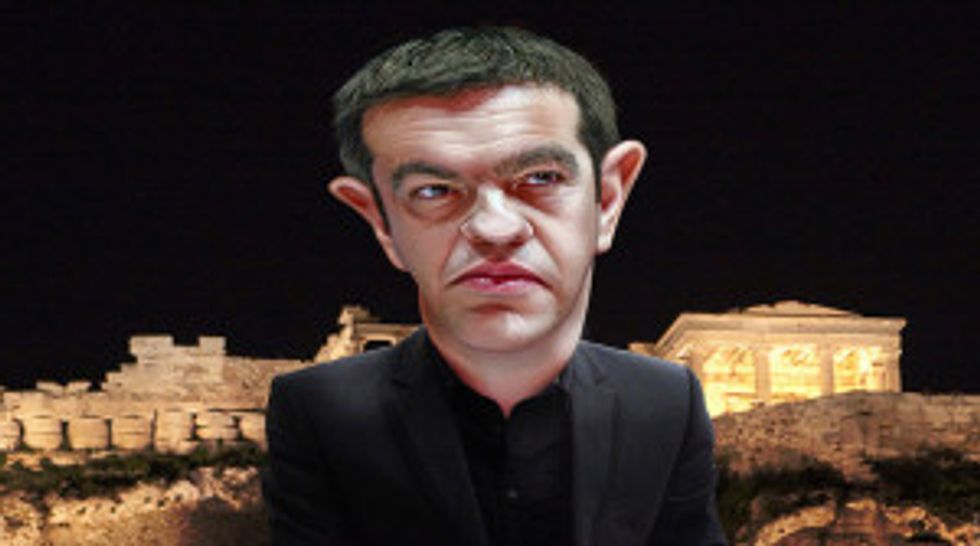 Alexis Tsipras caricature Via Flickr user DonkeyHotey
Greek President Alexis Tsipras had hoped the referendum would give him additional leverage in talks with his nation's creditors, but many of those have soured on the prospects of a deal, which Greece insists must include debt relief, economic aid, and a lessening of strict austerity measures. As a signal of their serious trouble, Tsipras requested the resignation of his hot-headed Finance Minister, who had unhelpfully dubbed the Euro-creditors "terrorists."
Meanwhile, however, European leaders are preparing for what was thought impossible before.  The Wall Street Journal reports that, at E.U. headquarters in Brussels, European Commission President Jean-Claude Juncker has "detailed plans" for the Grexit, as well as for delivering humanitarian aid to Athens should this occur.
It may be needed. A default would mean the immediate printing of drachma to keep the country going. Whether Greece's own people would be willing to trust their government to stabilize the currency is an open question. A currency in freefall could result in the collapse of the entire banking system. Those at the bottom of the economic totem pole, who have already seen their life savings dwindling and the economy shrink over 26 percent over the past few years, are already at subsistence levels. This might push things over the edge for many.
Fears of Contagion
The Grexit could be calamitous, not only for Greece, but for all of Europe. Greece's departure could embolden opponents of further European integration, who might see exit as a preferable outcome to further austerity in their own countries. It would also forever undercut the long-trumpeted notion that entry into the eurozone was a commitment to an
"irrevocable" union. If the union is in fact revocable for one, it is revocable for all.
On the other hand, if European creditors and governments give in to Greece's demands, anti-austerity politicians in vulnerable nations such as Italy, Spain and Portugal could clamor for their own concessions. Hardliners in Frankfurt are loathe to set precedents or break rules that could lead to further erosion of their ability to come down hard on deadbeat debtor nations.
A Destabilized Europe
The spectre of the Grexit introduces deep instability in a volatile part of the world already rocked by waves of migrants from the Middle East and North Africa, who are washing up on Greece's relatively unsecured shores before heading farther into the eurozone. A disgruntled or alienated Greece could find itself searching for new friends, and even threatening to veto EU sanctions against Russia for its actions in Ukraine. President Tsipras in fact has visited Russia twice in recent months and criticized those very sanctions; Russia would be quick and happy to exploit an alienated Greece.
The Grexit also has larger implications for the future of European integration. The United Kingdom is holding its own referendum on its future participation in the union in 2017, and any sense that the country is bound to an economic corpse could play badly. Many see the failure of the Greek case as attributable to German Chancellor Angela Merkel, the de facto President of Europe, who has fought hard to prevent any member country from leaving the eurozone. The loss of Greece could permanently sidetrack any dream of true European integration.
A Tense Few Days
Many feel that both Greece and the European Union have only poor options. No one wants to see a Grexit but, as Greece-friendly French Finance Minister Michel Sapin noted, nor does anyone want to keep a country in the eurozone that does not follow the rules. The Germans, who are owed the most amount of money, are not surprisingly taking the hardest stance, arguing that an outright reduction of debt is contrary to European rules. While there may be room to lengthen the time period for repayment, an out-and-out forgiveness seems unlikely to fly. At the same time, without debt relief, Greece has no viable way forward.
European finance ministers are preparing to review the plan Saturday, followed by an emergency summit of European Union leaders on Sunday to decide whether to throw Greece a financial lifeline or allow the Grexit to occur, which would comprise the first time a nation has fallen out of that 19-member currency club. Should that happen, what will happen next is pretty much all Greek to everyone.
If you find yourself concerned about the state of financial affairs in the world at large, there is some reason for hope closer to home. Check out As Goes Starbucks, So Does Chipotle: Change May Finally Be Here For Many of America's Low-Wage Workers.
Keep reading...Show less