; Amanda Edwards/WireImage/Getty Images
Gordon Sondland is a hotelier and major donor to President Donald Trump's 2016 campaign.
Since July 2018 he has served as United States Ambassador to the European Union (EU) despite no prior experience in diplomatic relations or foreign policy. He has also come under fire for costly taxpayer funded renovations to the Ambassador's residence in Brussels.
Ordered not to testify a week ago by the Trump administration, Sondland defied the order and provided a deposition for the House impeachment inquiry on Thursday. According to his written statement, Rudy Giuliani's claim the State Department asked him to travel to the Ukraine and investigate for them was false.
Sondland stated President Trump directed Giuliani to make contact with Ukrainian officials with the purpose of gaining their help with Trump's 2020 reelection campaign.
The Daily Show's Anthony DeRosa shared some  of the Sondland's written statements on Twitter.
He quoted Sondland and posted:
"I did not understand, until much later, that Mr. Giuliani's agenda might have also included an effort to prompt the Ukrainians to investigate Vice President Biden or his son or to involve Ukrainians..."
In his opening remarks, Sondland thanked the House Committee and apologized for not appearing previously because of the Trump administration directive.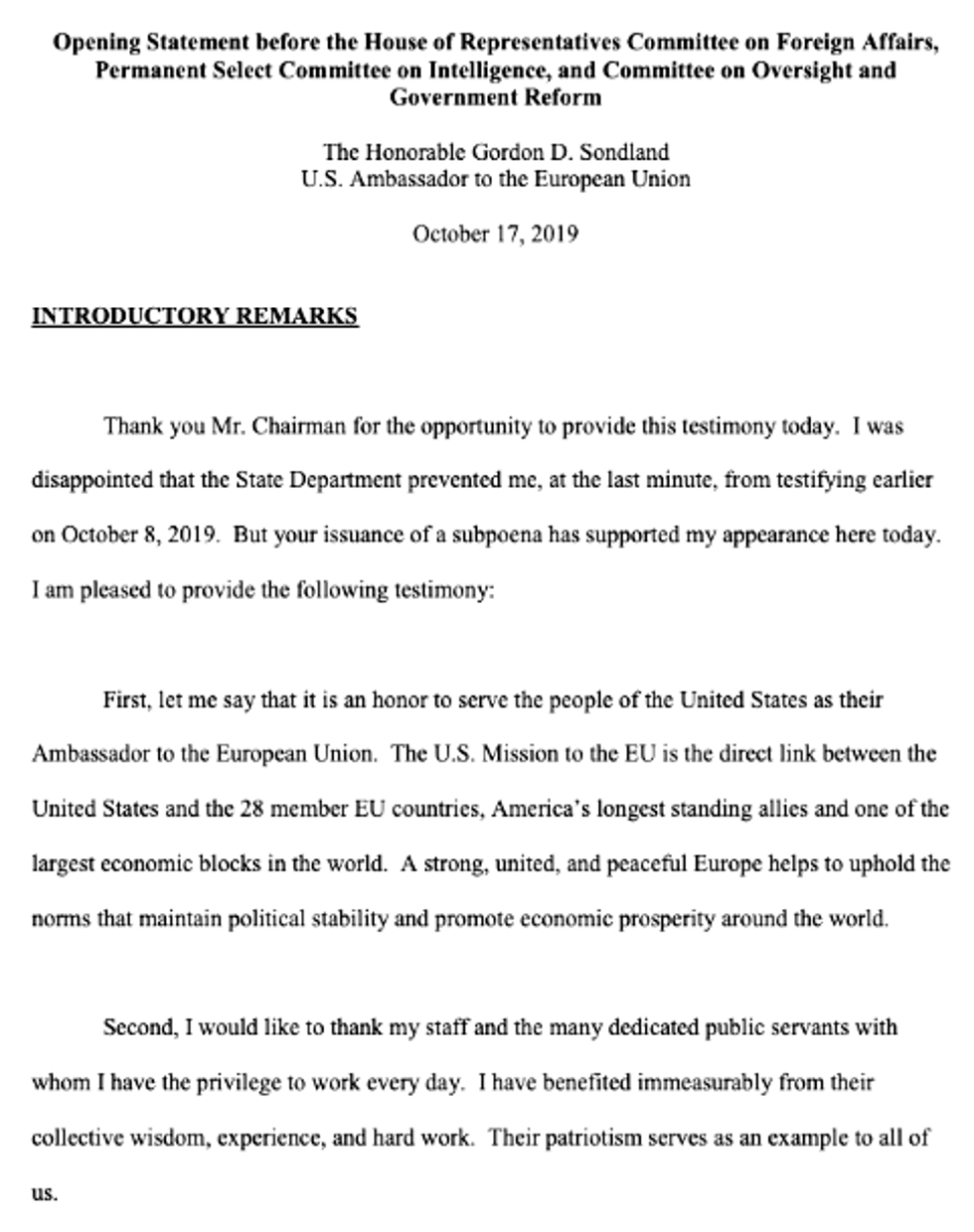 @Anthony/Twitter
However the subpoena from Congress allowed him to testify.
One excerpt DeRosa shared made it clear Trump and Giuliani's motivations were the 2020 presidential campaign and not any of the various reasons and justifications provided by Trump, the White House and his personal lawyer to date.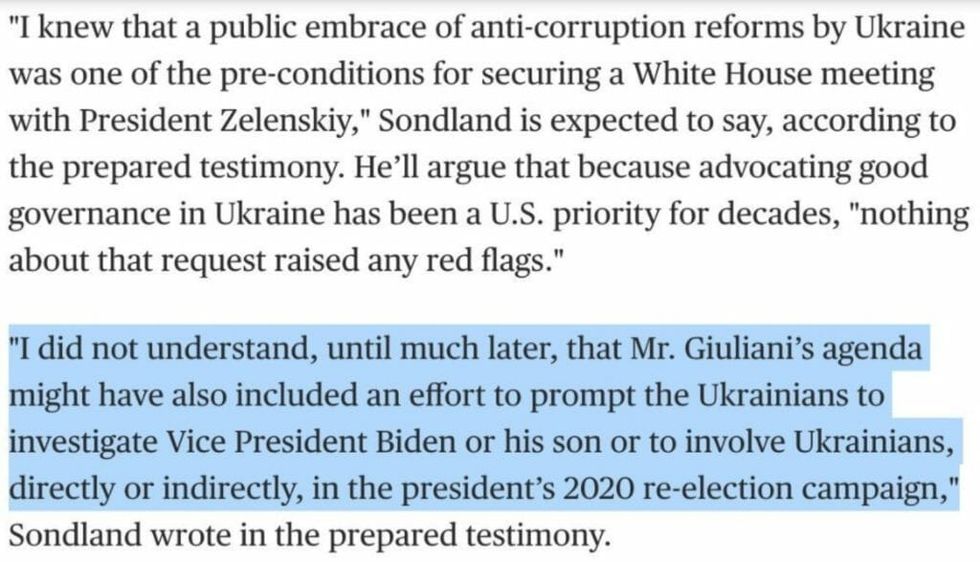 @Anthony/Twitter
But Sondland claimed to have been unaware of their agenda until "later."
People again raised the issue of why the State Department or Department of Justice would ask Trump's personal lawyer to do their work for them as Giuliani claimed.
People also wondered how much later Sondland knew of the President's agenda being enacted by his personal lawyer and what he did with the knowledge.
The impeachment inquiry continues before the House of Representatives will take a vote based on the inquiries findings. If the House impeaches President Trump, the matter will pass to the Senate for disposition.
The book Impeachment: What Everyone Needs to Know is available here and explains the process in an easy to follow manner.
Keep reading...Show less