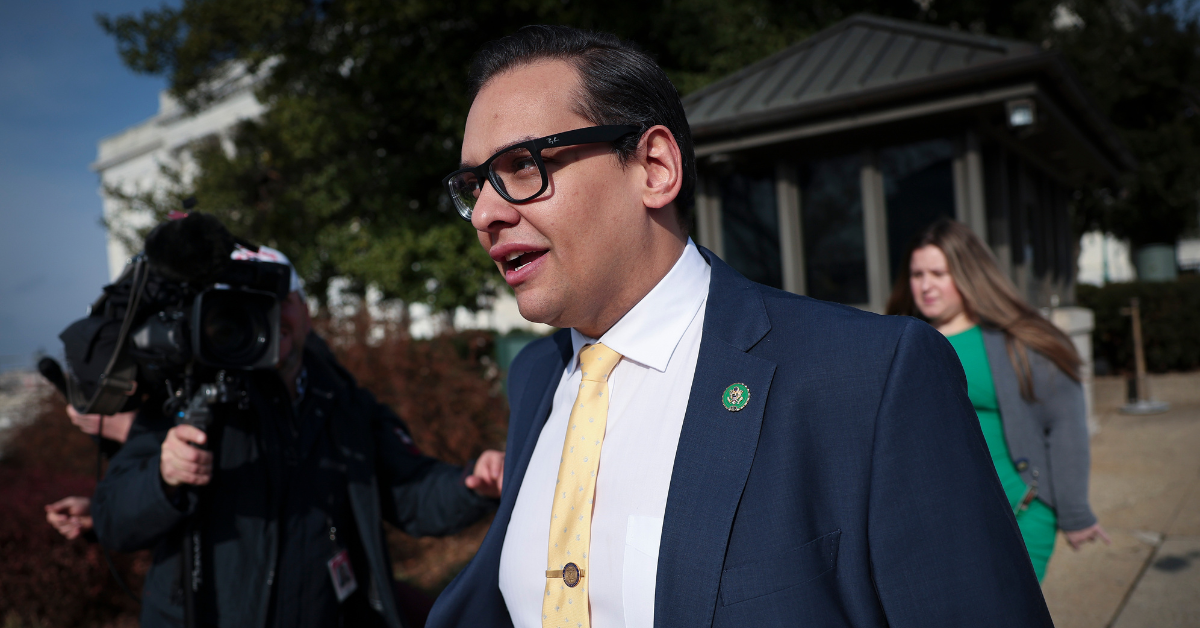 Win McNamee/Getty Images
And that's his final answer, for now.
It's been a bit, so I thought we'd check in with our infamous fabulist to see how his first week has gone after being sworn in as a Congressmember, despite a torrent of evidence that almost nothing George Santos has said about himself is actually true.

There's so much going on that it's helpful to break things out, first by the complaints filed against him, then by statements of his colleagues and critics and finally by recent events and reporting that frankly is looking worse and worse for him.
At the end, we'll take a look at how the GOP House leader Kevin McCarthy is handling this newest headache.
(Hint: It ain't pretty.)
The formal complaints

It didn't take long for watchdog groups and Democratic House members to raise the stakes with relevant ethical oversight authorities. Santos is facing two major complaints.
The first landed before the Federal Elections Commission on Monday, filed by a nonprofit called the Campaign Legal Center.
It raises at least three critical questions:
Did Santos use his campaign funds for personal expenses?
How did he manage to loan his campaign $705,000?
Did his funds originate from an illegal source, such as a foreign national or an undisclosed corporation?
The FEC is responsible for civil enforcement of our federal campaign finance laws. If Santos broke any laws, he could face fines and penalties.
The DoJ could also pursue criminal charges if it finds, for example, that Santos intentionally violated campaign laws. And this is no mere hypothetical: Federal investigators in the Eastern District of New York are looking into those same financial and disclosure statements, as is the Republican district attorney for Nassau County.
Intentional failure to disclose could result in hefty fines and imprisonment for up to five years under applicable federal law.
The second complaint originated with two Democratic House members, who served Santos in person on Tuesday. The complaint was filed before the House Ethics Committee and alleges that Santos failed to file "timely, accurate and complete financial disclosure reports."
The two allege that Santos's 2020 and 2022 disclosures are "sparse and perplexing," and that his public statements "contradicted" information in his 2022 financial disclosure even while it "confirmed that the 2022 financial disclosure failed to disclose other information."
Republicans are starting to call for his resignation
Santos' support within his own party has also begun to falter. On Wednesday, four GOP House members, all from his home state of New York, called for him to step down.
Republican Rep. Anthony D'Esposito said Santos had so deeply wounded the faith of voters in his district that he did "not have the ability" to adequately serve them. Joining him within hours were Reps. Nick LaLota, also from Long Island; Nick Langworthy, the former state Republican chair; and Brandon Williams, from the area near Syracuse.
LaLota said during a brief interview, adding Santos' recent behavior only has reinforced his view:
"What he's done is disgraceful, dishonorable and unworthy of the office. I think he should resign."
"He hasn't shown any remorse, he hasn't corrected any of the behavior."
"He still has antics like showing a White power sign on the House floor. It's not appropriate for our conference, for our country."
\u201cDisgusting on so many levels\n\nWe\u2019ve seen this before. It\u2019s no accident.\u201d

— Senator Bob Duff, Majority Leader, Connecticut (@Senator Bob Duff, Majority Leader, Connecticut) 1673109315
Another House member from Long Island, GOP Representative Andrew Garbarino, told reporters:
"I can't comment on [Santos] because I'm on the Ethics investigation subcommittee."
On Wednesday, the local GOP leadership in New York also joined in the denunciation. Nassau County Republican officials universally condemned Santos and called for his resignation, with its committee chairman Joseph Cairo labeling the Santos campaign as one of "deceit, lies and fabrication."
One of the more colorful and frankly hilarious Santos "antic-dotes" emerged during their presser.
Cairo said:

"He told me that, I remember specifically, 'I'm into sports a little bit,' that he was a star on the Baruch volleyball team and that they won the league championship."
(The memes just write themselves at this point.)
Responding to his critics, Santos predictably dug in, tweeting:
"I was elected to serve the people of #NY03 not the party & politicians, I remain committed to doing that and regret to hear that local officials refuse to work with my office to deliver results to keep our community safe and lower the cost of living."
"I will NOT resign!"
\u201cI was elected to serve the people of #NY03 not the party & politicians, I remain committed to doing that and regret to hear that local officials refuse to work with my office to deliver results to keep our community safe and lower the cost of living.\n\nI will NOT resign!\u201d

— George Santos (@George Santos) 1673460062
Great investigative reporting unearths more questionable behavior

Following the money has never been so interesting, and four notable pieces hit the presses just in the last day.
First, The Daily Beast reported that Santos apparently accepted a donation from an Italian migrant smuggler, which is both illegal because he was a foreign national and interesting because of that smuggler's connections to a local Italian eatery in Santos' home district.
The smuggler's name is Rocco Oppedisano. The U.S. had expelled him from the country in 2019, and later caught him piloting a boat headed toward Florida packed with unauthorized migrants and $200,000 in cash.
Rocco's brother Joseph and his niece Tina own a restaurant called Il Bacco on Long Island and were appointed by Santos to his "Small Business for Santos Coalition." By no small coincidence, Santos spent large amounts of campaign funds—over $25,000 in 2020 and nearly $19,000 for his campaign victory party in 2022—at Il Bacco.
To add spice to the sauce, more than half a dozen of the claimed expenses were for $199.99—a curious figure given that the threshold is $200 for having to keep receipts of transactions.
Second, Talking Points Memo (TPM) put in the time and dug through thousands of pages of Santos' filings with the FEC, discovering some curious disclosures in the process.
The authors write:
"Santos' filings include line items for what appear to be personal expenses including meals, clothing, and rent. Multiple meals took place at a D.C. area casino."
"FEC filings also recorded visits to hotels and restaurants in Atlantic City and Las Vegas."
"Nusr-et, the infamously expensive Miami outpost of the 'Salt Bae' steakhouse empire, appears as a campaign expense, as do 'staff meetings' and a 'lunch with donor' at Bergdorf Goodman, a restaurant located in the luxury Manhattan department store."
These hadn't gone unnoticed by the FEC, which had sent the Santos campaign over 20 letters calling out issues with its filings including "apparent excessive contributions" from donors and insufficient information about loans made to the campaign.
These letters formed a background of the complaint filed before the FEC by the citizen's watchgroup on Monday. TPM also interviewed former operatives within the Santos campaign who had felt uncomfortable about the way money was being spent.
Said one:
"I don't know why we were at Il Bacco all the time. It didn't seem like we needed to be doing that."
Third, The Washington Post broke a story on Wednesday that Santos apparently lied about having not received income from Harbor City Capital, a firm under federal investigation for being a "classic Ponzi scheme."
In fact, he was still receiving income from the company as late as April of 2021, a fact he failed to disclose. This was at least a month after Santos claimed he had left the company and only weeks before he registered the "Devolder Organization" in Florida, which he has claimed is the source of his new found wealth.

(As a refresher, Santos reported a salary of only $55,000 in his first Congressional run in 2020, but for his 2022 campaign he magically claimed an annual salary of $750,000 and more than $1 million in dividends from the Devolder Organization. He also lent his campaign more than $700,000 of his own personal money, according to his campaign disclosures.)
The amount of money Santos received from Harbor City in April 2021 isn't known, but the former CEO of the company already stands accused of stealing millions of dollars of his clients' money and buying himself and his wife cars and a waterfront home.
As I wrote about earlier, it appears there is much still to be learned about Harbor City and Santos's continuing connections to its key players.
Finally, per The New York Times, there is now highly questionable fundraising connected to another yet Santos-related entity, Redstone Strategies LLC.
The Timesreported Thursday morning a fundraiser calling on behalf of Redstone Strategies convinced at least one rich donor to send $25,000 to a bank account as part of the push to raise a final $700,000 for Santos to flip a Democratic House seat in New York.
But the FEC has no evidence Redstone Strategies was ever registered as a political group, and there are no records of its donors, contributions, or spending.
Redstone Strategies apparently is connected, however, to the Devolder Organization—the pop-up company registered by Santos in 2021: The Devolder Organization is listed as one of Redstone Strategies LLC's managing officers.
Redstone Strategies was holding itself out as an "independent expenditure committee" with "the singular purpose" of electing Santos, according to a solicitation email. "Super PACs" such as this are permitted to operate provided they follow certain rules.
These include registering with the FEC and not coordinating with the campaign. Redstone Strategies may have violated both of these laws, and if Santos was involved, personally or via his company the Devolder Organization, he also may face legal exposure.

The political backdrop
To no one's surprise, Speaker Kevin McCarthy has refused to condemn Santos and still plans to appoint him to at least one committee, though per accounts not a committee where security clearance might become an issue.
McCarthy has such a thin majority that losing even one seat could put his agenda and even his entire speakership at risk, so he is loathe to agree Santos should resign. In all likelihood, a special election held in Santos' district would revert his seat back to the Democrats, who are steaming mad and fired up.
McCarthy's rather tortured position is the voters of Long Island elected Santos to serve, and so far Santos has not been charged with any crime and should be presumed innocent. He waved off the suggestion Santos' mendacity was disqualifying.
Responding to charges Santos entirely fabricated his resume, McCarthy argued:
"And so did a lot of people here in the Senate and others, but the one thing I think it's the voters who made that decision he has to answer to the voters, and the voters get to make another decision in two years."
(Speaking of Santos' resume, the press got a hold of a copy, and almost nothing on it is true, from his impressive GPA at a college he never attended, to the fine job he did at Goldman Sachs where he never worked.)
Finally, it should not be overlooked House Republicans are proposing in their rules package to gut the Office of Congressional Ethics.
This is coming at a time when an unprecedented ethical cloud hangs over George Santos, not to mention the referrals to the House Ethics Committee by the January 6 Committee of key GOP leaders, including McCarthy, for failing to appear to testify.
Even should these efforts at defanging the OCE succeed, however, public perception that the GOP has a huge problem with basic ethics will continue to hamper the party, especially given the spectacle and dramatic unraveling of the outrageous world of lies of George Santos.