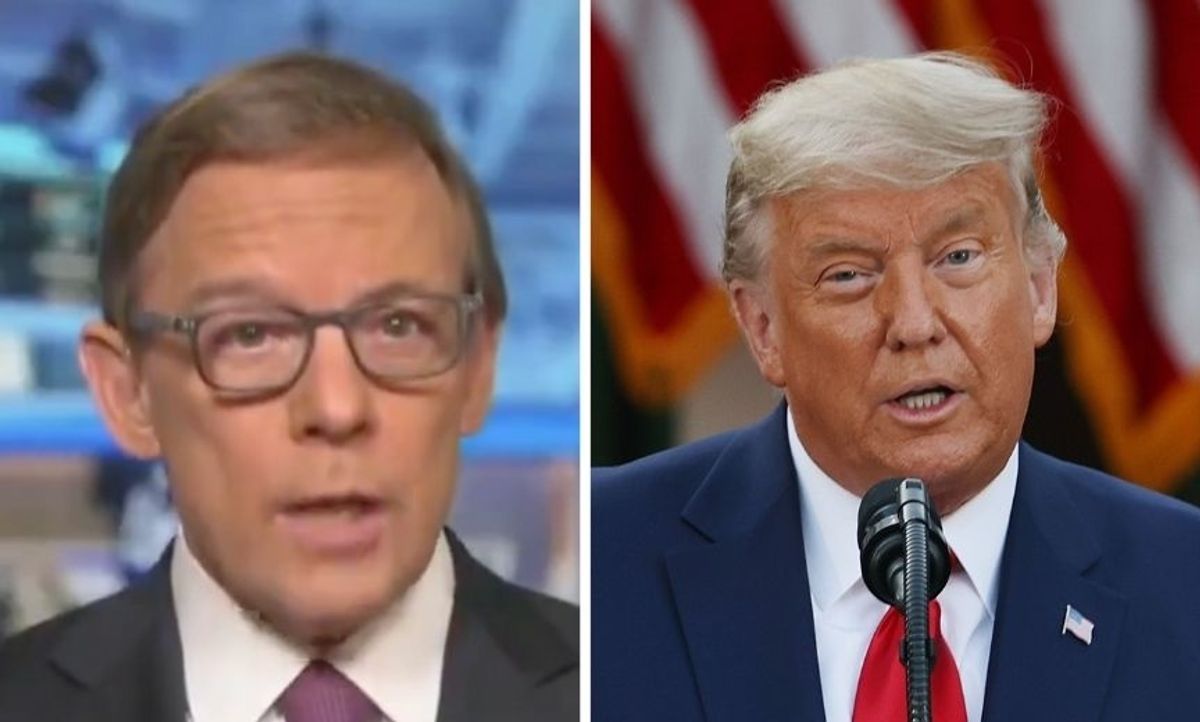 Fox News // Tasos Katopodis/Getty Images
It's been more than a week since the Associated Press and all major television news outlets projected that President-elect Joe Biden would surpass the 270 electoral votes required to take the White House, defeating President Donald Trump in his bid for a second term.

But Trump is still refusing to acknowledge the results of the election, tweeting this weekend that he "WON THE ELECTION!" and that widespread voter fraud tipped the race to Biden.
In the culmination of a months-long effort from the Trump campaign to sow mistrust in voting by mail, Trump's team has filed numerous lawsuits across multiple states falsely alleging massive voting irregularities.
Eric Shawn, an anchor on the conservative Fox News network, further debunked these falsehoods in under two minutes.
Watch below.

Must watch!

After Maria Bartiromo devoted her entire show this morning to promoting Trump's Dominion conspiracy, Fox News anchor Eric Shawn debunks it and other voter fraud claims, declaring that "such baseless and false claims are an insult" to election officials and workers. pic.twitter.com/ksM2hGIJqn
— Justin Baragona (@justinbaragona) November 15, 2020
Shawn played statements from the Trump-appointed U.S. Election Assistance Commissioner, Ben Hovland; Philadelphia's Republican City Commissioner, Al Schmidt; and election software company Dominion Voting Systems, which Trump has falsely claimed switched Trump votes to Biden votes.
All of these statements thoroughly denied that there was any legitimacy in the President's claims of a "fake" election.
Shawn concluded:

"Election officials across the country insist as of today there is no evidence of any widespread fraud affecting the outcome of the presidential election, that our precious democracy was not tampered with and that such baseless and false claims are an insult to the thousands of election officials and workers across the country who we have seen dedicating themselves 24/7 to ensure a fair and free election for all of us."
Trump has grown increasingly frustrated with Fox News for its occasional unflattering coverage of the President, encouraging his followers to watch the far-right media outlet One America News instead.
People applauded Shawn's fact-checking.
Might be fox but he is exactly right. People need to stop listening to conspiracies and open their eyes to what the truth is. Wether you agree or not.

pic.twitter.com/bzUPmFqe17
— Matthew Paul Frasca 🏴☠️ (@MPFrasca) November 16, 2020
Trump's lies about voter fraud are growing increasingly delusional.
Once again, Trump's lawyers contradict his false claims of "fraud." They're unwilling to repeat his disinformation when their law licenses are on the line. https://t.co/5Xyg9lARry
— Renato Mariotti (@renato_mariotti) November 16, 2020
In case anyone thinks trump is going to show actual proof of widespread fraud in the election, keep in mind he STILL hasn't:

- shown a Healthcare plan
- Made America great
- Drained the swamp
- Made Mexico pay
- shown his taxes

It's all a CON.
— BrooklynDad_Defiant! (@mmpadellan) November 16, 2020
Trump's election fraud conspiracy is a successor to his Obama birther conspiracy: no evidence, but enough repetition over time to convince a sizable portion of the population it's true. And so, by his self-interested calculation, a win.
— Jim Sciutto (@jimsciutto) November 16, 2020
The only time Trump is against fraud is when he doesn't do it.
— Windsor Mann (@WindsorMann) November 16, 2020
Despite Trump's opposition, President-elect Biden and Vice President-elect Kamala Harris will be inaugurated on January 20th.