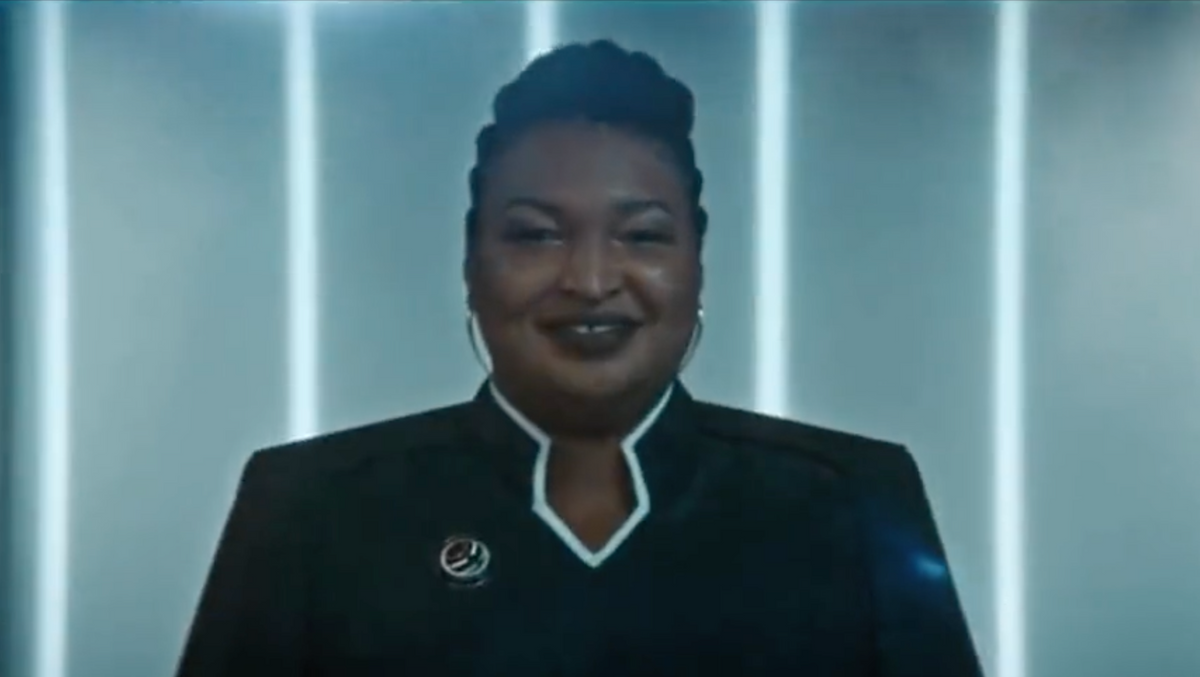 Paramount
SPOILER ALERT: The following article may contain spoilers for season four of Star Trek: Discovery.

Voting rights advocate and Georgia Democratic gubernatorial candidate Stacey Abrams can now add acting to her resumé after a recent cameo in the season four finale of Paramount's Star Trek: Discovery.
Abrams, who has long been public about her adoration of the Star Trek franchise, played the President of United Earth, who spearheads the planet's reentry into the United Federation of Planets
Watch her scene below.

It was Star Trek: Discovery showrunner Michelle Paradise who originally thought of Abrams when mulling options for who would play the President of United Earth.
Paradise told Deadline:

"We knew that she was a fan of the show and of Trek in general, and for us, there was no one better to be that President. Alex and I reached out to her, and she was kind enough to get on a Zoom with us. We pitched her the very basics of that part of the season – just that Earth would rejoin (she didn't want spoilers, so we shared just enough to give her context) – and then talked to her about who this character is and what she represents. We asked if she'd be interested and she was kind enough to say yes. It was just an amazing thing. She did such an incredible job, it was a privilege for all of us to get to work with her, and we're so grateful she joined us for that."
It was likely a welcome break for Abrams, who's currently mounting a formidable second bid for governor of Georgia while continuing the voting rights activism that played a crucial role in turning Georgia blue in 2020 and delivering Democrats two vital runoff victories that endowed the party with a functional majority in the Senate.
Star Trek is obviously fiction, but many felt Abrams would do a fantastic job as President of United Earth if such a world were to ever exist.
Conservatives were far less happy with the appearance.
Abrams, who has previously said Star Trek was a formative influence on her political perspective, is now officially a member of the Star Trek family.