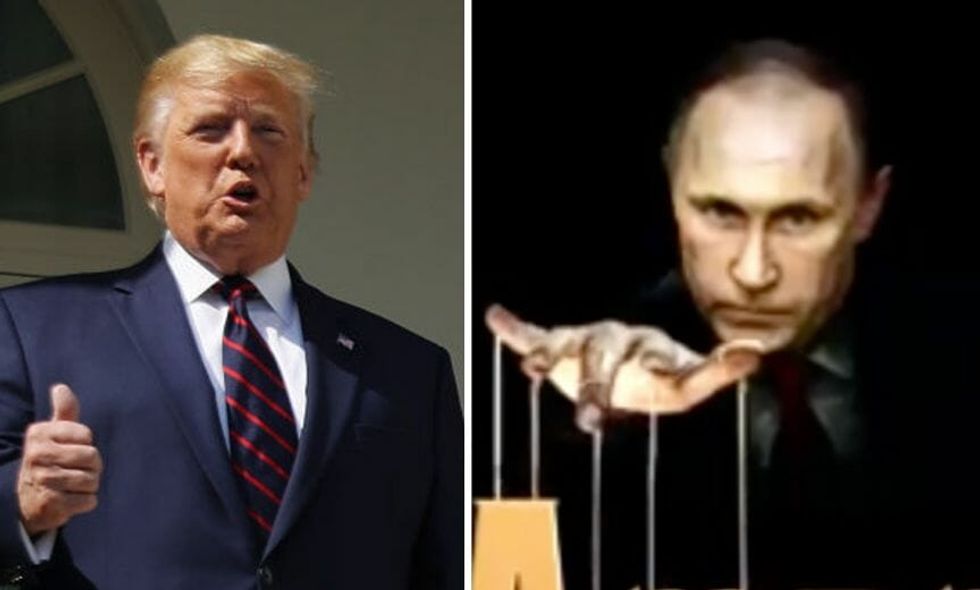 Chip Somodevilla/Getty Images // Eleven Films
Watch Eleven Films' rundown of the rampant corruption below.
This is not a movie. This is America. The #DonFather Trailer https://t.co/jUZZvIF9lj

— Eleven Films (@Eleven Films) 1570536008.0
The chilling trailer notably uses The Godfather as inspiration for the trailer, echoing others' sentiments of Trump's mafia-style way of participating in corrupt deals while accounting for plausible deniability.
Using videos from lawmakers like Pelosi and House Intelligence Committee Chair Adam Schiff (D-CA) as well as media personalities like MSNBC's Chris Hayes and Rachel Maddow, and—naturally—Trump's own words, Eleven Films inundates the viewer with evidence of corruption from the Trump White House and just how urgently this corruption needs to be addressed.
Judging from the reactions on Twitter, the tactic is working.
This is chilling. This is reality! If you aren't already following @Eleven_Films already, stop what you're doing an… https://t.co/rZ4Ur4kXD0

— leeleeb50VoteBlueNoMatterWho🌊🌊🌊 (@leeleeb50VoteBlueNoMatterWho🌊🌊🌊) 1570548587.0
@Eleven_Films If you tried to sell a screenplay like this to Hollywood, they would laugh you out the door and tell… https://t.co/epduBN3oIm

— Stevenfcpa (@Stevenfcpa) 1570536830.0
@Eleven_Films Thank you guys once again for showing the TRUTH of what's happening in our country!!

— Michelle (@Michelle) 1570552727.0
@Eleven_Films Omg you folks absolutely knocked this outta the damn park. So well done! 👏👏👏

— Curiosity Cat 🧐 (@Curiosity Cat 🧐) 1570548537.0
Wow so frightening and sad.. https://t.co/a2KXz1KrMl

— Cheryl (@Cheryl) 1570558956.0
We have a Republican Regime embracing Trumps high crimes and treason. #GOPTraitors #ImpeachTrump https://t.co/MCIoRjj0vN

— DAL (@DAL) 1570545276.0
Retreat far and wide. This definitely needs to be trending every day https://t.co/mLbGuyChWr

— Cindy del Valle (@Cindy del Valle) 1570548341.0
The White House continues to not cooperate with the House committees overseeing the impeachment inquiry. Just today, he called the proceedings a "kangaroo court" on Twitter after instructing European Union Ambassador Gordon Sondland not to show up before the committees for his scheduled testimony today.
Keep reading... Show less