election integrity commission
The commission is accused of undermining people's trust in elections.
27 October 2017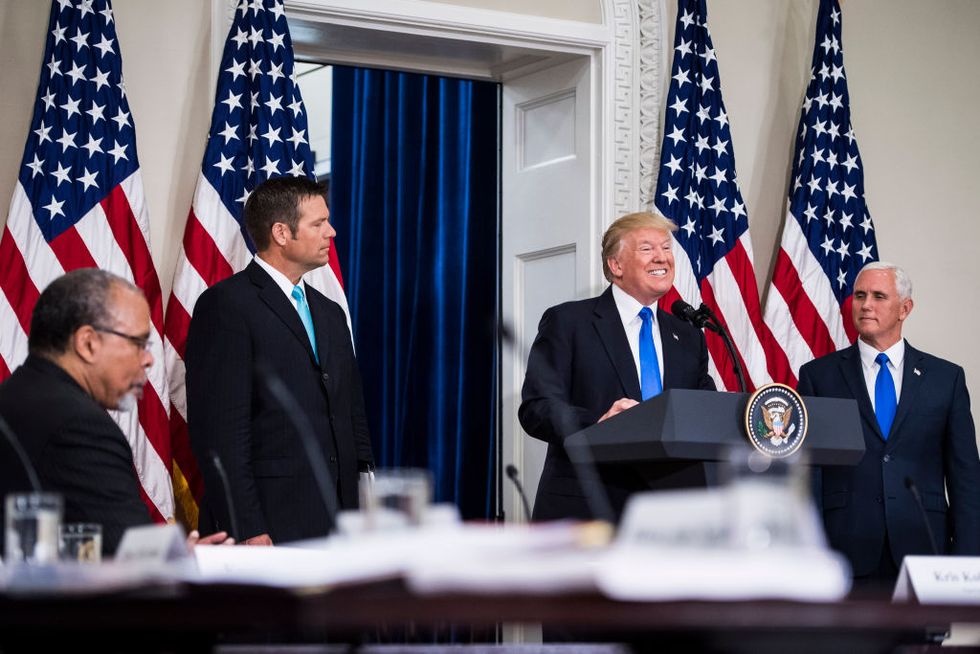 WASHINGTON, DC - JULY 19: President Donald Trump, accompanied by Vice President Mike Pence, right, and Kansas Secretary of State Kris Kobach, center left, speaks at the first meeting of the Presidential Advisory Commission on Election Integrity at the Eisenhower Executive Office Building on the White House complex in Washington, DC on Wednesday, July 19, 2017. (Photo by Jabin Botsford/The Washington Post via Getty Images)
Back in May, Donald Trump backed his propagandist accusation that millions of illegal immigrants voted in the November 2016 presidential election, not with evidence, but by commissioning a panel via executive order to investigate said accusation of voter fraud. Trump did this even though election law experts and most state election officials said that voter fraud is rare.
Now the Government Accountability Office (GAO), the U.S. Congress watchdog group, has turned the tables by agreeing to investigate the controversial Presidential Advisory Commission on Election Integrity (PACEI). Reuters reports that the GAO's investigation follows three Democratic senators raising concerns that Trump's commission is actively working, not to investigate voter fraud, but to undermine and diminish the public's confidence in the democratic process.
In letter published on Wednesday, the GAO stated that it has accepted a request from Senators Amy Klobuchar, Michael Bennet, and Cory Booker to investigate the Presidential Advisory Commission on Election Integrity. Trump's panel has been heavily criticized both by voting rights groups and democrats, arguing it is a subversive group created to make it harder for voters to cast ballots.
The letter reads: "GAO accepts your request as work that is within the scope of its authority. At the current time we anticipate that staff with the required skills will be available to initiate an engagement in about five months. Your request has been assigned to Mr. George Scott, Managing Director,Homeland Security and Justice.
The GAO's letter was in response to the three senators' letter written last week to the watchdog group. The senators are concerned that the commission, headed by Vice President Mike Pence, is not being transparent, having not responded to any requests in regard to their activities and gathered information. Their letter stated that the panel's lack of transparency could "unnecessarily diminish confidence in our democratic process." The letter further explains their concerns:
"Unfortunately, the PACEI has ignored numerous requests from Members of Congress seeking clarification on the PACEI's activities. Open record requests and court documents from litigation have provided some insight into the creation and operations of the PACEI, which we believe are cause for serious concern. Additionally, investigative reports raise questions about the partisan motives and actions of the Commission."
Shortly after the November election, Trump came under criticism for not winning the popular vote. In response, not only did Trump falsely claim that he had won the popular vote, but he then later went even further by claiming that millions of illegal immigrants voted for Hillary Clinton in the election, therefor robbing him of the popular vote victory.
In addition to winning the Electoral College in a landslide, I won the popular vote if you deduct the millions of people who voted illegally

— Donald J. Trump (@Donald J. Trump) 1480278643.0
Fast forward to May 11, 2017, when President Trump signed an executive order establishing the PACEI, with Vice President Pence as the chair and Kansas Secretary of State Kris Kobach as vice-chair.
The executive order states "the Commission shall, consistent with applicable law, study the registration and voting processes used in Federal elections. The Commission shall be solely advisory and shall submit a report to the President." The order went on to say that it sought to identity vulnerabilities that could lead to "improper voter registration."
Republican Kris Kobach, an advocate of tougher laws on immigration and voter identification, demanded in June that states turn over voter information, including:
Last four digits of Social Security numbers
Addresses
Birth dates
Political affiliation
Felony convictions
Voting histories
More than 20 states refused to hand over the requested voter information, and many other states said they needed time to decide if they could legally provide that information. In all 44 states and the District have refused to turn over certain voter information to the commission.
Keep reading...Show less