That's an interesting way to spin the loss.
08 November 2017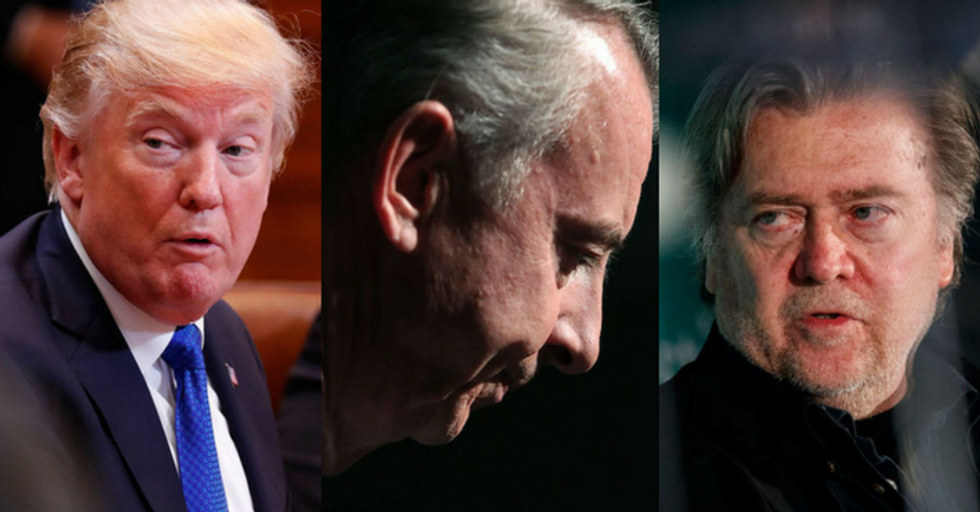 Once again, President Donald Trump backed a losing horse, this time in the Virginia governor's race. However on Tuesday night, Trump blamed Republican gubernatorial candidate Ed Gillespie for the loss.
Ed Gillespie worked hard but did not embrace me or what I stand for. Don't forget, Republicans won 4 out of 4 House… https://t.co/HODixMtPNw

— Donald J. Trump (@Donald J. Trump) 1510105237.0
Democrat Ralph Northam defeated Gillespie on Tuesday in the first major loss for the GOP since Trump's election last year. The president endorsed Gillespie in numerous Tweets and attacked his opponent leading up to the election.
Ed Gillespie banked on an easy victory by embracing the same campaign message as President Trump used in 2016. As Election Day approached, Gillespie ran attack ads on immigration, "sanctuary cities" and gang violence, even though crime is much lower in Virginia than in most of the country.
In addition to the endorsement by President Trump, Vice President Mike Pence also endorsed Gillespie on a platform of cutting taxes and fighting crime.
.@EdWGillespie will cut taxes, grow the economy & support law enforcement - he will be a GREAT Governor for Virginia. Vote today!

— Mike Pence (@Mike Pence) 1510060057.0
The president added a series of tweets and automated Election Day phone calls encouraging voter turnout for Gillespie.
.@EdWGillespie will totally turn around the high crime and poor economic performance of VA. MS-13 and crime will be gone. Vote today, ASAP!

— Donald J. Trump (@Donald J. Trump) 1510052215.0
However after Gillespie's defeat, the narrative changed quickly. While on his 12 day trip to visit Asian allies, Trump claimed Gillespie failed to follow his lead and that was why he lost.
But earlier Tuesday, the president urged Virginians to vote for Gillespie, saying he would "totally turn around" "high crime and poor economic performance" in the state. The president's prerecorded robocall expressed his support, saying the Republican would "help make America great again."
This isn't the first time the president has disavowed his candidate after a loss.
President Trump notably deleted several tweets supporting Luther Strange, an Alabama senator who lost his bid to be the Republican nominee to retain his seat despite a massive outpouring of support from the White House.
But it's not only Trump who proved disloyal Tuesday night.
Steve Bannon stated earlier this week, "[I]t was the Trump-Stewart talking points that got Gillespie close and even maybe to victory. It was embracing Trump's agenda.... This was not a competitive race four weeks ago. You could have stuck a fork in Gillespie."
After his defeat, Steve Bannon's Breitbart home page also championed Trump's argument that Gillespie didn't embrace the president's politics leading to his loss.
Keep reading...Show less