Megan Varner/Getty Images // MANDEL NGAN/AFP via Getty Images
As part of the Trump campaign legal counsel, Jenna Ellis rose to national infamy for her role in defending the former President's lie that the 2020 presidential election was "stolen" from him through widespread fraud orchestrated by Democrats.
With President Joe Biden now officially in office, it would appear she has a lot more free time these days, considering she spent much of Monday morning slamming Senator Reverend Raphael Warnock (D-GA) for a tweet he posted commemorating Easter Sunday.
In the since-deleted tweet, Warnock posted a message of inclusivity, calling Easter "more transcendent than the resurrection of Jesus Christ."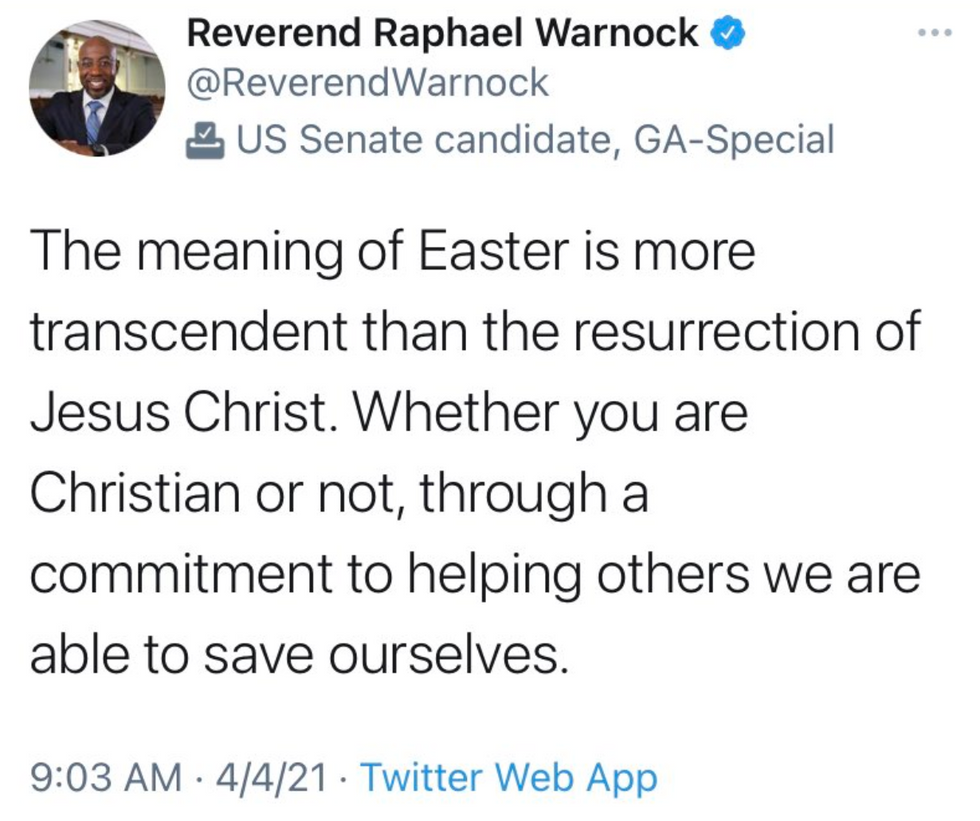 While some may debate the contents of Warnock's tweet, his credentials speak for themselves. Before delivering a victory in one of the key Senate runoffs in Georgia that gave Democrats a majority in the Senate, Warnock was the senior pastor at Ebenezer Baptist Church, where Reverend Dr. Martin Luther King Jr. also preached.
Ellis fired off a bizarre tweet storm accusing the Senator of being a heretic.
This is a false gospel and heresy. We cannot save ourselves. The absolute truth and only meaning of Easter that ma… https://t.co/uetCzapc3c

— Jenna Ellis (@Jenna Ellis)1617563747.0
Warnock deleted his heretical tweet. He should delete Reverend in front of his name too. https://t.co/6FYNG6LFZ1

— Jenna Ellis (@Jenna Ellis)1617583515.0
Leftists who don't even pretend to be Christians (like @JoyAnnReid and @mehdirhasan) defend Warnock's heresy just because he's a Dem.

They intentionally confuse supporting Trump w/ worshipping Trump because their god and idol is government.

Jesus is the only true Lord & Savior.
— Jenna Ellis (@JennaEllisEsq) April 5, 2021
This is also why it's VERY important for Christians not to just defend anything and everything a Republican says or does just because they're Republicans. We aren't like Dems.

Truth is our standard, not party fealty.

We do not worship government. We worship God alone.
— Jenna Ellis (@JennaEllisEsq) April 5, 2021
Let's not forget that the "Reverend" Warnock is pro-choice, which is also against the Bible and moral truth. Warn… https://t.co/8GMkLp3Rx4

— Jenna Ellis (@Jenna Ellis)1617593091.0
Ellis continued to berate the Reverend on Twitter, and claimed that truth is the Republican "standard." It's ironic, as Ellis became relevant defending the man who told tens of thousands of verifiable lies—including one that led to the deaths of at least five people.
People didn't hesitate to call her out.

This lady is literally calling the pastor of Ebenezer Baptist Church -- The Rev. Dr. Martin Luther King Jr.'s churc… https://t.co/uUyItJPlyy

— Joy-Ann Pro-Democracy & Masks Reid 😷 (@Joy-Ann Pro-Democracy & Masks Reid 😷)1617576456.0
This is exactly why your evil asses age like a jar of mayo in the sun https://t.co/Wp0H2y0ySw

— Noxeema 🐝💛👄Jackson (@Noxeema 🐝💛👄Jackson)1617624826.0
Yet another white supremacist calling a Black Pastor a bad guy. Same slurs they threw at MLK https://t.co/fGcE2n0OwD

— Patrick (@Patrick)1617580960.0
@JennaEllisEsq Being political on Easter. If he was a Republican you'd be agreeing with him. And why did you put "R… https://t.co/zFRQW8sUYG

— Kyle Hiebert (@Kyle Hiebert)1617567194.0
They found her assertion that "truth" is the Republican standard absurd.
the lack of self awareness 😂😂 https://t.co/i5lrdp0gpZ

— Tati 👸🏾🇭🇹 (@Tati 👸🏾🇭🇹)1617655453.0
Every time you think Jenna has said the stupidest thing she possibly could, she tops herself. Everything she says h… https://t.co/4egOWAO5C8

— Truth Matters (@Truth Matters)1617629156.0
"Truth is our standard"? You're joking right?? https://t.co/IcYZujXfQh

— George Vosburgh (@George Vosburgh)1617626796.0
As recently as Monday—only hours after her diatribes against Warnock—Ellis yet again amplified the lie that the election was stolen.