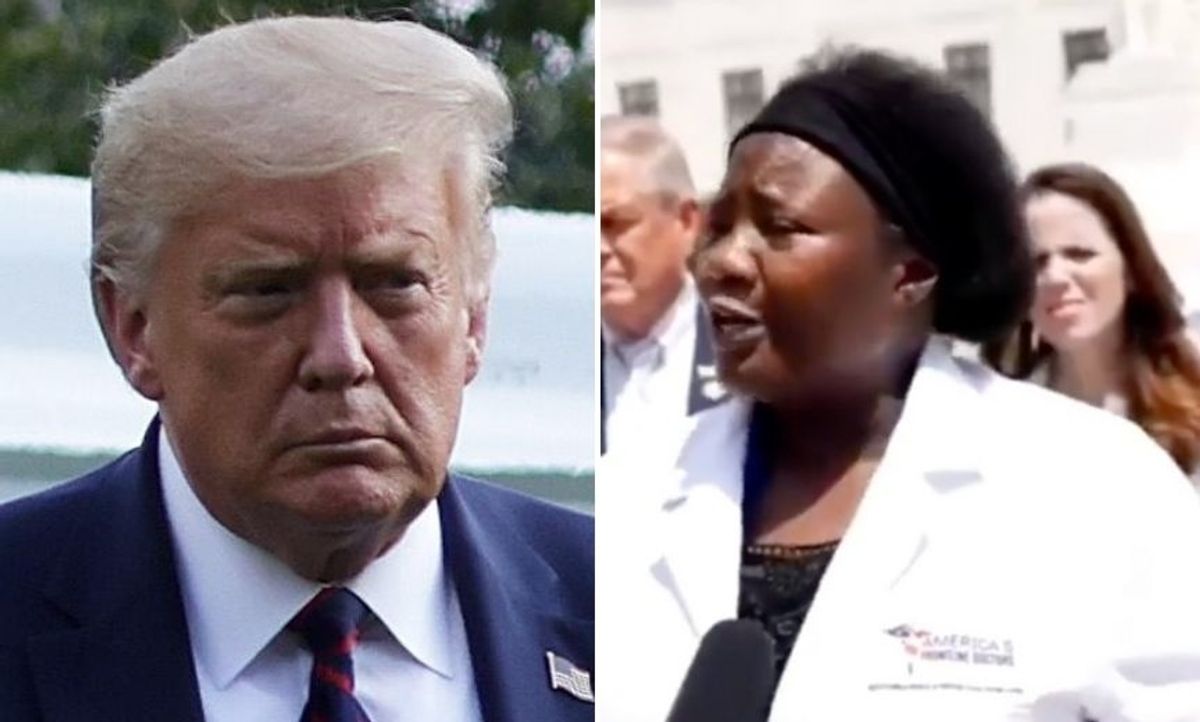 Alex Wong/Getty Images // Breitbart
President Donald Trump is once again spreading disinformation about the virus that's killed nearly 150 thousand Americans.
The information comes from a group claiming to consist of medical professionals calling themselves America's Frontline Doctors held a press conference promulgated by far-right media outlet Breitbart.
The doctors claimed that hydroxychloroquine—the anti-malarial drug Trump continues to swear is an effective treatment for the virus—was a viable form of treatment, and even a cure. Multiple studies have shown that the drug doesn't work in treatment of the virus, and often only worsens symptoms. The Food and Drug Administration revoked emergency use authorization for the drug last month.
Trump's insistence on legitimizing the drug's use against the virus is consistent with what those close to him have described as an "almost pathological unwillingness to admit error."
Trump shared a clip of the America's Frontline Doctors press conference which featured Dr. Stella Immanuel—who claims that ailments like cysts emerge from demonic sperm transmitted through "demon dream sex"—falsely assured that there is a cure for the virus.
In addition to claiming that there's a cure for the virus, Immanuel asserted that masks don't work. Trump routinely downplayed the effectiveness of masks, undermining guidelines put forth by his own CDC. Until recently, he refused to wear masks in public.
Immanuel generated ridicule on Twitter when she invoked God to strike down Facebook's servers in response to the removal of the video on the grounds of disinformation.
Hello Facebook put back my profile page and videos up or your computers with start crashing till you do. You are no… https://t.co/GSvPHMTEaa

— Stella Immanuel MD (@Stella Immanuel MD) 1595906580.0
Trump is facing criticism for retweeting the video riddled with false information about a potentially deadly virus.
@Amy_Siskind They want people to argue about reality.

— Still Wide Awake & Furious (@Still Wide Awake & Furious) 1595940333.0
@Amy_Siskind Typical M.O. inject poison into bloodstream quickly, once its out there, word of mouth will finishthe… https://t.co/Y8nZyTlaCr

— bzriley💦 (@bzriley💦) 1595946795.0
@Amy_Siskind The misinformation and DISinformation campaigns are kicking it up a notch - noticeably so, after more… https://t.co/tYD09pfk5a

— HollyJahangiri, Author (@HollyJahangiri, Author) 1595943155.0
@Amy_Siskind @thebraddock This is incredible. The worst, most confusing, inconsistent messaging I've every seen. Th… https://t.co/lbSrlhe5aB

— Ron Shillman (@Ron Shillman) 1595940600.0
@Amy_Siskind Disgraceful. They're killing people.

— leslie scott (@leslie scott) 1595942927.0
In recent weeks, some reporters have observed a "new tone" in Trump regarding his attitude toward the virus.
People felt that was flung out of the window with his constant promulgation of fake news.
@Amy_Siskind But, but, but.... he changed his tone, remember??!!

— Paul "Mask,A-hole,Mask!" Krysiak (@Paul "Mask,A-hole,Mask!" Krysiak) 1595940412.0
@Amy_Siskind O yeah.. trump has changed. https://t.co/VZwt2GqWQz

— janet strick grotsky (@janet strick grotsky) 1595940300.0
The President's son, Donald Trump Jr., shared the video as well. His account has since been temporarily suspended.