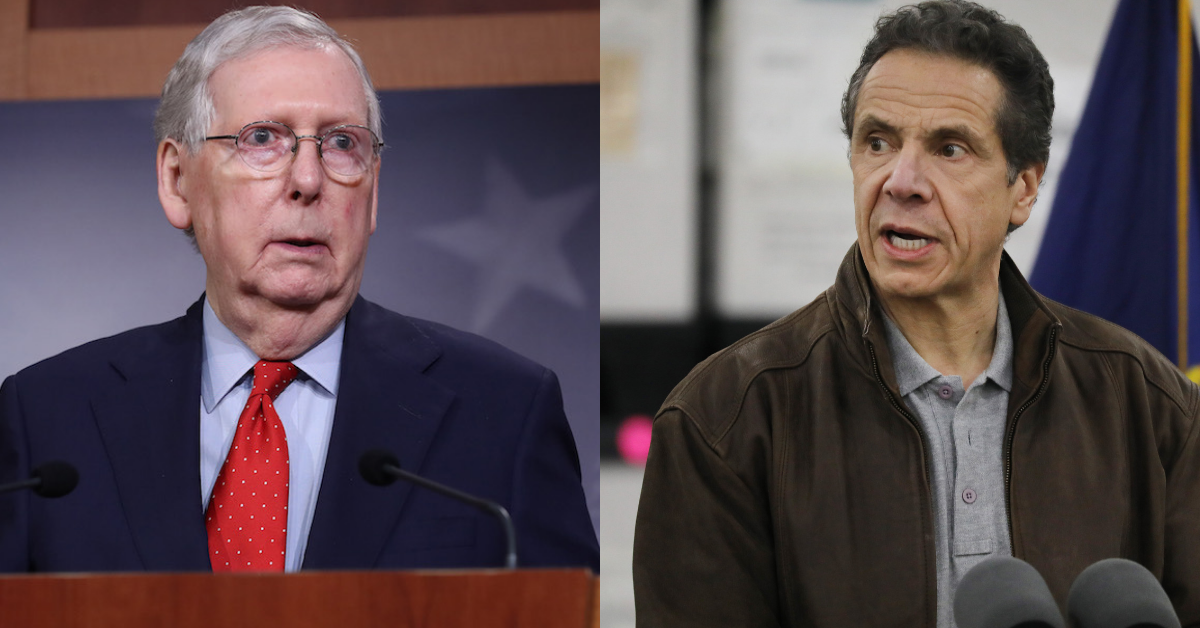 Chip Somodevilla/Getty Images; Eduardo Munoz Alvarez/Getty Images
Senate Majority Leader Mitch McConnell said Wednesday during a radio interview that states should not receive help from the federal government, parroting rhetoric shared by President Donald Trump and the White House.
McConnell pushed for states to go bankrupt instead which drew immediate pushback from both Republican and Democratic governors.
In an appearance on Hugh Hewitt's talk radio show, McConnell said:
"I would certainly be in favor of allowing states to use the bankruptcy route. It saves some cities. And there's no good reason for it not to be available."
"My guess is their first choice would be for the federal government to borrow money from future generations to send it down to them now so they don't have to do that. That's not something I'm going to be in favor of."
To back his play with the folks at home in Kentucky, the Senator's office put out a statement titled:
"Stopping Blue State Bailouts"
The dig was intended to imply that most of the states in need of bailout were helmed by Democratic governors. However many of those supposed blue states are historically red.
One of the Governors who responded was New York's Andrew Cuomo who addressed McConnell's Blue State Bailout manifesto with remarks to the press on Thursday, saying:
"This is really one of the dumb ideas of all time."
"This is not the time or the place or the situation to start your divisive politics."
"It's not red and blue. It's red, white and blue."
Cuomo added:
"It's your state [Kentucky] that is living on the money that we generate. Your state is getting bailed out. Not my state."
The New York governor addressed it again on Friday with some numbers for McConnell to consider.
In his Friday remarks, Cuomo pointed out that the number one giver to the federal treasury is the state of New York. He added that the number three taker is the state of Kentucky.

Give and take refers to so-called donor states that "give" more funds into the federal treasury than their state receives back in funding from the federal government, whereas states that "take" put in less money than they receive back.
This information may have been news to Senator McConnell, but not to people online who pointed out all of the top takers are red sates.
And people pointed out that McConnell is up for reelection against retired United States Marine Corps fighter pilot Amy McGrath in November.
Many of the Democratic governors McConnell targeted—like Governor Andy Beshear of Kentucky—took office in the 2018 election. During that midterm election the Democrats also regained control of the House of Representatives and lost just two Senate seats in an election cycle where the majority of Senators on the ballot were incumbent Democrats.

In 2020 when McConnell runs for his seventh Senate term since 1985, the numbers are reversed with 35 total Senate seats being decided on November 3, 2020. 23 of those seats are currently held by the GOP.
The Democrats only need to flip 3-4 seats to take control of the Senate and remove McConnell as Senate Majority Leader, regardless of whether he is reelected for a 6th time or not.
In addition to McConnell,the following Republican Senators will fight to keep their seats in November:
Dan Sullivan (AK), Tom Cotton (AR), Martha McSally (AZ), Cory Gardner (CO), Kelly Loeffler (GA), David Perdue (GA), Joni Ernst (IA), James Risch (ID), Bill Cassidy (LA), Susan Collins (ME), Cindy Hyde-Smith (MS), Steve Daines (MT), Thom Tillis (NC), Ben Sasse (NE), Jim Inhofe (OK), Lindsey Graham (SC), Mike Rounds (SD), John Cornyn (TX) and Shelley Moore Capito (WV).
As of Friday, April 24, the 2020 election is 193 days away.
Are you registered to vote?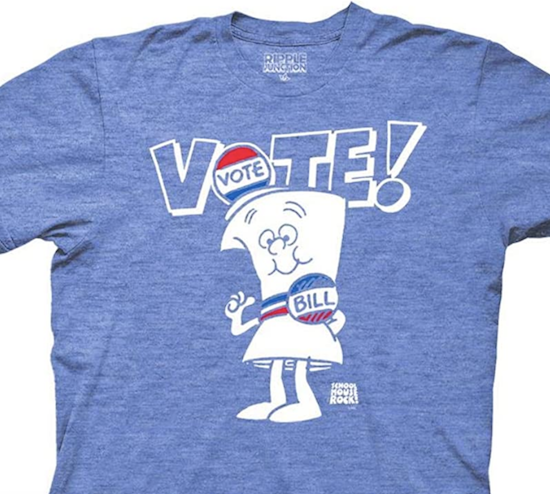 Amazon
Keep reading...Show less