He never should have passed a background check.
07 November 2017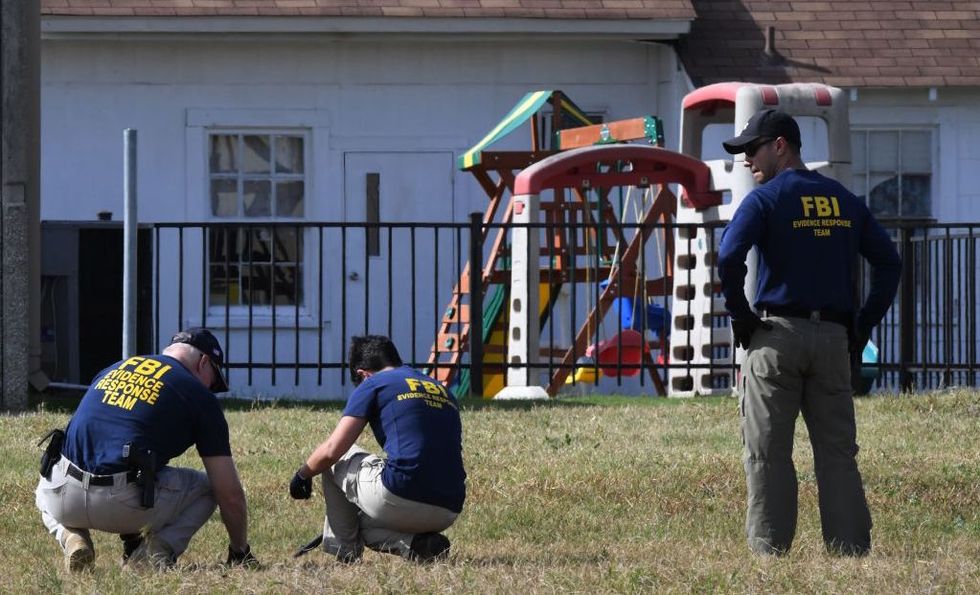 FBI agents search for clues at the entrance to the First Baptist Church, after a mass shooting that killed 26 people in Sutherland Springs, Texas on November 6, 2017. A gunman wearing all black armed with an assault rifle opened fire on a small-town Texas church during Sunday morning services, killing 26 people and wounding 20 more in the last mass shooting to shock the United States. / AFP PHOTO / Mark RALSTON (Photo credit should read MARK RALSTON/AFP/Getty Images)
A day after a gunman opened fire on unsuspecting parishioners in Sutherland Springs, Texas, the United States Air Force admitted it failed to enter the shooter's domestic violence court-martial into a federal database. No criminal record on file allowed the gunman to legally purchase firearms, including the rifle he used to kill 26 people.
In 2012, the Air Force court-martialed Devin Patrick Kelley for domestic violence and barred him from owning or buying guns. But in 2016 he legally purchased a rifle he used in his attack on the First Baptist Church during Sunday services.
Under federal law, the conviction for domestic assault by Kelley on his wife and toddler stepson, whose skull he cracked, stops him from legally purchasing the military-style rifle as well as three other guns he bought in the last four years. But without record of his criminal history, his purchases received approval during his background check.
In a statement, the Air Force said, "Initial information indicates that Kelley's domestic violence offense was not entered into the National Criminal Information Center database by the Holloman Air Force Base Office of Special Investigations."
The Air Force has launched a review of how the service handled the criminal records of former Airman Devin P. Kelley following his 2012 domestic violence conviction."
Their official statement said Heather Wilson, the Air Force secretary, and Gen. David Goldfein, the Air Force chief of staff, ordered the Air Force inspector general to "conduct a complete review of the Kelley case." They also will investigate whether other convictions were not reported or entered into the federal database for firearms background checks.
New York Democratic Senator Kirsten Gillibrand sent a letter to Secretary of Defense James Mattis calling on him to start an audit of each military criminal case over the past decade requiring military to notify the FBI of the outcome and verify each notification was made and was accurate.
If this can happen in one case, it could happen in others... I request that you immediately initiate an audit of all military criminal investigative organizations."
"Hearing that the shooter was a former service member with military convictions for domestic violence was even more troubling. However, learning that this senseless act of violence might have been prevented if only the proper form was filled out by military investigators was absolutely devastating," wrote Gillibrand, a member of the Senate Armed Services Committee.
"A deadly failure, a colossal failure, they need to make sure it doesn't happen again," said Texas Representative Joaquin Castro. "There's going to be a lot of remediating that has to go on to track down anybody else who might have fell through the cracks, whose records they might not have forwarded," the Texas Democrat added.
Senator Richard Blumenthal demanded the Department of Defense give answers on "how this process failed."
As a member of Judiciary & Armed Services Committees, I'll call on DoD/DoJ to provide clear picture of where, why & how this process failed.

— Richard Blumenthal (@Richard Blumenthal) 1510017505.0
Keep reading...Show less