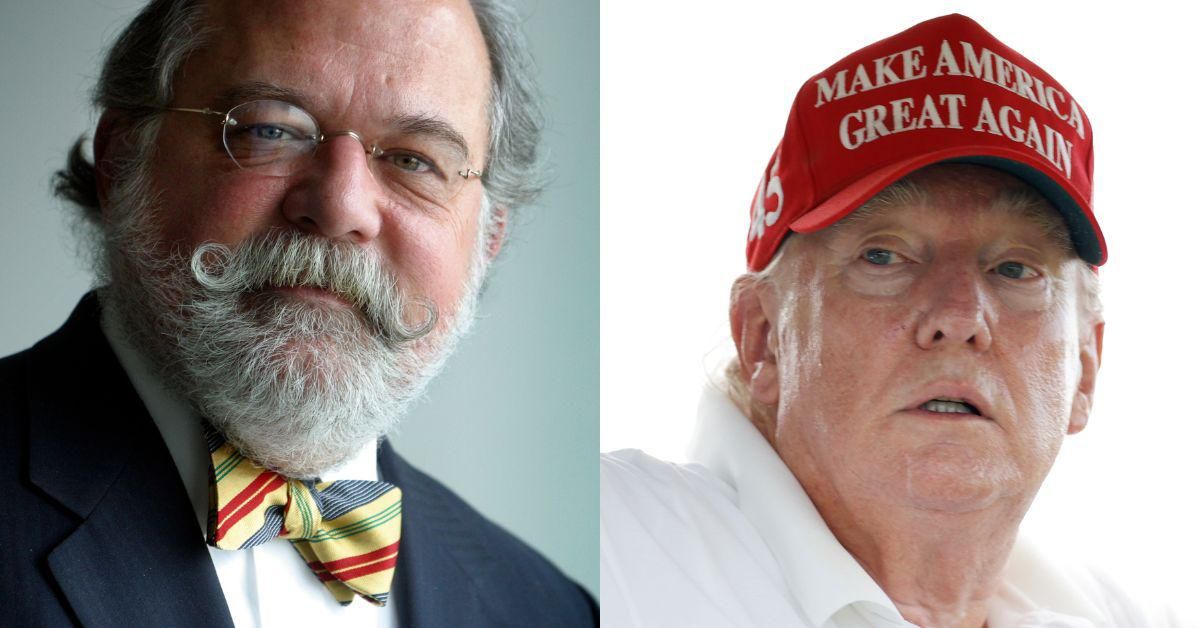 Jerry Cleveland/The Denver Post via Getty Images; Cliff Hawkins/Getty Images
An ex-attorney for former Republican President Donald Trump's White House suggested Congress has enough evidence to permanently disqualify him from holding office.
When asked by CNN's Erin Burnett if Trump's defense of believing the 2020 election being stolen was true–despite a considerable amount of evidence proving otherwise–would hold up in court, former Trump White House lawyer Ty Cobb replied, "I don't believe so."
Cobb joined the Trump Administration's legal team from July 2017 until May 2018 to manage matters relating to Special Counsel Robert Mueller's investigation looking into Russian election interference.
He was also chosen by Trump to lead the defense in his first impeachment trial.

"There's considerable evidence out there that his own legal advisors, including [John] Eastman on January 4, acknowledged that, you know, they were acting on a frivolous legal theory," he said on Wednesday's CNN interview.
"I think that's very damaging to somebody who wants to argue willful blindness."
You can watch the interview here.
Cobb noted the testimonies presented at the January 6 House Select Committee hearings all led to a "clear path to criminal charges."

He touched on a point made earlier by fellow guest, Laurence Tribe–a Constitutional Law Professor at Harvard Law School who represented former Vice President Al Gore during the 2000 Florida recount.
Burnett appeared to be stunned after Tribe listed a number of laws Trump may have broken and Cobb weighed in with his response. She commented on how "significant" it was her two guest panelists were in agreeance with each other.

Tribe mentioned Trump sat inside the White House fully aware of the violent insurrection taking place at the US Capitol building and simultaneously tweeted former Vice President Mike Pence "didn't have the courage to do what was necessary."
Cobb explained:

"If I could make one point, though Erin, in response to something the professor said which I think is significant is the fact that the professor pointed to with the Pence tweet during the almost three hours of Trump's inactivity fits very, very perfectly into what I think should be."
"I think Congress has the lane here," said Cobb, adding, " I don't think that lane is telling [Attorney General] Merrick Garland what to do or pretending that they're leading him anywhere."
He continued:

"The Pence tweet, coupled with the three hours of inaction, in my view, easily fits into the definition of giving aid and comfort to the insurrectionists, and that is the standard under Article 3 of the 14th Amendment, which Congress has at its disposal."
"I don't for the life of me understand why instead of telling the Justice Department what to do, that they aren't acting on that alone, because if they have a sense of the Congress, the penalty of finding Trump guilty of giving aid and comfort to an insurrection is disqualification from office forever."
Regardless of how the January 6 Committee hearings play out, Cobb believes an unconcerned Trump will take advantage of the opportunity for continued self-aggrandizing.

"While Trump may argue that defense, I think he's more likely to use the trial in an effort to deal with his themes that he's all-powerful, he got cheated [and] he's the only one standing up for the country," said Cobb.
When NBC News previously asked Cobb about his thoughts on the prospect of another Trump presidential campaign, he responded in part:

"A 2024 declaration of his candidacy serves no interest but his self-defeating and overwhelming need for relevance, attention and money. Such an announcement also does not inoculate him from criminal investigation."
Cobb said Trump "was a disaster for the Republican Party," preventing a Senate majority in 2020 and "has already done the same for 2022 with his endorsements of unelectable candidates all based on their loyalty or his own driving desire for revenge."
"The Big Lie has been good only for Trump and has brought him millions in donations, which some evidence suggests may have been mishandled."
"The Big Lie, and the related violence, election interference and other perceived misconduct, was and is an affront to this nation and its first principles."
"It has permanently soiled the history pages and deepened the abyss that divides our country and continues to expand due to the delusions and lack of accountability of politicians in both parties."
If Congress considers Cobb's proposal of criminal charges for Trump, it would surely throw a wrench in Trump's plans to run again in 2024–though he has yet to officially announce his campaign.