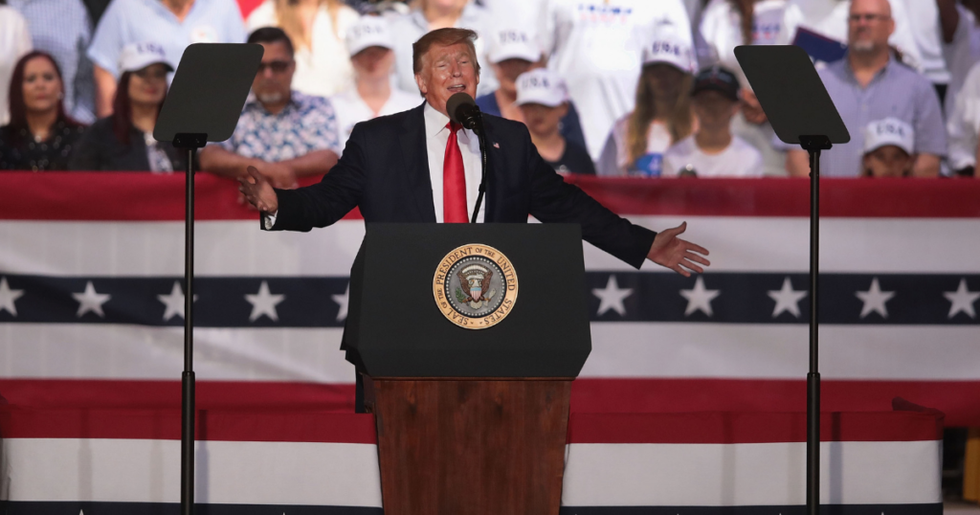 PANAMA CITY BEACH, FLORIDA - MAY 08: U.S. President Donald Trump speaks during a rally at the Aaron Bessant Amphitheater on May 8, 2019 in Panama City Beach, Florida. In his continuing battle with Congress over the release of Robert Mueller's unredacted report, today President Trump asserted executive privilege to block its release from public view. (Photo by Scott Olson/Getty Images)
Three Florida radio stations have vowed to broadcast clips of President Donald Trump's promises to rebuild the state's Panhandle through the end of the 2020 presidential election.
Adult Hits Bob FM on 105.1 WASJ, Kick'n Country on 103.5 WKNK, and Classic Rock station 95.9 WRBA - owned by Gulf Coast Media Inc and serving Bay County - intend to both hold Trump accountable and show appreciation for recovery efforts from Hurricane Michael.
"Gulf Coast Media, Inc. senior management acknowledged that broadcasting the President's speeches may not be consistent with conventional commercial FM radio, but we have taken this approach to show the community's sincere appreciation for President Donald Trump's work in Panama City and Bay County," the company said in a statement.
Michael was a category 5 storm that leveled Bay County last year, killing at least 43 people and causing $25 billion dollars in damage. The area overwhelmingly voted for Trump in the 2016 election.
"We're supporting him and hoping that he'll do just as he says he's going to do," station owner Samuel Rogatinsky told HuffPost.
"People really forgot about Bay County," Rogatinsky said. "Maybe people don't consider it a sexy location or don't know too much about it but I go back and forth all the time and I can tell you ... they're not getting real money, for some reason. It's like a forgotten city, a forgotten county. The area really needs help."
As of April, six months post-Michael, the area has received "more than $1.1 billion in federal funds... toward response and recovery efforts," according to the Federal Emergency Management Agency, with "$976 million of that going directly to disaster survivors."
Last week, Trump visited Panama City Beach and promised that "there's a lot more coming."
The broadcast idea was inspired by the large crowds Trump was able to draw as well as his pledge to continue providing disaster aid (which is a form of socialism), Rogatinsky explained.
"We were just overwhelmed by how many people showed up for his speech. It was standing room only, so that gave us the idea," he said. "We are taking valuable airtime and lobbying him to please figure out a way so that Panama City Beach and Bay County can get the [money they need]."
Rogatinsky said that he hopes people are uplifted by the broadcasts, which will vary in length. "We're trying to find specific things ... specific things related to Panama City," he said.
But while the intent is to keep Trump country happy and hold the president to his word, many people think this reeks of authoritarianism.
@HuffPost Kind of like in Cuba and North Korea! Cool😃Enjoy

— angryfinnishwoman 🌹🇫🇮🇪🇺🇨🇦 (@angryfinnishwoman 🌹🇫🇮🇪🇺🇨🇦) 1557869278.0
@HuffPost @FoxNews is state TV. Now we have state radio. Great.

— Kurt Hansen (@Kurt Hansen) 1557875005.0
@HuffPost I mean that's not totalitarian at all

— Phil (@Phil) 1557868619.0
@HuffPost Propaganda R Us

— Tourguide J (@Tourguide J) 1557873894.0
Others see it as a fool's errand...
@HuffPost They're going to lose listeners doing this. "He promised to help us so we're playing his speeches to hold… https://t.co/DSd5JTll3r

— Lizii (@Lizii) 1557869138.0
@HuffPost Gives them their little mental fix and a reminder of their orange lord. Memory and mental faculties are s… https://t.co/gU3gpcmpkv

— Davin (@Davin) 1557874886.0
@thehill Great idea. The first time it's easy to miss out at least half of the BS the Cry baby in Chief is excretin… https://t.co/cOTAKnmh8C

— Ingeborg Baltussen (@Ingeborg Baltussen) 1557927040.0
...and a campaign contribution.
@thehill You mean so people can realize how nonsensical, ignorant, and mean he is?

— Jamie Schler (@Jamie Schler) 1557926771.0
@Amy_Siskind Isn't this a campaign contribution?

— 🌹🥀🌺🌻🌼🌷⚘ (@🌹🥀🌺🌻🌼🌷⚘) 1557882833.0
@Amy_Siskind Wait...I'm truly confused. Is broadcasting Trump's speeches supposed to help him or hurt him?

— Meryl Olmsted (@Meryl Olmsted) 1557884770.0
@thehill Seems like this would be considered a campaign contribution.

— (un)attractive nuisance (@(un)attractive nuisance) 1557926717.0
Either way, Rogatinsky said that if listeners want the broadcasts to stop, he will oblige.
"If the listeners complain, then we will reevaluate it," he added.
Federal Communication Commission rules require that any candidate be granted equivalent airtime if they request it. Rogatinsky told MSNBC that he will abide by the regulations.
Keep reading...Show less