director of national intelligence
So petty.
27 September 2019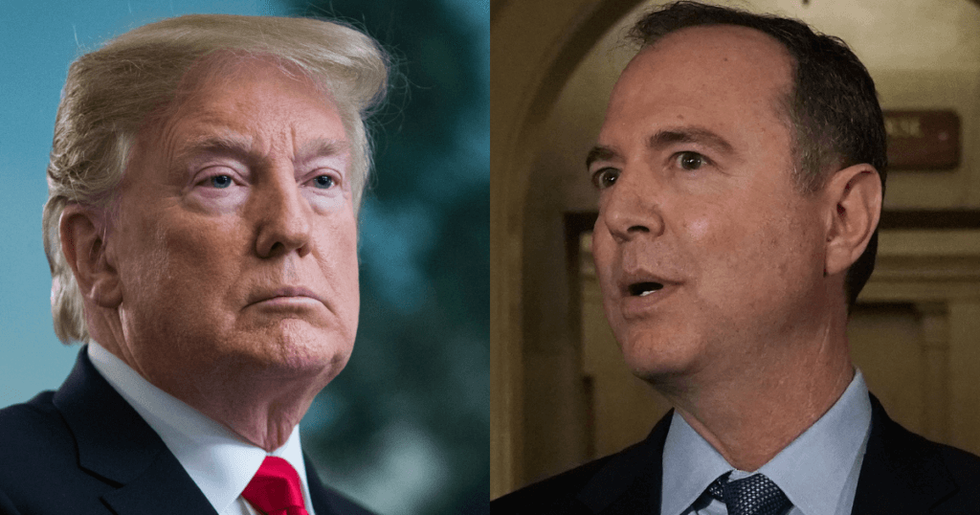 Michael Reynolds - Pool/Getty Images, Alex Wong/Getty Images
President Donald Trump fumed in a tweet storm on Friday morning against CNN, New York Times White House Correspondent Peter Baker, the Democratic party, the whistleblower who brought his Ukraine call to public consciousness, those who provided the information to the whistleblower, and—most aggressively—Congressman and House Intelligence Committee Chair Adam Schiff.
Schiff has been the subject of Trump's ire unceasingly since Thursday morning, when Schiff oversaw the testimony of Acting Director of National Intelligence Joseph Maguire to the House Intelligence Committee. During the hearing, Schiff said that Trump's efforts to pressure Ukrainian President Volodymyr Zelensky to open an investigation into former Vice President Joe Biden amounted to a "shakedown."
It wasn't long before Trump found out.
Liddle' Adam Schiff, who has worked unsuccessfully for 3 years to hurt the Republican Party and President, has just… https://t.co/oY9z9ecAHE

— Donald J. Trump (@Donald J. Trump) 1569521595.0
CNN commentators noted that Trump spelled the word "little" incorrectly. Trump then popped off to make sure his 64 million followers knew that the error was on purpose. He did so in a tweet that would've benefitted from some Sharpie edits.
To show you how dishonest the LameStream Media is, I used the word Liddle', not Liddle, in discribing Corrupt Congr… https://t.co/guKxTAXhvR

— Donald J. Trump (@Donald J. Trump) 1569582162.0
A few things:
The "hyphen" he's referring to is actually an apostrophe. A hyphen is used to join words, such as "error-ridden."
It's unclear how the apostrophe makes any difference.
The word is spelled "Describing," not "Discribing."
"Liddle" soon became the number one trending topic on Twitter, because this is actually the level of discourse we're at now.
Schiff didn't let Trump's tweets go unacknowledged.
You engaged in a shakedown to get election dirt from a foreign country. And then you tried to cover it up. But yo… https://t.co/ljbNjBA2A3

— Adam Schiff (@Adam Schiff) 1569588948.0
Thank you, Mr. President. I'm always flattered when I'm attacked by someone of your character. https://t.co/7gJ5QyFD8g

— Adam Schiff (@Adam Schiff) 1569520203.0
It's not unheard of by any means that Trump would make a typo. It's also not the first time Trump has used Twitter to attack Schiff, though it is by far the stupidest.
I see, yes, yes ... that makes sense. And next you'll say you spelled describing as "discribing" because you wrot… https://t.co/j9vJCTOoHA

— Kevin M. Kruse (@Kevin M. Kruse) 1569582627.0
@realDonaldTrump @CNN Is this seriously how you are using our tax payer money to do your job? Is this seriously wh… https://t.co/WbrxP5Y2Wu

— Fred Guttenberg (@Fred Guttenberg) 1569583269.0
Quick lesson @realDonaldTrump: ' = apostrophe - = hyphen your presidency = impeachable https://t.co/EElAd6P1s1

— Rep. Mark Pocan (@Rep. Mark Pocan) 1569590080.0
@realDonaldTrump @CNN Trump slams CNN for reporting he misspelled a word while in his very tweet calling that out h… https://t.co/rpBSieEuF0

— (((DeanObeidallah))) (@(((DeanObeidallah)))) 1569582636.0
Imagine you are losing your family farm because of Donald Trump's trade war, one that every single expert who doesn… https://t.co/D2zbvGdz5N

— Jennifer Hayden (@Jennifer Hayden) 1569589838.0
Trump has tried to come for Schiff before, even referring to him as "little Adam Schitt."
So funny to see little Adam Schitt (D-CA) talking about the fact that Acting Attorney General Matt Whitaker was not… https://t.co/iUe5HWLVES

— Donald J. Trump (@Donald J. Trump) 1542564069.0
Adam Schiff has zero credibility. Another fantasy to hurt the Republican Party!

— Donald J. Trump (@Donald J. Trump) 1569516501.0
Finally, Liddle' Adam Schiff, the leakin' monster of no control, is now blaming the Obama Administration for Russia… https://t.co/9HNsbaWwWj

— Donald J. Trump (@Donald J. Trump) 1518956549.0
Maybe, just maybe, this guy shouldn't know where the bombs are.
----
Listen to the first season of George Takei's podcast, 'Oh Myyy Pod!' where we explore the racially charged videos that have taken the internet by storm.
Be sure to subscribe here and never miss an episode.
Keep reading... Show less