Trump announces a new line of collectible digital trading cards priced at $99 each that feature images of him.
15 December 2022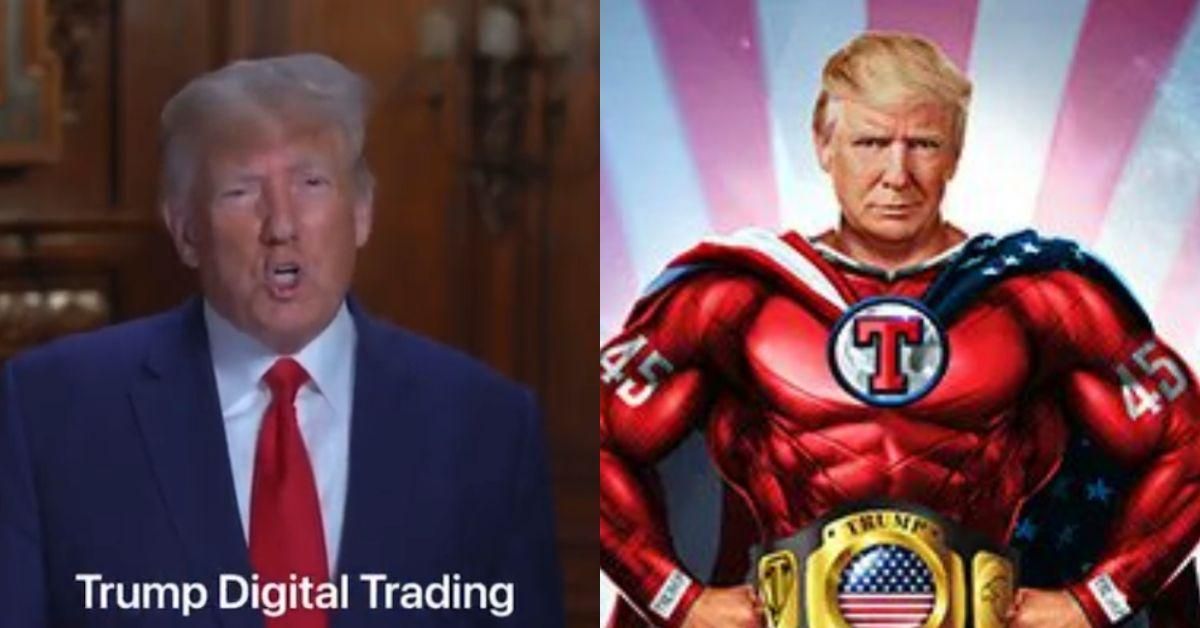 @RonFilipkowski/Twitter, @FvckTrumps/Twitter
Former Republican President Donald Trump teased a "major announcement" on his Truth Social platform.
After his post, seen below, people and pundits speculated Trump would be announcing a running mate for his 2024 presidential bid.
Or maybe his desire to be Speaker of the House under a Republican majority House of Representatives.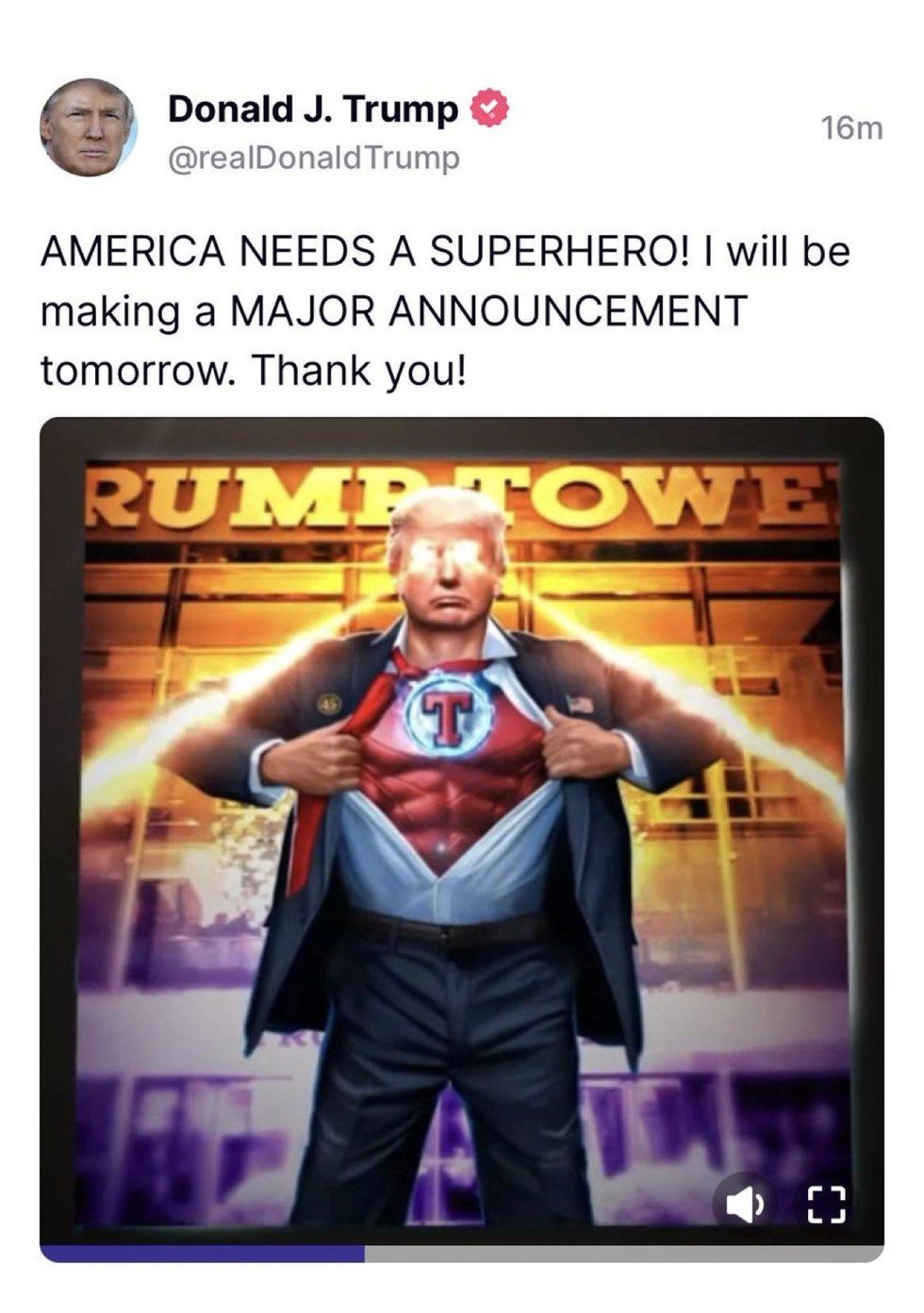 @realDonaldTrump/Truth Social
It turned out to just be his foray into NFT sales.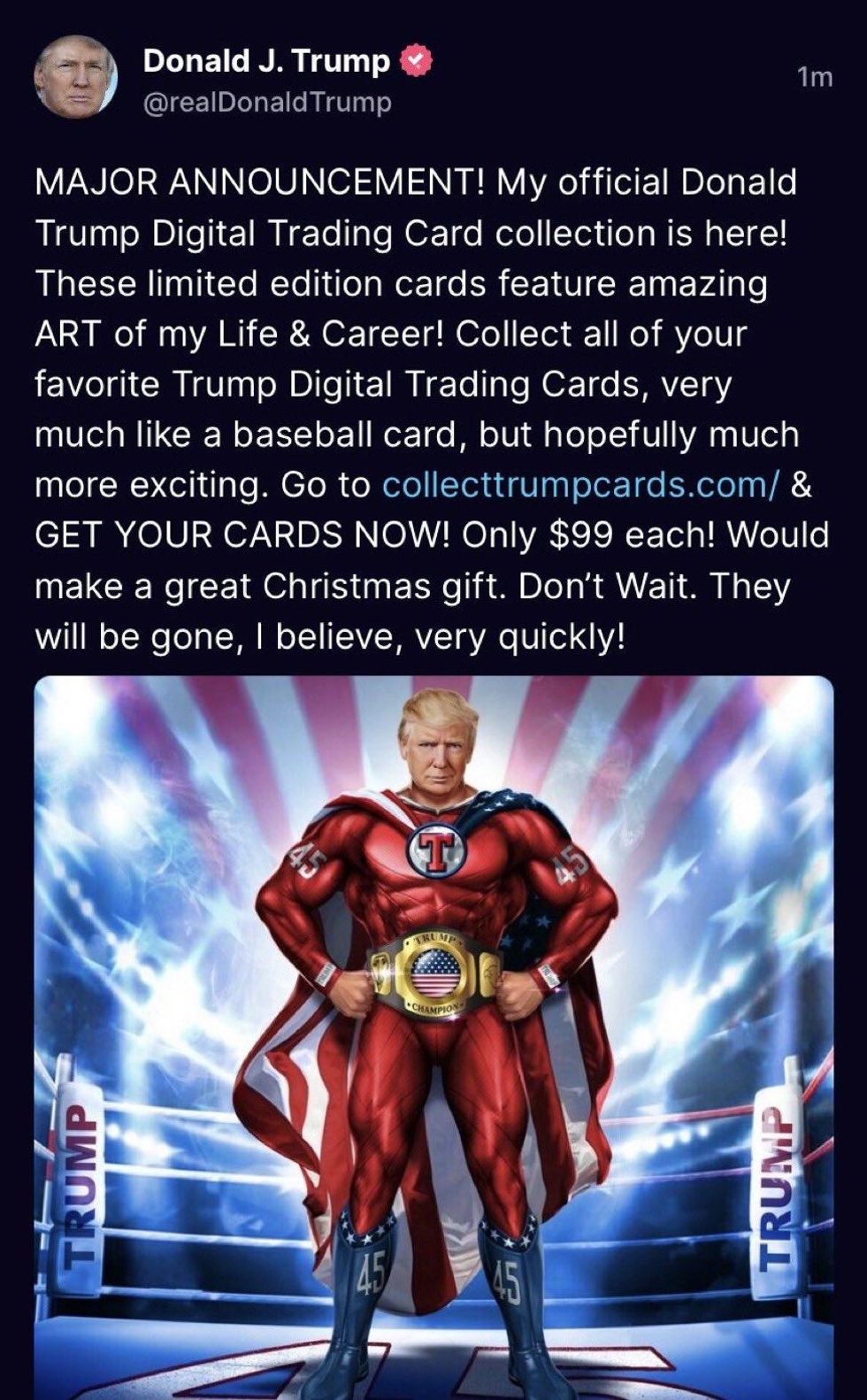 @realDonaldTrump/Truth Social
You can see his "major announcement" here:
NFTs, or non-fungible tokens, are cryptographic tokens existing on a digital ledger called a blockchain.
But unlike cryptocurrencies, NFTs are unique, more transparent and therefore not interchangeable.
The incorruptible stored units of data can represent tangible items like artwork, music, collectibles and in Trump's case trading cards.
The potential of eventually tokenizing real-world assets like real estate would be an efficient way to buy, sell and trade while also reducing the chances of fraudulent activity.
The 45th President–who lied about voter fraud in the 2020 election and incited the US Capitol insurrection to overturn President Biden's victory–directed followers to collecttrumpcards.com where he's hawking $99 trading cards.
The artwork of the cards depict Trump as a muscular superhero with laserbeams shooting from his eyes, an astronaut, a John Wayne-like cowboy and him standing in front of a "Trumpworld" sign.
His bizarre enterprise left social media users scratching their heads and trying to differentiate between what is fiction and reality.
As his 2024 presidential campaign has seen a slump weeks after officially declaring, Trump announced his new endeavor and introduced himself as:
"...hopefully your favorite President of all time."
"Better than Lincoln, better than Washington."
"I'm doing my first official Donald J. Trump NFT collection right here and right now."
He announced his Trump Digital Trading Cards, which he said:
"Features some of the really incredible artwork pertaining to my life and my career."
The twice-impeached former President continued:
"It's been very exciting. You can collect your digital cards just like a baseball card or other collectibles."
Trump added each card came with an automatic opportunity to win prizes such as having dinner with him.
"I don't know if that's an amazing prize but it's what we have."
Another prize he mentioned was a chance to go golfing with him at one of his "beautiful golf courses."
Trump said he was additionally offering Zoom calls, one-on-one meetings, autographed memorabilia "and so much more" as additional prizes.
The Trump Digital Trading cards are priced at $99, which 45 suggested was worth it for the value collectors were getting.
"Buy one and you will join a very exclusive community," he said.
"It's my community and I think it's something that you're going to like, and you're going to like it a lot."
He claimed the cards make a perfect gift and can be purchased by credit card or crypto.
On Truth Social, Trump urged his base to:

"GET YOUR CARDS NOW! Only $99 each! Would make a great Christmas gift. Don't Wait. They will be gone, I believe, very quickly!"
Trump's "major announcement" with his venture follows the plummet of NFT trading sales by 97% since the start of the year, which came amid uncertainties regarding the stability of the digital asset market.