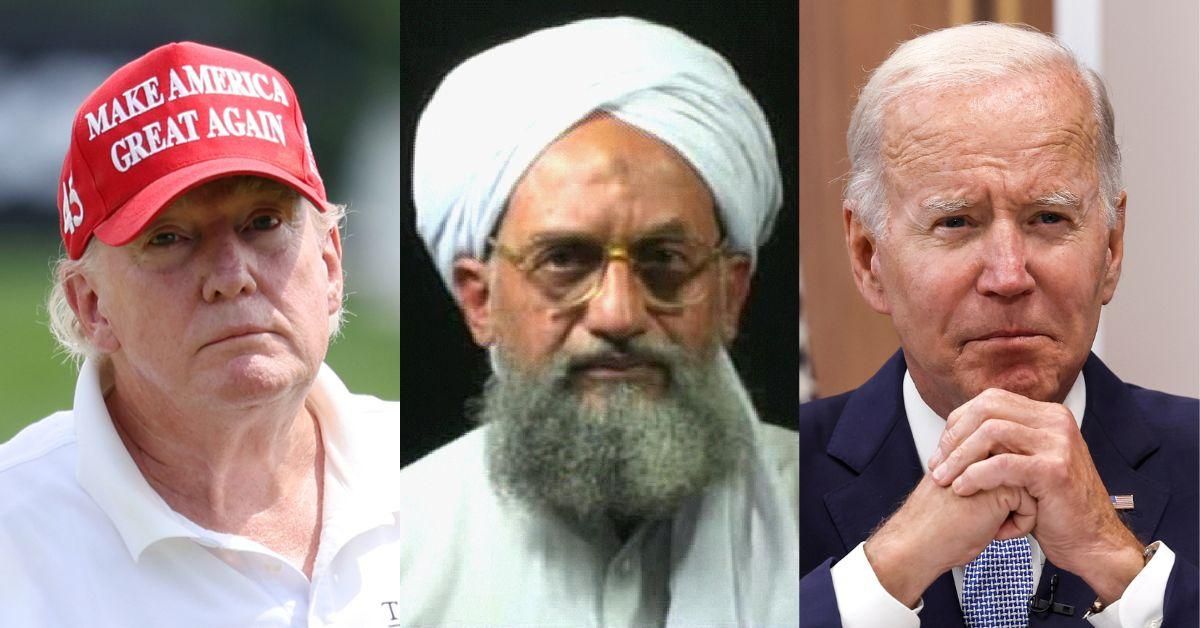 Jonathan Ferrey/LIV Golf via Getty Images; AFP via Getty Images; Anna Moneymaker/Getty Images
As we all know by now, Democratic President Joe Biden lives in Donald Trump's head rent-free.
But since news broke about Biden's successful mission to take out Al Qaeda leader Ayman al-Zawahiri, the former Republican President has been unexpectedly silent. You'd expect Trump to somehow make it about him, right?
Perhaps it's because Trump had the opportunity to take out one of the world's most dangerous international terrorists himself, but chose not to because...wait for it...
*...he didn't recognize his name.*
Fame is everything with that guy.

First reported in 2020, this factoid about Trump's presidency has resurfaced now that President Biden has taken al-Zawahiri out. Oh, and there's the whole matter of Trump deciding to take out Hamza bin Laden instead because he was a household name.
Yeah, that tracks.
Al-Zawahiri was killed in a drone strike last weekend in Kabul, Afghanistan, the biggest blow to Al Qaeda since Osama bin Laden's assassination by Navy SEALs in 2011 during the administration of Democratic President Barack Obama.
Al-Zawahiri helped bin Laden plan the September 11, 2001 terror attacks on New York and Washington, DC, leading to the death of nearly 3,000 people. You'd think you'd want to take that guy out if you can, right?
But when presented with multiple intelligence briefings about the CIA's most important targets, a list al-Zawahiri was at the top of, Trump declined to authorize missions to take him out because he didn't know who he was.
As a former Trump official told NBC News:
"He would say, 'I've never heard of any of these people. What about Hamza bin Laden?'"
Hamza bin Laden, Osama bin Laden's son, was a dangerous terrorist, but he was not believed to be involved in any active terrorist plots at the time and from the sounds of it wasn't even #2 or #3 on the CIA's list of priorities.
As former CIA official Douglas London put it:
"Despite intelligence assessments showing the greater dangers posed by Zawahiri, as well as his Iran-based lieutenants al-Masri and Saif al-Adil, and the unlikelihood Hamza was in the immediate line of succession, the president thought differently."
Speaking to NBC, another anonymous official was a bit more direct about why Trump had Hamza bin Laden taken out instead.
"That was the only name he knew."
A very cool approach to national security. No notes!
Trump has a history of being soft on terrorists and downright cozy with the leadership of Saudi Arabia, who have long been suspected of having connections to the bin Laden family and having been involved in the plotting of 9/11.
Trump was participating in a Saudi-funded golf tournament at his Bedminster, New Jersey golf course at the exact moment al-Zawahiri was taken out, in fact.
Given all of that, people on Twitter had plenty to say about Trump's approach to counter-terrorism back in the day.

The 2019 mission Trump ordered to take out Hamza bin Laden was successful, but many of the CIA's other top targets remain at large, including high-ranking Al Qaeda member Saif al-Adil, who is responsible for the 1998 bombings of the US embassies in Nairobi, Kenya and Dar es Salaam, Tanzania that killed 200 people.