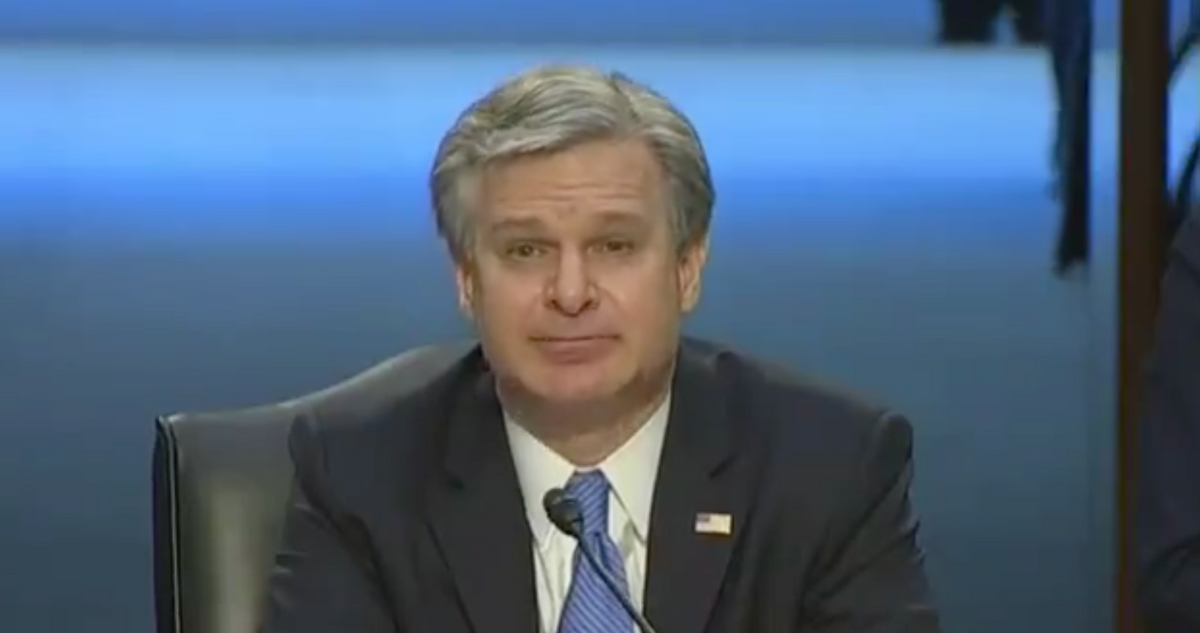 C-SPAN
On January 6, then-Vice President Mike Pence oversaw a joint session of Congress to confirm the presidential election victory of then-President-elect Joe Biden.
Just blocks away, then-President Donald Trump spoke at a "Save America" rally that he'd spent weeks promoting to his 80 million Twitter followers. During the speech, Trump once again spewed his lies that the 2020 election was stolen from him by Democrats. He urged his supporters to "fight" for him and to march to the Capitol and let their voices be heard.
Shortly after, a mob of pro-Trump extremists stormed the Capitol resulting in the deaths of at least five people and endangering the lives of every lawmaker there, including Trump's own Vice President.
The House later impeached Trump for inciting an insurrection, though he was subsequently acquitted by the Senate, with seven Republican Senators voting to convict him.
Republicans have scrambled to redeem Trump's tarnished image, unsurprisingly denying facts to do so.
One delusion is the claim that the mob was composed of secretly anti-Trump protesters who planned the attack to hurt Trump's image. This lie was propped up by everyone from Republican Senators to Fox News anchors to Trump's former lawyer, Rudy Giuliani.
There is no evidence to support this, as Federal Bureau of Investigations (FBI) Director Christopher Wray confirmed in a Senate committee hearing on the events of that day.
Watch below.
DURBIN: Do you have any evidence that the Capitol attack was organized by 'fake Trump protesters'?

WRAY: We have not seen evidence of that. pic.twitter.com/CqXGRp8CcL
— Aaron Rupar (@atrupar) March 2, 2021
When asked by Senate Judiciary Chairman Dick Durbin (D-IL) whether "fake Trump protesters" participated in the riots, Wray responded:
"We have not seen evidence of that at this stage certainly."
Later, Democratic Senator Patrick Leahy (D-VT) asked if Wray had seen evidence that Antifa played a role in the riots.
Once again, the answer was no:

"While we're equal opportunity and looking for violent extremism of any ideology, we have not to date seen any evidence of anarchist violent extremists or people subscribing to antifa in connection with the sixth."
Maybe Republicans would finally put this conspiracy theory to rest.
The concept of 'fake Trump protestors' aka Antifa being responsible for 6 Jan insurrection dismissed by the head of… https://t.co/eg2Pl8QNFU

— Michael Markovitz (@Michael Markovitz) 1614708229.0
Ya'think? https://t.co/I0kT2vxFyo

— Michele 🌹 (@Michele 🌹) 1614706946.0
Again, nice try GOP Trump Koolaid drinkers. https://t.co/ALu8IHew4d

— Laurie 🌊🌊🌊Democrat 🇺🇲 (@Laurie 🌊🌊🌊Democrat 🇺🇲) 1614706675.0
I was going to say that the seditious Trump GOPers need to see this, but I forgot that they know damn well that the… https://t.co/n3hn6p1KPP

— Sheila Findlay (@Sheila Findlay) 1614703443.0
So things Ron Johnson reads into the record don't transmogrify into evidence? https://t.co/Lifbx6vC1T

— Tim Rostan. (@Tim Rostan.) 1614701444.0
Well, here you go. @HawleyMO @tedcruz @mtgreenee. It appears as that you guys are liars. https://t.co/J1LAWZLpuz

— Frosty Camino (@Frosty Camino) 1614701371.0
It's clear who the rioters were.
@atrupar Strange that the riot that the GQP and their leader, the former president, stoked for months had just thei… https://t.co/MlpVf4QQxM

— TheBadNewsB (@TheBadNewsB) 1614699770.0
@atrupar @gtconway3d As much as the GQP wants to blame Dems, everyone else knows The Former Guy incited the insurrection.

— CARLOS ALVARADO (@CARLOS ALVARADO) 1614701091.0
@atrupar @gtconway3d Of Course not because there was none,it's all fabricated by Trump and his minions to distract… https://t.co/B59g8p9vRW

— Berman Patterson (@Berman Patterson) 1614700295.0
Given their track record, it's unlikely those who pushed the fantasy that antifa was behind the riots will listen to evidence.