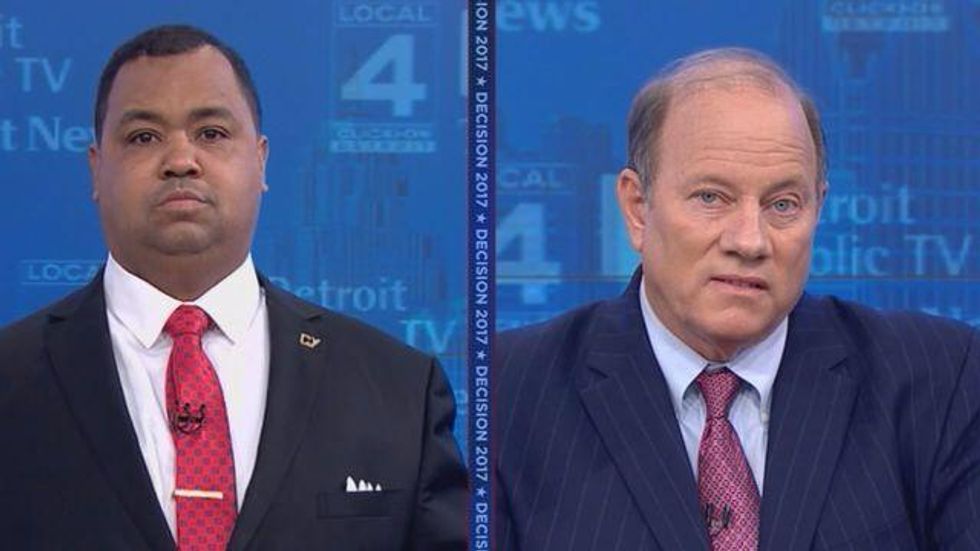 On November 7, 2017, Detroit will go to the polls to elect a new mayor. Incumbent Mike Duggan seeks a second term. This will be the first mayoral election for the city of Detroit since it emerged from state control under Michigan's emergency manager law, which received criticism in the wake of the Flint water crisis.
The candidates for mayor are:
The aforementioned Duggan, who became the first white mayor of the majority-black city since the 1970s (when Detroit still had a white majority). Duggan was the President and CEO of Detroit Medical Center (DMC) and is a former state prosecutor. He decided to run for mayor in 2013 after resigning from his position at DMC, but did not secure a spot on the ballot because he filed less than a year after establishing residency in Detroit. He mounted a successful write-in campaign and ran on a platform which emphasized a rebound from the financial downturn, reducing crime, and bringing in more economic development.
Coleman A. Young II, the incumbent state senator for the 1st District. He is a former Democratic member of the Michigan House of Representatives, where he served two terms. He ran an unsuccessful campaign for Detroit Mayor in 2009.
If you are a Detroit voter, polls open at 7 AM and close at 8 PM CST. You can find your polling place here.
Polls currently show Duggan enjoys a "wide lead" over Young. A poll commissioned by Target Insyght & MIRS News shows Duggan leading with 63 percent, while Young trails at 28 percent. The poll has a 5 percent margin of error.
"These poll results are very encouraging and show that as the election approaches, a growing number of Detroiters across every ethnic and economic group believe Mayor Duggan is moving the city in the right direction," said spokeswoman Sharon Banks in a statement to the Free Press.
Other races Detroit will be voting on that day include city clerk and city council. "All nine members of the city council and the city clerk filed for re-election. One incumbent was eliminated in the primary election," according to Ballotpedia.
Keep reading...Show less